Simon Brown has released (to Beta testers) a version of SDR-Console V3 Preview which works with the RSP2 – here's a screen shot posted by Mike Ladd on the Facebook Group which I recommend any newcomers to SDR join for lots of advice, tips and techniques.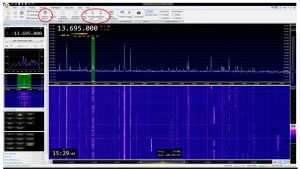 The red circles highlight the extra buttons added to control antenna switching, Bias-T, external clock and notch filters.
Beta testers are also helping us iron out bugs with our new EXTIO file as we bring up the HDSDR capability.
So just a very few more days and we should be there…..