Hello group.
My 1st message after some trouble with this phpBB-board. A real UI from hell IMHO.
Anyway, after purchasing an SDRPlay RSP1A and a set of Bluetooth head-phones last week,
I have some trouble with the audio stopping when I switch off my headphones. Or vice-versa,
when listening via the speakers and turn the BT-headset on, the audio from SDR-Uno 1.22 stops
also. The error is shown in attached dialogue: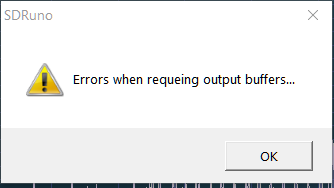 In my maybe naive belief, I thought the audio would continue on the new active audio output-device.
This is the case with most program I tested the scenario on; like Google Chrome. But not with SDR-Uno.
But it's a excellent program in other regards.