Fixing the gr-osmosdr SDRplay library is going to take some work, and I came up with a tool that should be useful in seeing if code changes actually fix anything.
Download GRC file:
http://www.transmitter.com/sdrplay/sdrp ... st.grc.txt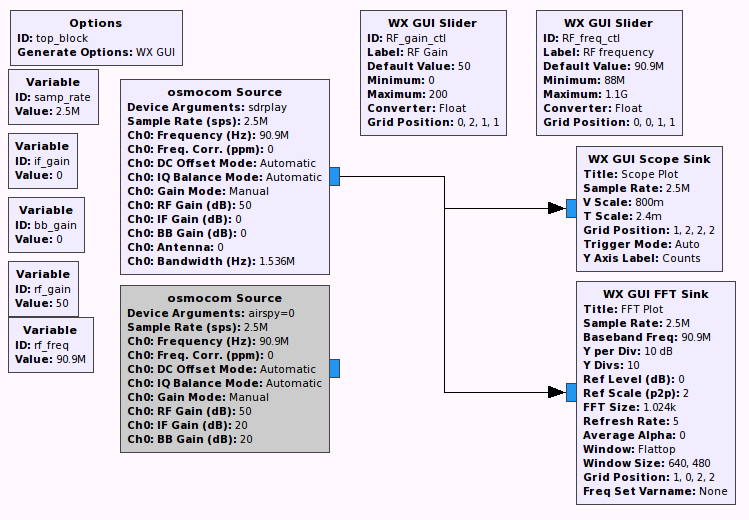 The problems are obvious when this program is run with the latest gr-osmosdr sdrplay_source_c.cc. You'll see the DC offset until the gain is changed and large spikes are obvious in the scope display.
I've made some modifications to the gr-osmosdr library. A modified sdrplay_source_c.cc is available at:
http://www.transmitter.com/sdrplay/sdrp ... 0903-1.txt
This works well with my simple NBFM/AM receiver grc program (
http://www.transmitter.com/sdrplay/simp ... er.grc.txt
although there is a noticeable background whine on AM signals that doesn't cause NBFM signals any problems. This can be seen as increased noise on one of the channels (Q?) when viewed on the scope in the test program. The display seems to take a bit longer to settle after changing frequencies. This may be due to my deleting the data output statements in the initial buffer loading IF statement. I also was able to set tracking time for the one-shot DC removal and that could be having an impact.
The simple FM receiver has some problems and the original problems GQRX had with displaying the correct spectrum but misreading the sample rate (frequencies are off in the legend and demodulation doesn't work) are back, and I'm seeing USB buffer overflows.
I'm going to try some different values for the divisor in my modified packet sampling routine to see if that helps. I left the values where they were from a previous experiment and I think 8192 or an even higher number may work better. Please give it a try and let me know if you have any other ideas on how to fix it.
I hope to have a chance to dig deeper into this over the U.S. Labor Day holiday Monday.
73...
Doug, AH6DL