The RSGB Convention at Milton Keynes was a great success this year with many excellent talks – we were busy supporting the ML&S stand most of the Saturday but I did manage to get to see Matthew Phillips' excellent talk on FreeDV – unfortunately it wasn't videoed but he will be giving it again on Wednesday at the Bury St Edmunds Amateur Radio Club  when we hope it will be, and we will follow up with a link if it is. See below.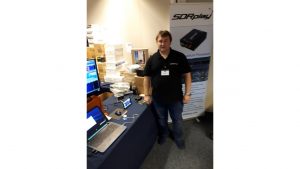 Above: Andy on the ML&S stand at the RSGB Convention
The convention was a great opportunity to meet old and new customers as well as our main distributors Martin Lynch and Jan Verduyn of SDR-Kits.   It was great to see Karl Brazier from Yaesu UK also demonstrating the RSP!
We very much enjoy supporting live events and next up, is Pacificon, California,  where Steve will present an Introduction to SDR on Saturday 21st October at 10.40am in Pleasanton/Danville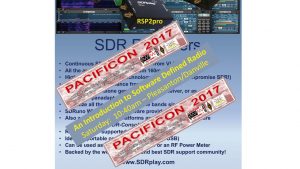 The following weekend, Steve will be at the Denver Fallfest at Ham Radio Outlet on October 27th and 28th: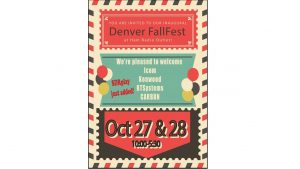 FreeDV – Digital Voice for HF and other low SNR channels
Since the beginning of 2017 the RSGB News has been broadcast on 80m in FreeDV an experimental digital mode aimed to perform better than SSB voice in difficult radio environments. Matthew's paper presents information on FreeDV; what is it, how and why is it being developed by a worldwide community of radio amateurs and how can amateurs can try it for themselves.
Information is presented on the pioneering work on the voice codec used 'Codec2' by David Rowe VK5DGR. In addition some thoughts on the future developments envisaged are shared.
The talk includes slide narrative, schematics and system diagrams, simple algorithm descriptions and audio and video samples. An emphasis is placed on practical ideas to become active.
The location is Rougham Control Tower Museum in Bury St Edmunds. Directions can be found on the Bury St Edmunds ARC web site at http://bsears.co.uk/rougham/
Time is 7:00pm for talk start at 7:30pm on Wednesday October 18th.
SDRplay hopes to support FreeDV in 2018.