Here's a very nice YouTube video where AA4OO shows how an SDR can be used with a receive antenna as a panadapter with older transceivers.  This demo uses an RSP1 and also discusses protection techniques for the Receiver including the kit available from OK1RP.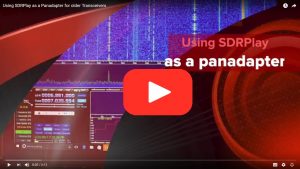 Our brief introduction to Panadapters can be found here: http://www.sdrplay.com/Panadapterintro1.pdf
We would like to send our sympathy to the family and friends of Dave Powis  G4HUP, whose Panadapter Tap Kits were used widely. You can see his obituary here:    http://rsgb.org/main/blog/news/silent-keys/2017/02/13/dave-powis-g4hup-9th-february-2016/  – the future of his company is unknown but as we get news, we will post it on our blog.