This is an archive of blog entries up to November 25th 2016
For for new blog posts - go to https://www.sdrplay.com/blog/
Monday 21st November
Today we released another update to SDRuno which fixes some Windows XP start up issue and adds an "ADC overload notification" It also added 24k to digital filter presets - download it from http://www.sdrplay.com/windows.html
Please note that this website will undergoing maintenance work tonight so may be down for a few hours - we apologise in advance for any inconvenience.
Tuesday 15th November
Take a look at our video which helps explain how SDRuno works, including some of the new features in Version 1.1. released last week: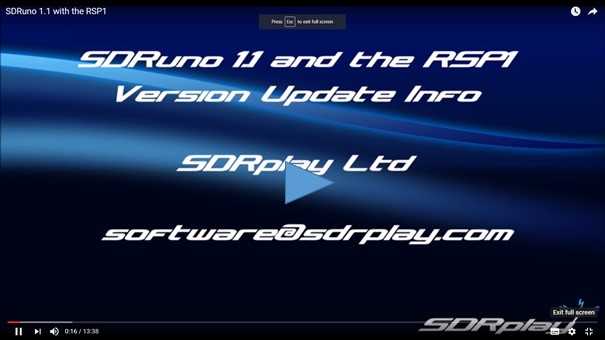 We are adding more and more links to useful videos covering SDRplay, SDruno, other SDR software, techniques and so on - click here to see the playlists on our Youtube Cannel
Friday 11th November
Today, we released version 1.1 of SDRuno. New features include a calibrated power measurement facility, an SNR meter and automatic S-meter calibration. There are many additional improvements and fixes. To find out more about all the additional features, documentation can be found on http://www.sdrplay.com/docs/SDRplay_SDRuno_Release_Notes.pdf and the software is available to download from http://www.sdrplay.com/windows.html - For non RSP users (e.g. RTL-SDR and other EXTIO-based SDRs), the bandwidth limit has been increased to 2.5MHz.
Paul Jones and Mike Ladd have worked tirelessly to get the new features documented in an updated version of the SDRuno Cookbook: http://www.nn4f.com/SDRuno-cookbook.pdf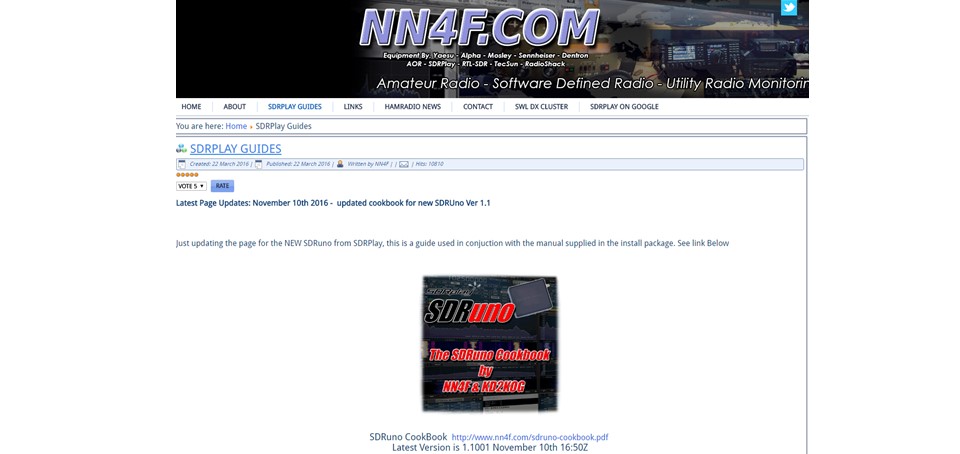 There's always a lot of debate about Dynamic Range and the performance of the various SDRs out there - Mike Kokotov, Z33T has written an excellent article explaining Dynamic Range and how decimation can improve dynamic range. The article can be found on http://www.qsl.net/z33t/dynamic_range_eng.html
Wednesday 9th November
Many thanks to all who dropped by to see Andy at ML&S in Staines (UK) on Sunday, and me (Jon) on the RS Components stand here in Munich - the SDRplay/Marconi hybrid held up well on day 1. The frenetic electronics world is a manic affair where everyone has to deliver the latest and greatest technology all the time (our day job of course!) - suddenly to be exhibiting an attraction which unquestionably shows off the oldest technology anywhere in the entire Electronica show - is really cool - people are seriously happy to chat about a claim they know is true - it's interesting - they then chat in such a friendly way about our RSP. Luckily the stand makers had been warned about the 36kg weigth of the Marconi CR100. We had a Wellbrook loop ALA1530 on a 6m pole in the gap between the huge exhibition halls, with nearly 100m coax to get to our stand - it still delivered some great signals on HF which you can see in the picture below!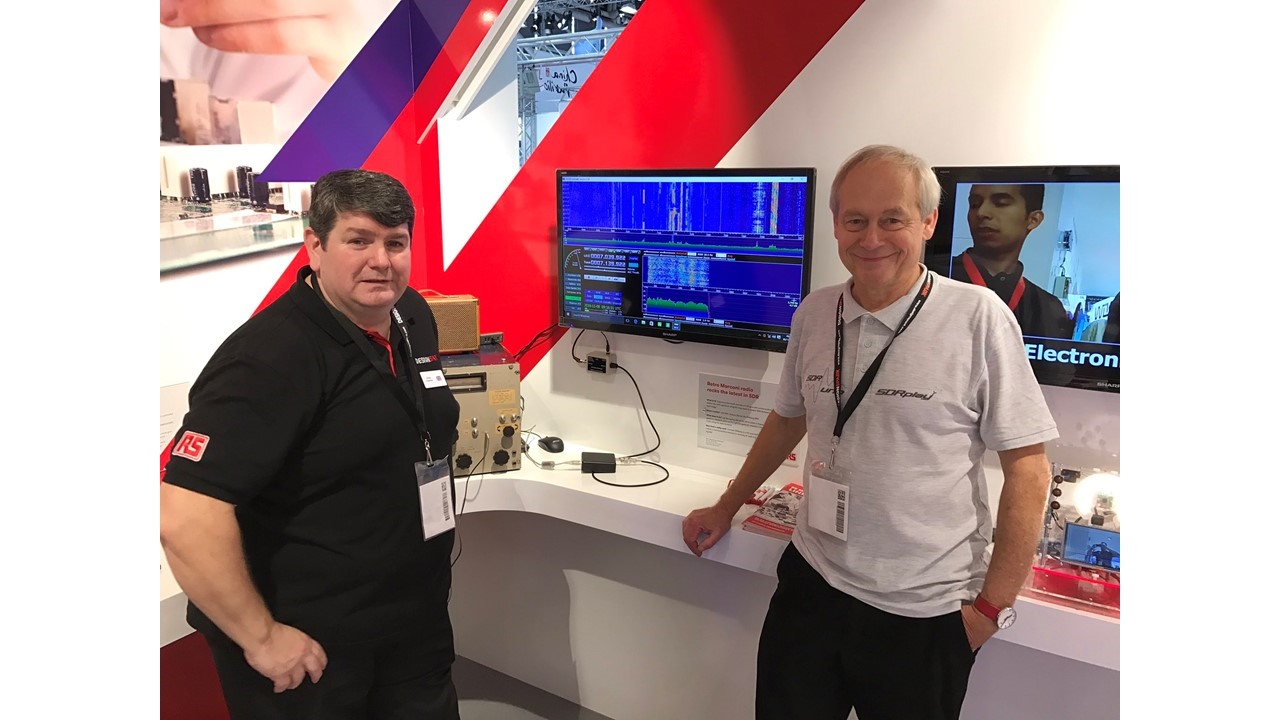 Sunday November 6th 2016
If you are going to the Kempton Park Rally today, it's close to Martin Lynch and Sons shop in Staines - http://www.hamradio.co.uk/ where you can meet our software guru, Andy who will be available to answer your questions about SDRuno or indeed use of the RSP with your own favourite SDR software. The shop is open till 2pm today.
Tuesday November 1st 2016
Paul Jones hardly slept at all last night, as he continued to help the SDRplay team with SDRuno debugging work - that 1.1 release really is getting close. Many thanks to Paul and the other beta testers.
The SDRplay community keeps growing with frequent news of interesting new apps and enhancement ideas - here's one that caught my eye from Vitaly Holovchenko who contributed this design to the Facebook group - which provides an automatic antenna and additional filter switching feature: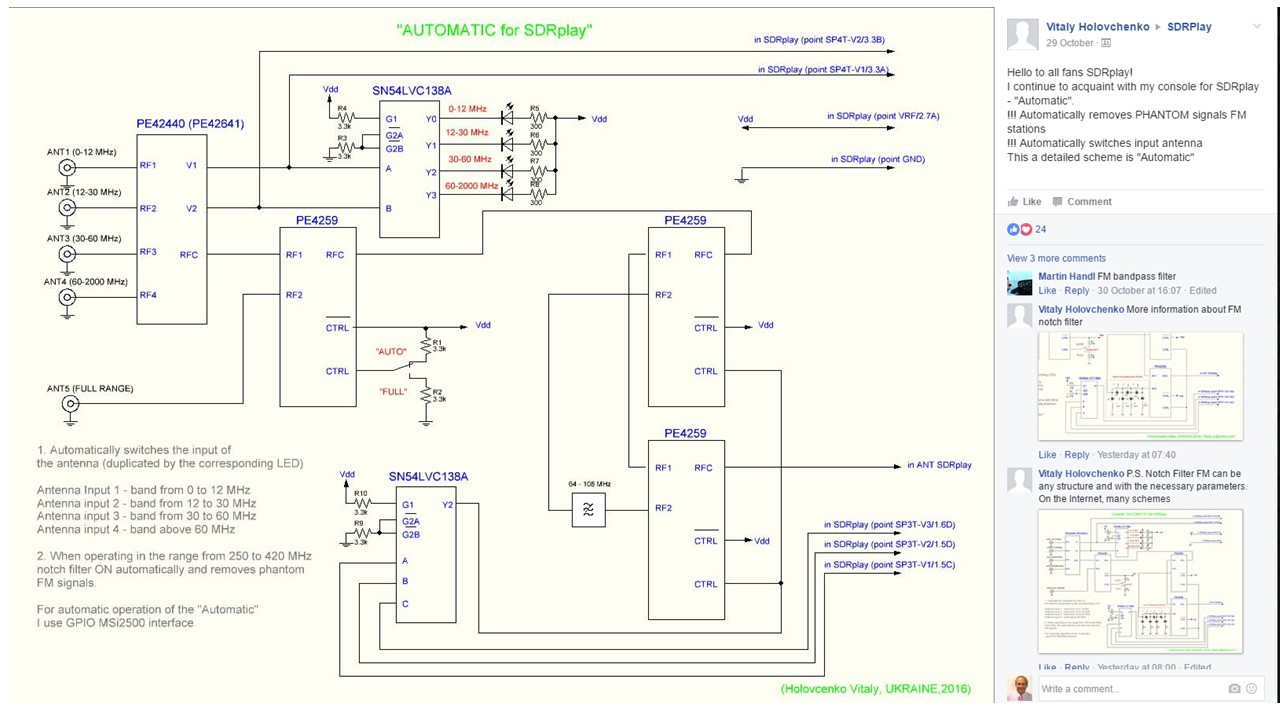 Vitaly encourages feedback and the exchange of ideas via the Facebook Group: https://www.facebook.com/groups/sdrplay/
Thursday October 27th
We are getting very close to releasing SDRuno 1.1 - any day now - our thanks to all the beta testers who have really helped to find as many of the bugs as possible.
We've had a lot of fun creating our retro-demo for Electronica ( coming up in Munich, November 8-11) - read all about it and watch the video in https://www.rs-online.com/designspark/sdr-radio-breathes-life-into-a-75-year-old-marconi-cr100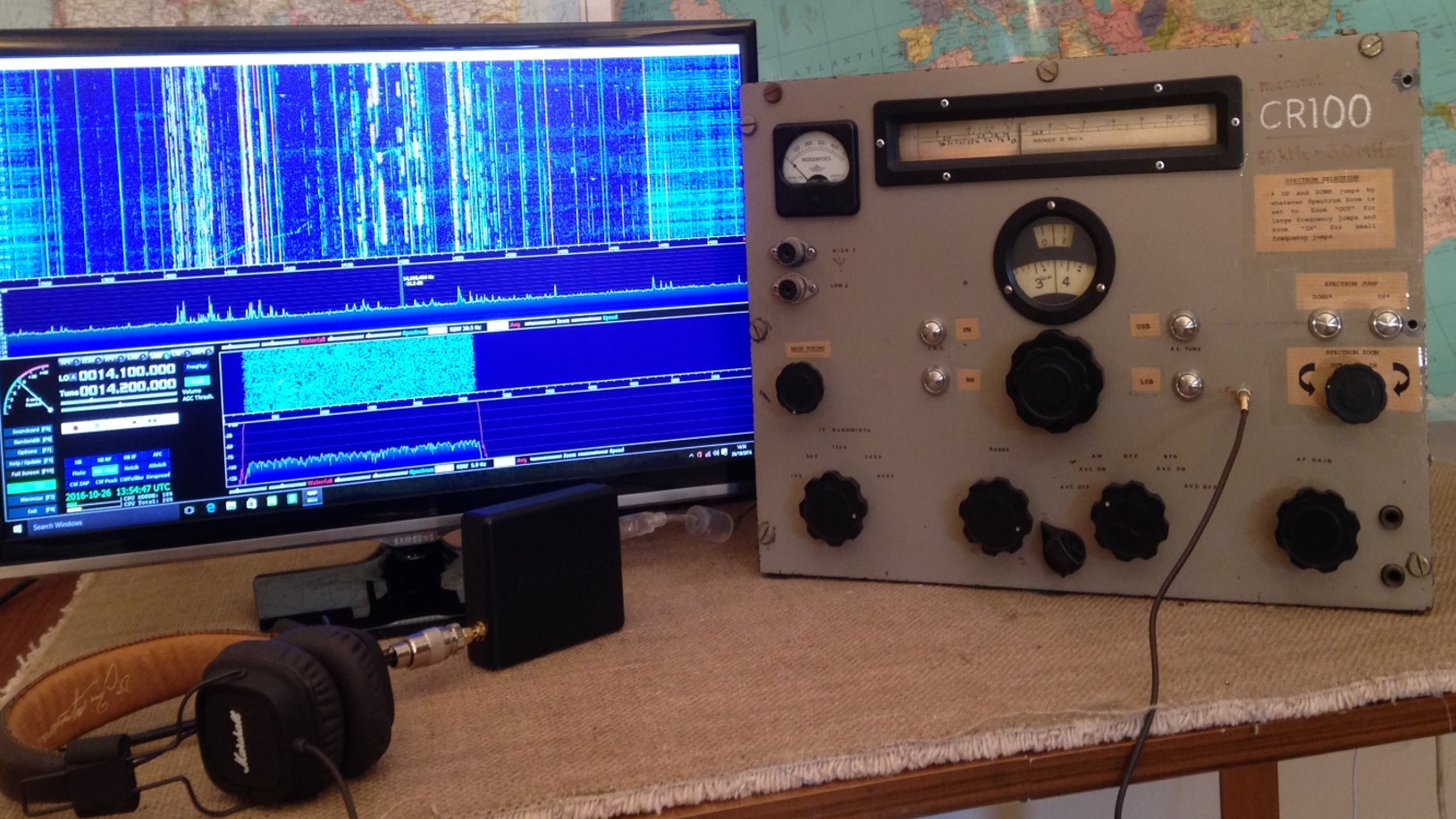 It's all ready for being trucked across to Germany. I plan to be around at the RS Components stand on the Tuesday 8th November - it would be great to meet and chat with any SDR enthusiasts who happen to be attending the second most important event in Munich! (after Oktoberfest)
Sunday October 23rd
Pascal (VA2PV) has added another "getting started with SDRuno and the RSP" video to his collection - his videos are cataloguing his journey starting as a complete newcomer and his experiences with the RSP - he plans to move on to include more complex stuff like decoding digital modes and more - you can check his channel on http://www.va2pv.com/sdrplay-rsp1
Yesterday saw the opening of the impressive new HRO Milwaukee shop, and our Steve Brightman had great fun meeting lots of new SDRplay customers - many thanks to all who dropped by.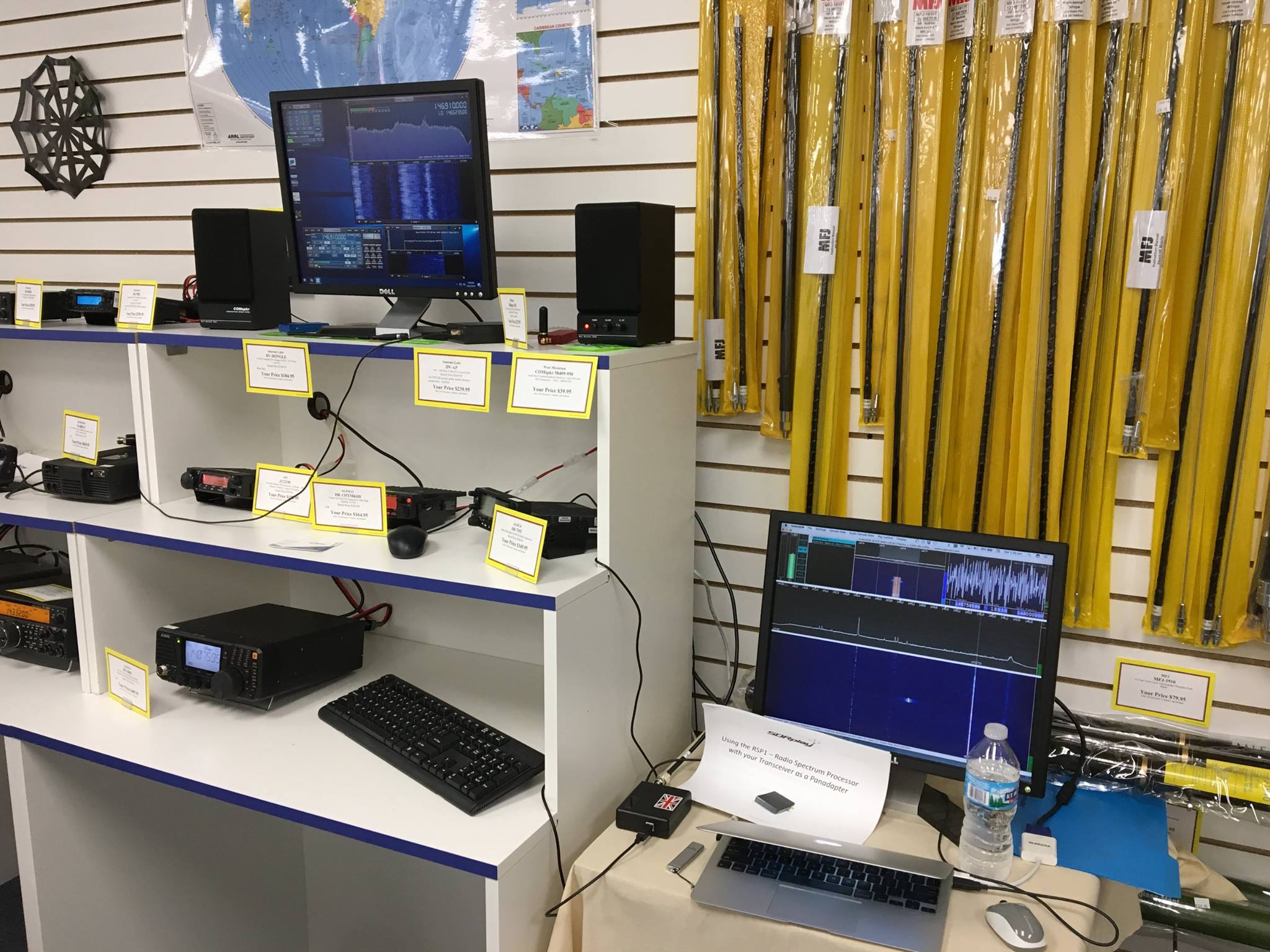 Wednesday October 19th
Our thoughts are with Mike Ladd, co-champion of the 4000-strong SDRplay Facebook support group - he's in hospital today for surgery and we wish him well. I've put one of his famous arrows to good use here:

We seem to be seeing a surge in demand for the RSP (it's only a week since we caught up again with orders), so if you are planning a Christmas gift for someone, then don't leave it too long to order. There are a lot of lapsed radio hams who haven't explored the bands for decades and who are getting close to retirement - the RSP is a perfect Christmas or retirement gift for such folks who might want to rediscover the amazing hobby!
VA2PV has started to demonstrate the RSP on his blog this month - click on the banner below to find out more and to see his unboxing video guide. Pascal is planning more videos which will be added soon. So bookmark his page and check it out over the days ahead.

Saturday October 15th
SDR Console Preview V4 was released by Simon Brown today - see http://sdr-radio.com/v3_preview_downloads
It works well with the RSP, thanks to all the hard work done by Simon behind the scenes - we encourage you to try it out - if you pick up anything interesting and make a video - let us know, and we will link ot to our SDRplay video channel playlist - see https://www.youtube.com/channel/UC4JDq3US2eb1N4dRCT45_Zw/playlists
I just received this from WA7 JHZ today: "This improved 7-element high-pass filter (HPF) for SDR applications uses four (4) Amidon low-loss T44-2 (red) iron powder cores and three (3) .001 uF ceramic disk capacitors. In many city and suburban locations, local AM broadcast stations can easily overload the front ends of SDR equipment. This device attenuates these stations while still passing those above 2 MHz (see graph).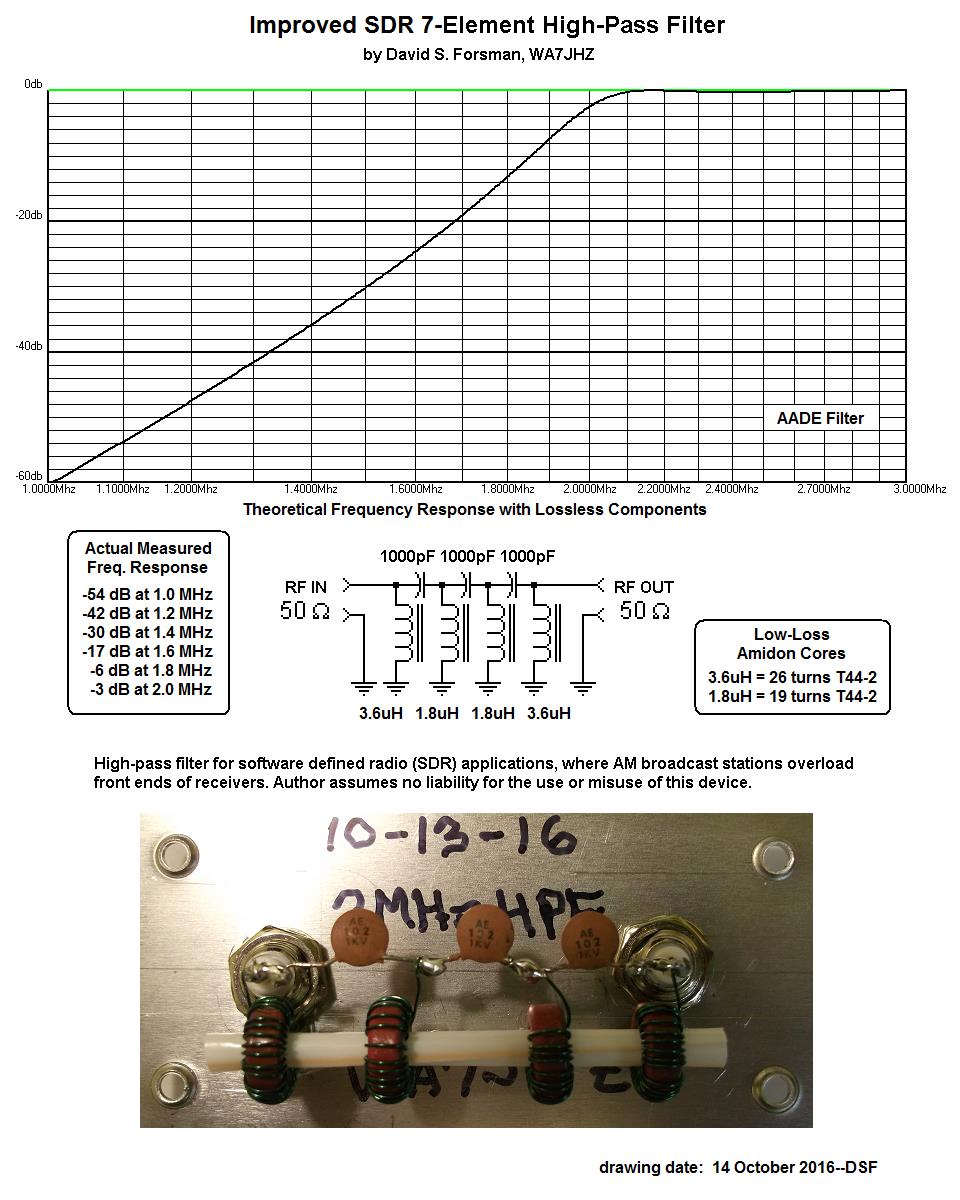 After 2 weeks of famine, we now are shipping again and restocking our distributors as well. Many thanks to everyone who had to wait for their RSPs.
Monday October 10th
We have a batch of new RSPs arriving in the morning and hope to dispatch units to all the people who have patiently waited since the Newark Hamfest via tracked Royal Mail tomorrow.
Sunday October 9th
Yesterday I popped over to Milton Keynes, to the RSGB convention and had the pleasure of meeting Gerald Youngblood, founder of FlexRadio systems whose enthusiasm for SDR is truly infectious. But before that, I had a nice catch-up chat with Simon Brown, SDR-Console author, who now has CW Skimmer working and integrated into V3 Preview - watch out for that in his next release. The SDR-Console website is http://sdr-radio.com/
The SDRplay SDRuno Facebook group is approaching 1000 members and a great way of getting fast interactive help from others in the community - here's an example of some exchanges yesterday...
Question: Could someone explain how the LO frequency is set with SDRuno? The frequency seems to be somewhat random. And it's on the frequency I've tuned the VFO to sometimes. Why is that? Paul: When you startup the LO matches the VFO, just click off to the left or right on SP1 and it will move your LO from the VFO and you can tune away, it should keep the same split until you restart.
Question: I made recording with SDRUno on my laptop while I was out running around town....and now SDRUno on my PC says "Not Supported WAV file". Jim: It won't play that way. Click on OPT and select input and Wav file. Questioner: "That is what I'm doing. It either tells me unsupported WAV or just doesn't play. HDSDR plays file just fine. Jim: After you select your file in the Documents folder, then go back to the REC PANEL and click on the play arrow.
The above group is dedicated to SDRuno related topics, while the closed SDRplay Facebook group with nearly 4000 members covers anything and everything related to the RSP.
Saturday October 8th
We are 90% sure we will be shipping product again on Tuesday 11th - many thanks to those of you who have been patiently waiting during the past week. I will make another update on Monday to confirm that is 100% certain.
Tuesday October 4th
Things have been a bit hectic here so apologies for lack of news. We had a very enjoyable time at the UK Hamfest at Newark and sold out - we have a few days to wait for the next production batch. Many thanks to all those of you who supported us.

Steve, Ian, Jon and Andy at the National HamFest
You can now download Mike Richards' SDRuno article which was in the September edition of Radio User. Click here - please note that the review was supplied courtesy of PW Publishing Ltd. and the copyright is retained by PW Publishing Ltd.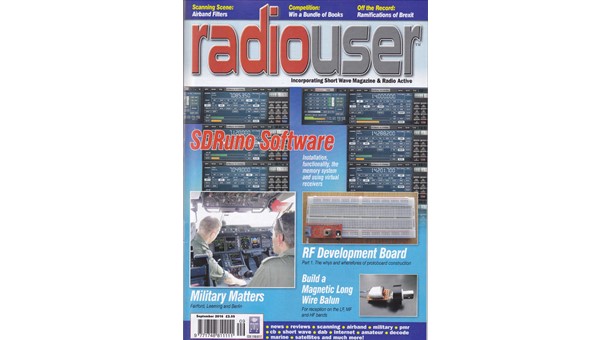 Tuesday September 20th
API 1.97 has been released with improved AGC and DC offset schemes. It also supports Windows 10 build 1607 secure boot (same as in SDRuno 1.03) - http://www.sdrplay.com/platforms.html
Monday September 19th
SDRuno Version 1.03 is now released - you can download it and see the release notes by going to http://www.sdrplay.com/windows.html - as well as making it more readable on high resolution monitors, this version now has reworked filter cutoffs and a significant number of bug fixes and improvements. Many thanks to those who provided inputs and to our beta testers for helping make it as rugged as possible.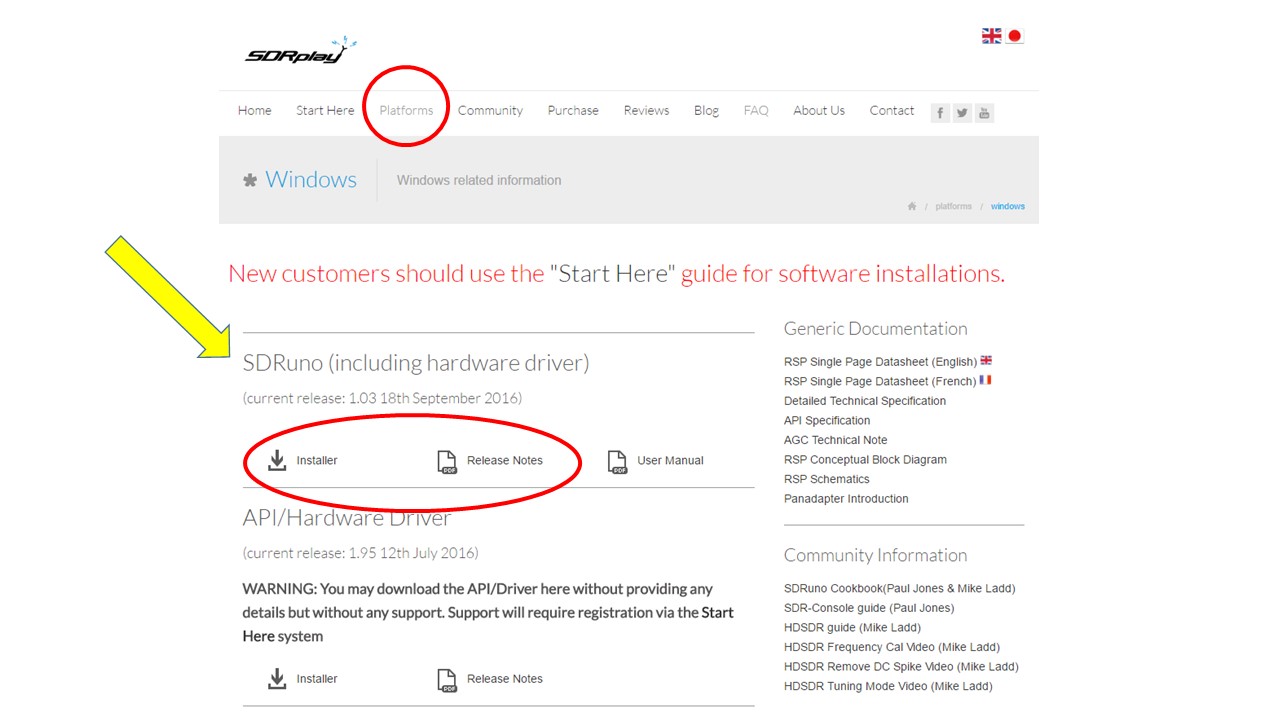 Sunday September 18th
Apologies for the inconvenience caused on Friday when the whole website went down due to a catastrophic failure. In particular the forum and the 'playground' were unavailable until last night (UK time) - we are pleased that normal service has now been resumed. Please note by the way that we don't always see direct requests for help if they are posted on the forum, so if you have a specific need for help from SDRplay, please email support@sdrplay.com or if you are a USA customer - support-usa@sdrplay.com
The knock-on effect of the above is a slight delay to the imminent SDRuno release which really is getting very close.
Wednesday September 14th
The SDRuno test team (Paul NN4F and Mike KD2KOG specifically) have been working around the clock to check out the new features and improvements planned for the upcoming SDRuno release version 1.03 which will be released by the end of this week all being well.
People are often asking for comparison data between the Airspy+Spyverter and the SDRplay RSP - this new video popped up yesterday from Leif SM5BSZ showing some detailed HF comparisons when SDRuno is being used for the RSP. Please note that Leif has one of the early 'blue and white' boxed version of the RSP and the internal hardware is identical to the current black-box production version.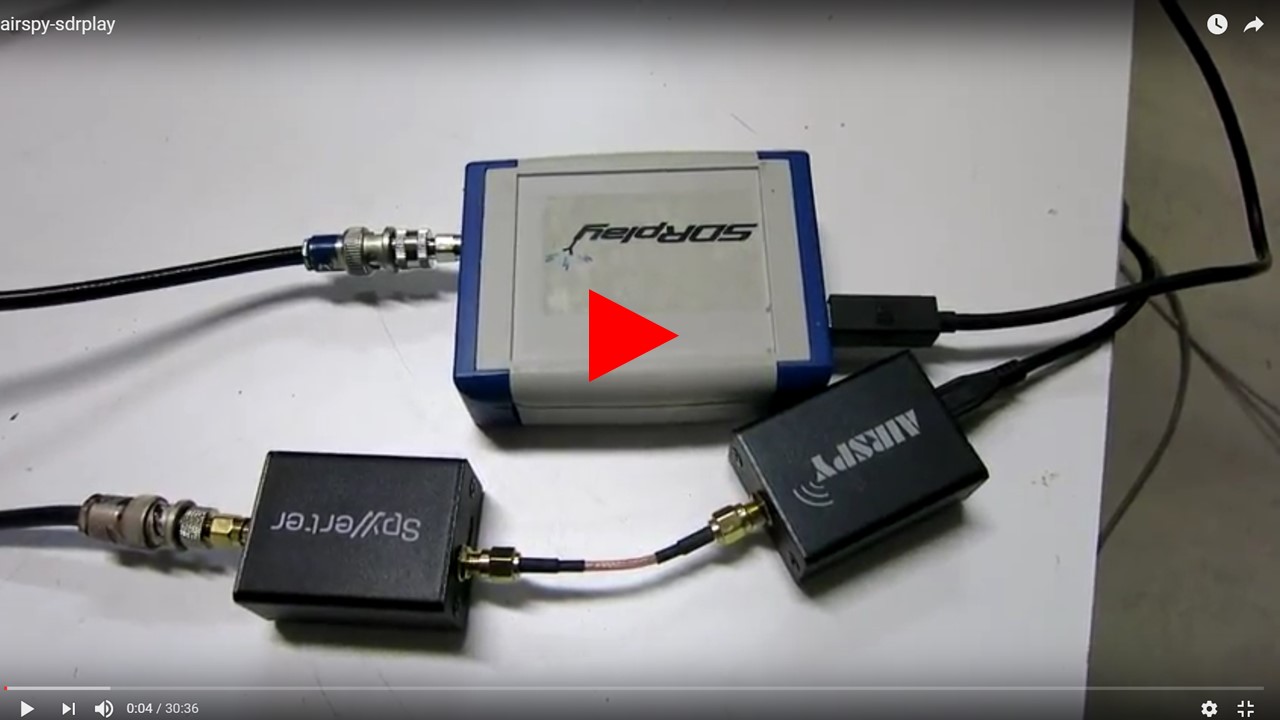 Monday September 12th
Thanks to the weakening of the GB Pound, the dollar exchange rate has changed significantly over the past few months. We have decided that we would like to pass on the benefit of this to our customers and so have reduced the price for which we sell the RSP to those customers who buy directly from us in US Dollars down to $129.
Thursday September 8th
I know people are keen to see the next update of SDRuno which will address some of the things that they've asked to see added or improved. We are working hard to get these done and hope to have version 1.03 out there very soon - in particular it will address the problem of text coming out too small on 4k displays, the AGC oscillation problem and the centre frequency spike issue. We will also improve the choice of filter values and a few other bug fixes and improvements.
For those of you in the UK, we are booked up to be at the HamFest in Newark on September 30th/October 1st - this will be a great opportunity to meet some of the SDRplay team including the guys behind both the hardware and software design of the RSP! If you haven't decided on an SDR then it's also an opportunity to try one out.
It seems three steps forward and two back, with my retro project which I'm working on with help from Mike Ladd. the challenge is to convert the derelict shell of a 70 year old Marconi CR100 into a receiver capable of covering (you guessed it!) 10 kHz to 2 GHz - I now have all the bits I need including the Acer mini PC which will hide nicely inside the CR100 case.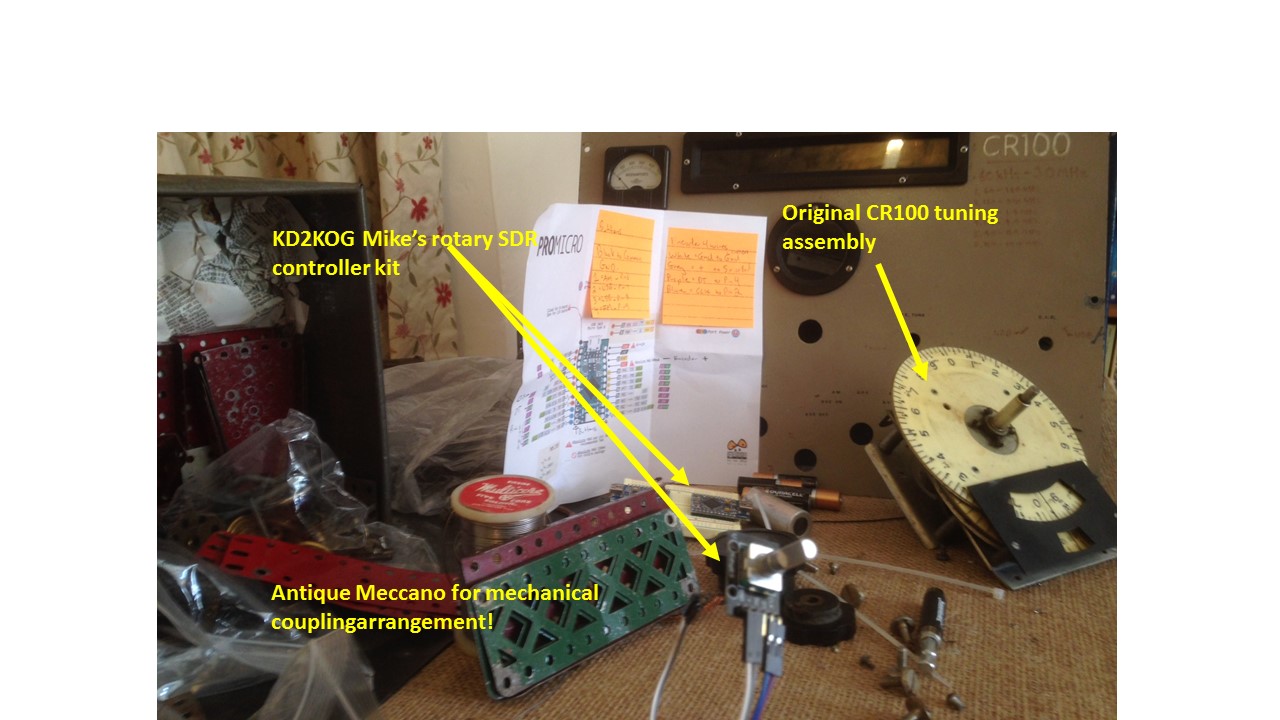 Saturday September 3rd
It was a nice surprise for me while on holiday in Italy last week to be accepted onto the newly formed Italian SDRplay Facebook Group which is a perfect place for Italian speakers to exchange tips and ideas. Benvenuto a https://www.facebook.com/groups/262962160763122/
Also out while I was away was the publication of the September edition of Radio User which has a very detailed assessment of SDRuno. In it Mike Richards writes "Given the excellent value of the RSP from SDRplay, the free availability of the SDRuno software makes this a compelling combination"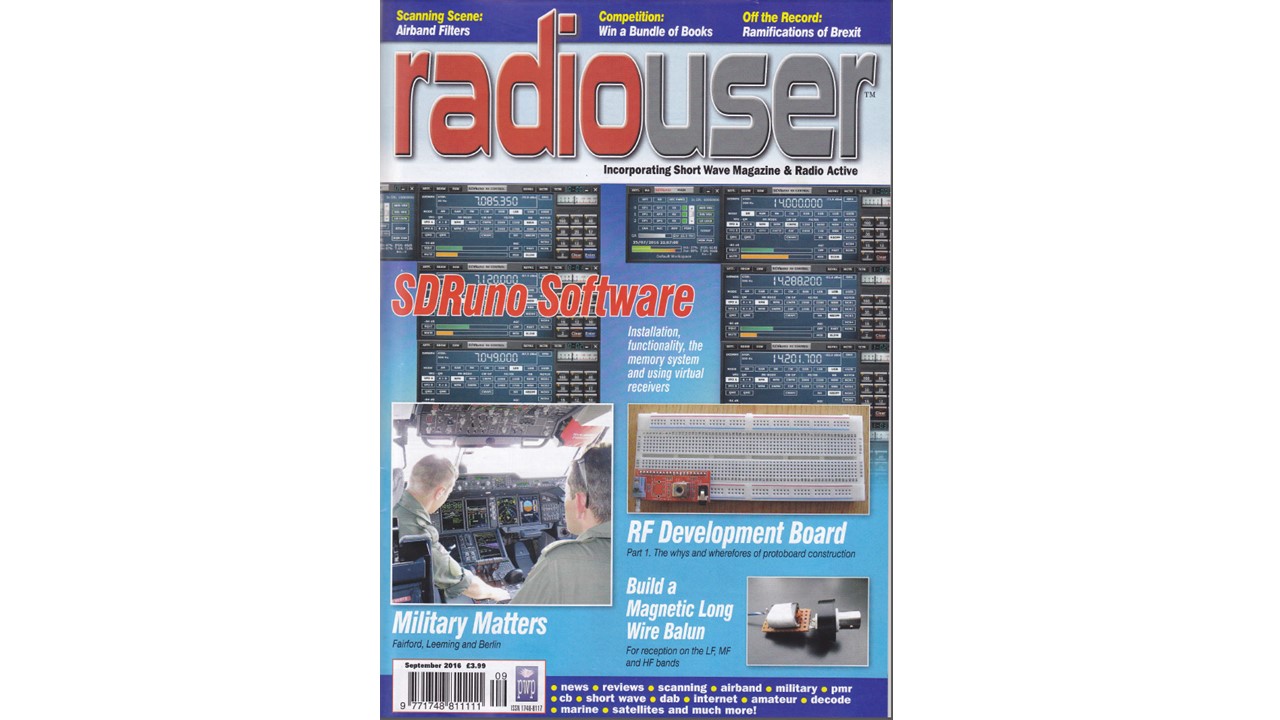 Wednesday August 24th
A huge thanks to Mike Ladd who is the mastermind behind a wonderful demo we are putting together for one of our distributors where we hope to bring alive the 'best of the old' with the 'best of the new' when it comes to radio technology. We can't say any more than that until the event at which it will be showcased - after that, all will be revealed.
Many thanks to Carsten, DK6MP who provided this German/English video showing his Panadapter set-up - his QRZ.com page is http://www.qrz.com/db/DK6MP - I've added it to the SDRplay YouTube Channel playlist - we welcome more non-English-language 'how to' videos and are happy to add them to our playlist.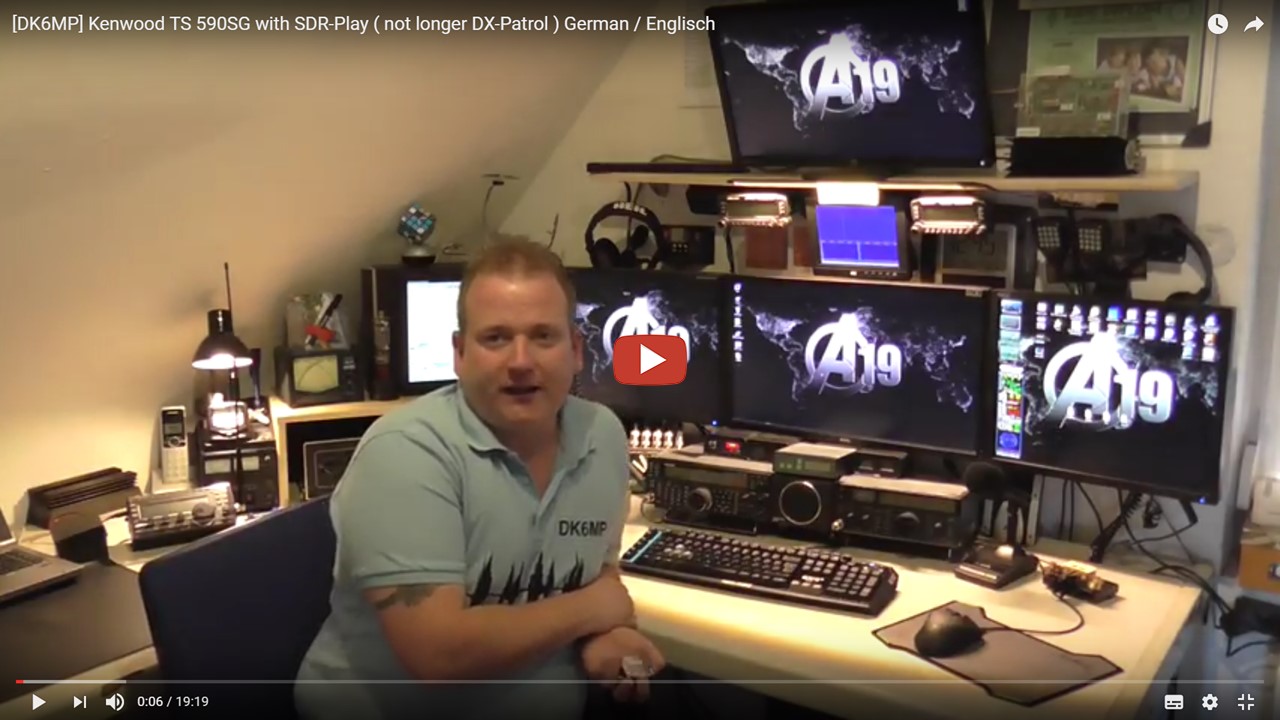 On the subject of Panadapters, VE3GLA reported in an eHam review as follows: ' I purchased the SDR-Play to use as a panadapter for my Elecraft K3, using the K3's IF output. I was having difficulty doing that with HDSDR, but then I discovered Win4k3suite and learned that the most recent version of it supports the SDR-Play. I downloaded the trial version and in minutes had it working with my SDR-Play. Win4K3suite seamlessly integrates my K3 and SDR-Play and now I have a high performance panadapter for a lot less price than a P3'. You can find out more about Win4k3suite by going to va2fsq.com (although right now the site seems to be down! (0830 UTC))
Monday August 22nd
Reserve your copy of Radio user this week - due out this Thursday 25th August - there's a great article on SDRuno in it: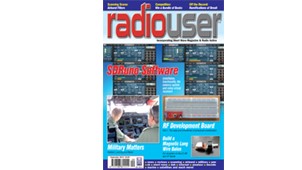 Wednesday August 17th
Simon Brown has released a new Preview update for SDR-Console V3 - choose the one dated 17th August on http://sdr-radio.com/v3_preview_downloads and be sure to download NN4F's updated V3 userguide from http://www.nn4f.com/index.php/sdrplay-guides.html
Friday August 12th
Ham Radio Science published an article showing the SDRplay in action as ideal for hunting down RFI sources from Computer equipment - see http://www.hamradioscience.com/why-apples-imac-may-be-the-best-pc-for-sdr-applications/2/ which shows how the RSP together with SDRuno is so useful for this kind of thing.
Simon Brown (SDR Console author) reported massive tropo activity on VHF last night and posted a screenshot using the RSP and V3-preview on his blog - see http://sdr-radio.com/Blog/ArticleID/52/Massive-Tropo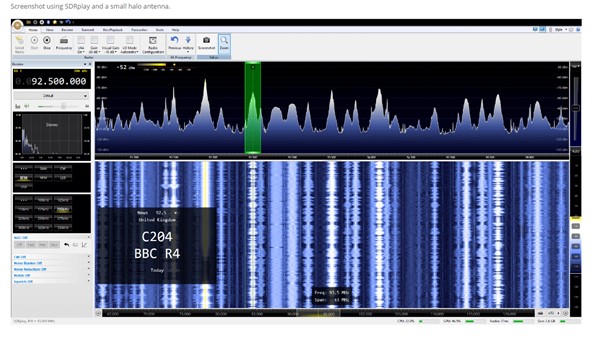 Monday August 8th
The beta test team (including Paul NN4F and Mike KD2KOG) are testing a new version of Simon Brown's SDR-Console V3 which supports our new 1.95 API , this will be in the next preview due out Aug 15th or before - Paul reports "Seems to be working well with new gain maps etc...we're trying to break it now so you don't have to... :)" For more information see: http://sdr-radio.com/Radios/SDRPlay
Tuesday August 2nd
In this month's Spectrum Monitor, there's a write-up about the RSP where N6CL in his article 'VHF and Up', says "This is an incredible receiver for you to get acquainted with SDR technology. The software is well laid out and gives multiple choices of modes, filters and frequency entries...." The e-magazine costs $3 and can be bought by clicking on the picture below.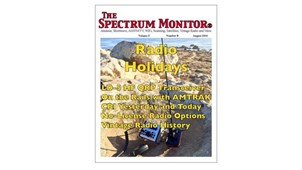 I have been rearranging our YouTube Channel to include playlists of useful or interesting videos which help explain how to use the RSP. I have added a playlist called 'SDRplay demos in other lanuages (non English)' where I hope to add links to non-English video guides. So far we have only a few but I am keen to encourage some more - all suggestions welcome via email to me at jon.hudson@sdrplay.com
Monday August 1st
Calling all Radio Astronomers: Thanks to the efforts of Nathan Towne, the RSP now works with Radio-Sky Spectrograph (RSS) to enable radio astronomers to explore solar emissions and a lot more.... see http://cygnusa.blogspot.co.uk/2016/08/s ... o-sky.html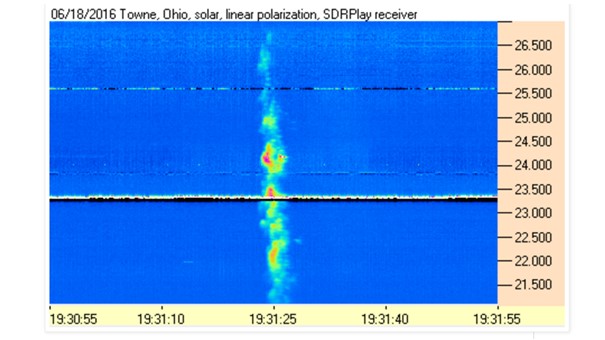 The above picture is of a solar emission Nathan captured with the SDRPlay receiver, SDRPlay2RSS, and RSS.
Also on the topic of 'Astro', we welcome a new distributor in Spain - AstroRadio who are able to provide Spanish speaking support - visit their website on http://www.astroradio.com/es/124001 to see more about our "Receptor SDR de banda ancha desde 10 kHz hasta 2 GHz"
Monday July 25th
We have started work with Simon Brown to get recent SDRplay API improvements into future SDR Console updates. He has kindly offered to include as many of the features as possible in his August release of SDR Console V3 preview - we appreciate his support. The SDR Console website is http://sdr-radio.com/
Jeff N8GJL, has released a version of the free Frequency Manager Suite for use with SDRuno v1x. He writes "This is a subset of FMSuite for SDR#; it includes the Frequency Manager plugin (but not the Scanner), the Frequency Data Display plugin, the Scheduler plugin, and the Data Tools Wizard. It runs in its own window separately from SDRuno. The Frequency Manager uses the same database as the SDR# and SDR Console versions so you can share databases between the applications. Because SDRuno v1x was never intended for this purpose its only communications with other applications is through a virtual serial port. This communication channel can be slow, which makes scanning impractical. So this release does not include a scanner or related plugins. But you can still send and receive frequencies with SDR Console and enjoy the other advanced features of the Frequency Manager and the Scheduler, and the Data Tools Wizard's ability to import and export radio station databases. As development of SDRuno proceeds I hope to add complete functionality to this version of FMSuite. Download the SDRuno v1x version from http:///www.FreqMgrSuite.com; and I hope you enjoy it. "
Another priority for us this week has been ironing out some wrinkles with SoapySDR - many thanks to those who have patiently helped us understand some recent Ubuntu problems which are being worked.
Monday July 18th
For anyone needing support from the company, then please make sure you email support@sdrplay.com - these emails do get read and responded to. There have recently been some requests for SDRplay to respond in messages posted on the community forum - the problem is that the forum is moderated, and the moderators aren't necessarily the technical people who can answer the question - this causes delays, and questions for the company can be overlooked - so if you specifically want an answer from SDRplay, please email us directly!
I am constantly impressed with the standard of useful Youtube Video demos and have featured many of them on this blog. I have now have started to make them available as 'playlists' on our SDRplay channel: https://www.youtube.com/c/SDRplayRSP - one playlist is for 'reviews' and another has the general heading of 'Techniques and tips' - if you'd like me to feature any of your videos then email me at jon.hudson@sdrplay.com and I will try to include them.
Friday July 15th
Frank, HB9FXQ has continued to make great progress with Linux and now has gr-osmosdr and the latest SDRplay RSP API ( V 1.95) running on GNU Linux. Hist latest update can be found by clicking on the picture below: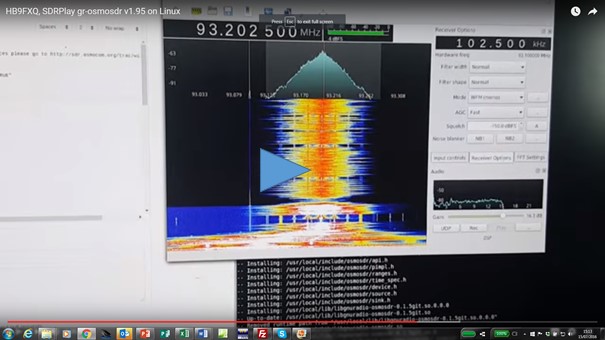 This is a good video demo of the RSP and SDRuno being used as a second receiver along side a TS590S: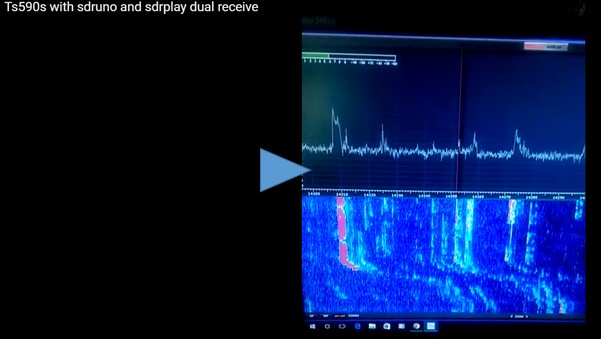 Tuesday July 12th
We are pleased to announce the release of the API 1.94 and EXTIO plugin 3.9.
The API will be released on all supported platforms (Windows, Mac, Linux-Ubuntu, Raspberry Pi 2/3 and Android 4.x+).
The EXTIO plugin will be released for Windows platforms (XP onwards).
Please note that the EXTIO 3.9 will require the API 1.94 to be installed to work.
Update highlights:
10kHz lower limit frequency support

10MHz sample rate

Decimation of the sample rate for improved noise performance

Improved performance

Better function support for developers

Callbacks used for stream data and gain updates

Tuner AGC function moved to the API
We will be contacting the developers using the API that we are aware of, to explain the new functionality and how to transition to it to improve their support for the RSP.
The impact of the above is to bring improved performance for HDSDR and other EXTIO-based programmes. (SDRuno already had those features built in V 1.02 released on June 23rd)
Frank van Dijke has released a nice video showing SDRuno receiving satellite images from NOAA 18: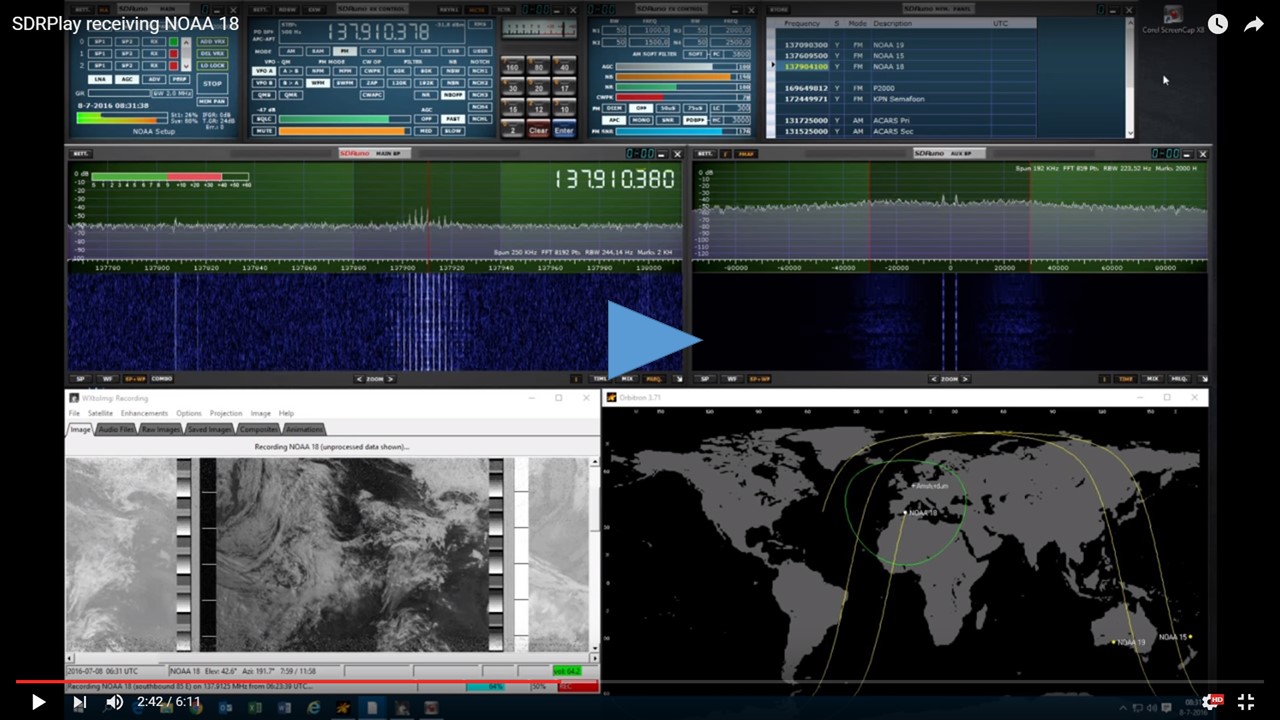 Sunday July 3rd
Many thanks to all who participated in our first Webinar about SDRuno which we held yesterday at 16:00 UTC. A video of the event is available on Youtube - https://youtu.be/viLHyZ1ME08
Saturday July 2nd
Akos, the author of rtlsdr4everyone has written a very candid and positive review of SDRuno called "RTL-SDR with SDRUno: First Steps" where he says that SDRuno has the best receive audio he has ever heard! He recommends it strongly for RTL-SDR users who may want to try out a basic SDR before making the next step up to a higher performance device like the RSP - he includes useful tips for how to use SDRuno with a dongle. Click here to see the review.
Tuesday June 28th
We will be hosting a series of Webinar events centred around the SDRplay RSP and SDRuno. These events will be streamed live, but will also be recorded and hosted on our website for those that are unable to attend. The first event is scheduled for this Saturday (2nd July) at 16:00 UTC - we will give some background to SDRuno and explain it's core functionality and what the future holds for its development.
It will be fairly informal and interactive, we will try to answer as many questions as we can. We will try to stick to a timeframe of about 45 minutes to 1 hour maximum.
You will be able to view the broadcast here: http://connectcast.tv/SDRplay
If you would like to contribute to the text chat discussion, you will need to signup with an account here: http://connectcast.tv/signup
If this proves to be of interest and value, we'll schedule some more with special guests to go through specific real world use cases with the RSP and SDRuno
Monday June 27th
SRDuno updates: We are aware of a number of issues, bugs and feature requests. We will be addressing these in a series of updates. Some of the feature requests will take some time as we are determined to implement them correctly and make them intuitive. With that in mind, SDRuno version 1.1 will be released around the end of August and will consist largely of bug fixes. We expect to make further regular updates after that to address some of the other issues and features we've all seen and been thought about. We are also going to be producing some webinars with the aim of not only getting people familiar with SDRuno, but to help people achieve specific tasks. We will be providing more details about these in the next couple of days.
Other software updates: Our immediate priority is to release the new API and EXTIO so that we can deliver the recent enhancements (VLF coverage, performance improvements, higher sample rate and improvements for developers, etc.) to users of the other popular software: SDR Console (working with Simon Brown) and HDSDR (via our updated EXTIO interface) We aim to have the release of both of these during the first week of July. We will then produce an update to the SoapySDRPlay library to support CubicSDR (Charles Cliffe).
Meanwhile Paul and Mike have made a major update to the SDRuno Cookbook, which now includes setup for CSVUserlistbrowser, a great database setup that allows for rudimentary scanning... V1.003 now runs to 28 pages http://www.nn4f.com/sdruno-cookbook.pdf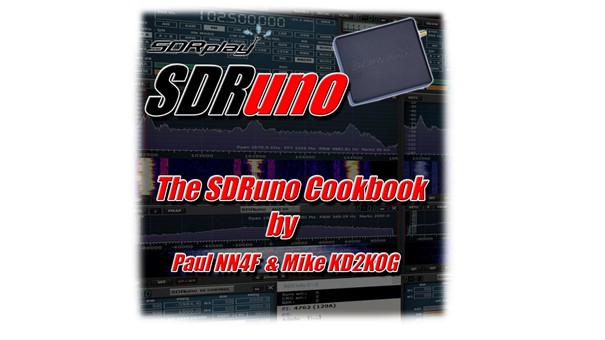 Sunday June 26th
Mike KD2KOG has just created a couple of new SDRuno related videos - one which covers saving the workspace and the second showing the notch filter in action:
and below links to video showing SDRuno and MMSSTV receiving SSTV pictures on 20m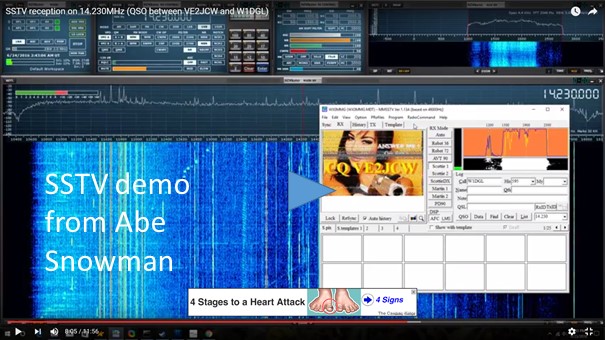 Saturday June 25th
Mike KD2KOG has released this excellent guide on how to use CVSUserlistBrowser with SDRuno: Click on the picture below to access the guide: http://www.kd2kog.com/2016/06/sdruno-csvuserlistbrowser_21.html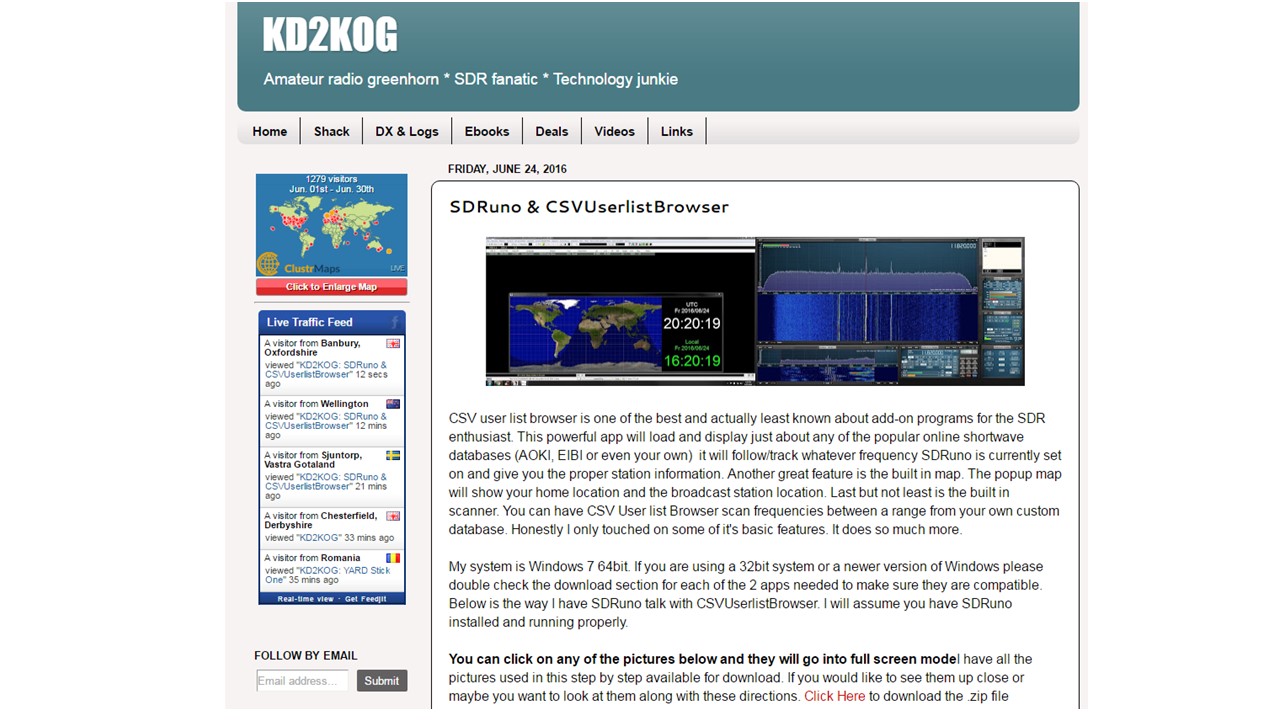 For newcomers to the RSP, and especially to our new SDRuno software, there are a couple of crude videos which help you get going from out of the box. They are on https://youtu.be/fmikNxpk4sE and https://youtu.be/85crr8eF8dQ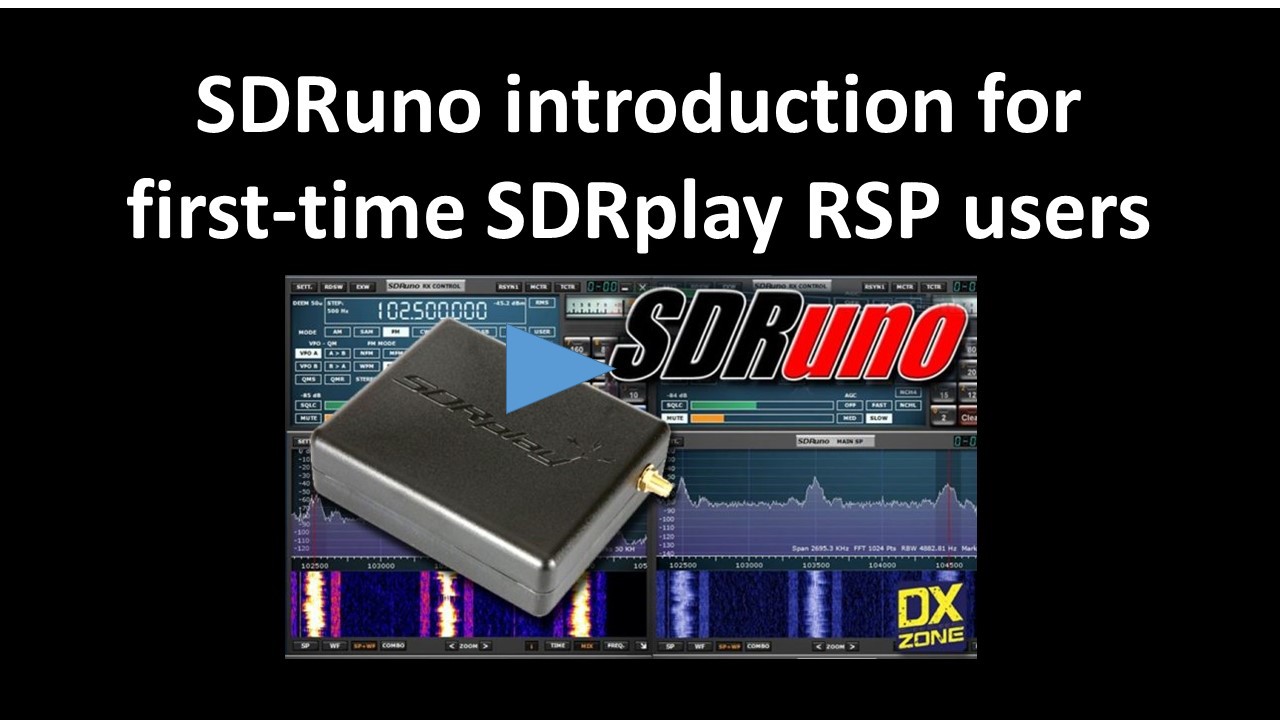 We want to reassure people that we haven't forgotten about the new API and EXTIO release which I mentioned on 16th June - it's true we have been a bit slower than we'd like due to all the support work needed to get SDRuno up and running. We still need another week on this but it is now our top priority. Only then can Simon Brown make the updates needed for SDR Console V3 - click here for a great video showing 3 VFOs in action on SDR Console V3 - posted by Andrew O'Brien
We re planning our first webinar to make this kind of information more useful and tailored to people's questions - the exact details are still TBD, but pencil in Saturday 2nd July at 16:00 UTC
Finally, here's a useful Shortwave Listening resource I came across - it has lots of useful links to frequency information: http://www.shortwavetimes.com/
Tuesday June 21st
Since the launch of SDRuno, several existing Studio 1 customers have contacted us to inquire about the future of Studio 1 and whether it will continue to be available and supported.
When SDRplay acquired the rights to Studio 1, we granted Sandro Sfregola (the developer of Studio 1) a perpetual license to continue to sell and develop Studio 1 for paying customers. He has indicated that it is his intent to continue doing so. It is our understanding therefore that Studio 1 will continue to be available and supported through its original developer and distribution channels for the foreseeable future. SDRplay will focus its development efforts on SDRuno for RSP customers and the two products will co-exist serving different customer bases.
New users of SDRuno - please note that the current windows webpage actually has 2 separate 'buttons' - one for the SDRuno software and one for the documentation. See http://www.sdrplay.com/community/viewtopic.php?f=11&t=804 for more information - this will shortly be fixed. Another common problem is people get stuck after the first SDRuno window appears - there's a link here, to a video which shows how to bring up the additional 2 panels needed to get basic RX operation up and running: http://www.sdrplay.com/community/viewtopic.php?f=11&t=805
Monday June 20th
Many thanks for all the feedback from the first users of SDRuno - the take-up has been amazing and very enthusiastic. The first videos are starting to appear - including the one below from Mile in Macedonia who shows off the full 10MHz bandwidth of the RSP, and demonstrates how to evaluate filter performance and potentially create a low cost HF antenna network analyser.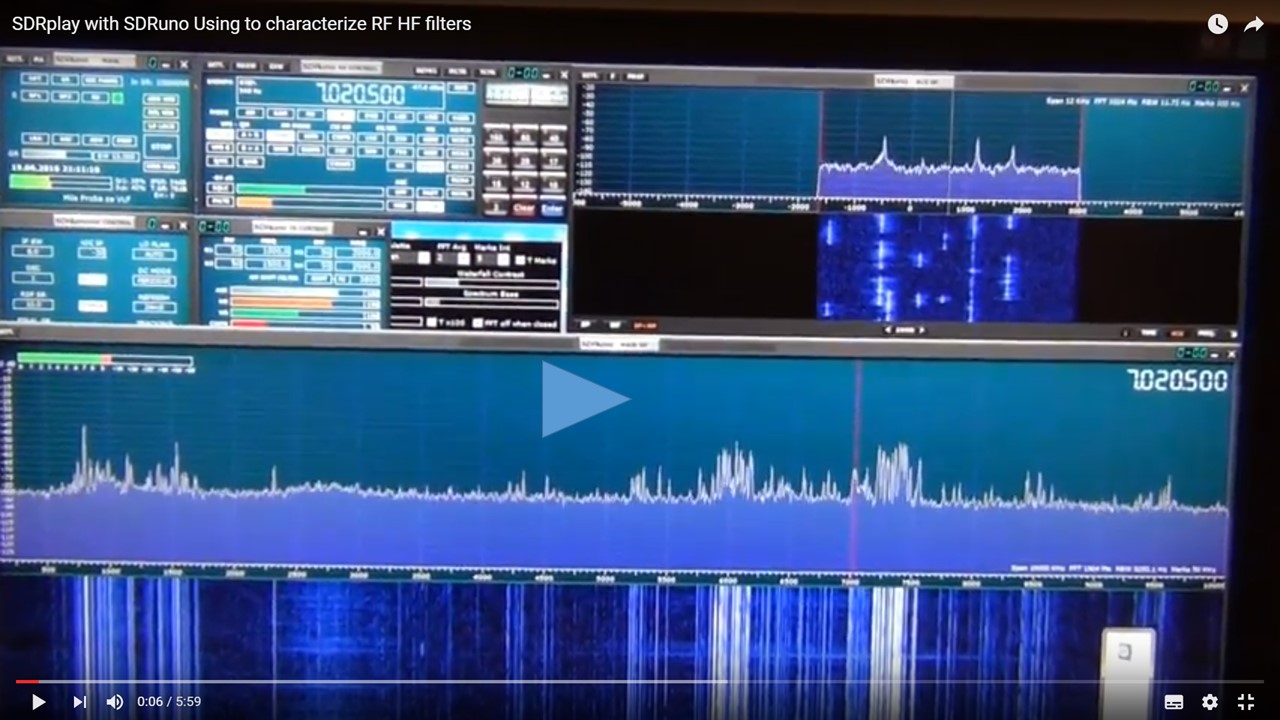 Tom, the author of Win4K3Suite just announced the following good news for K3 and K3S owners... Win4K3Suite now supports the SDRPlay software defined radio when used as a panadapter. This device provides the lowest cost panadapter available for the K3 and K3S with an IF output and allows useable bandwidths up to 1.8MHz! No sound card is required. Unlike competing panadapter software for the K3, Win4K3Suite is truly plug and play requiring only refinement of the global offset. All bands and modes work without any configuration required. This release of Win4K3Suite also now supports connection to a K3/0 allowing remote control of your radio using the Elecraft K3/0 just like a K3. There are addition enhancements such as a doubling of the waterfall resolution, support for the 15W output of the KX3 and a few bug fixes. Win4K3Suite is the most comprehensive control program available for the Elecraft radios and interfaces to all third party hardware and software with minimum fuss. You can see Win4K3Suite in operation here: https://www.youtube.com/watch?v=htVlc9x0IoU A free full functioning download is available at http://va2fsq.com SDRplay integration is mentioned here: http://va2fsq.com/?page_id=842

Sunday June 19th
SDRplay is pleased to announce the official release of SDRuno for the RSP. SDRuno is the new name for the RSP compatible version of Studio1, the rights to which we obtained and announced on 28th April. SDRuno contains native support for the SDRplay RSP and no extra plugins are required. Third party hardware can also be supported via the ExtIO interface, but with reduced functionality.

SDRuno provides a rugged and flexible, high performance SDR receiver capability and boasts some excellent features:

• Multiple 'Virtual Receivers' which allow for simultaneous reception and demodulation of different types of signals within the same receiver bandwidth.
• A selectivity filter with an ultimate rejection greater than 140 dB.
• A unique distortion-free double stage AGC with fully adjustable parameters.
• Multiple notch filters with BW adjustable down to 1 Hz, Notch Lock feature.
• A unique synchronous AM mode with selectable/adjustable sidebands, dedicated PLL input filter, and selectable PLL time constants.
• SNR (stereo noise reduction), featuring a proprietary noise reduction algorithm for stereo broadcast.
• AFC for FM signals.
• Calibration for receiver frequency errors.

Over time, we plan to add many more features to SDRuno to enhance the user's experience of this very powerful piece of software. This software runs on Windows and we don't yet know how easy it will be to migrate it to other platforms but this is something we will be investigating.

SDRuno will be made freely available to all current and future users of the RSP – to download a copy – simply go to http://www.sdrplay.com/windows.html

Our support for SDRuno in no way lessens our commitment to support HDSDR, SDR Console, Cubic SDR or ANY other software solution where the authors are willing to work with us. We fully recognise that many people have strong preferences for particular pieces of software and we do not want to do anything to undermine the options that people have to use their favoured software packages. Indeed, our view is quite the opposite. Our objective remains aim to have our hardware platforms support any and every SDR package out there. This of course may not be possible, but it is our philosophy and part of the ethos of our company.
Many thanks to our beta testing team - especially Paul and Mike with their SDRuno cookbook guide - see http://www.nn4f.com/SDRuno-cookbook.pdf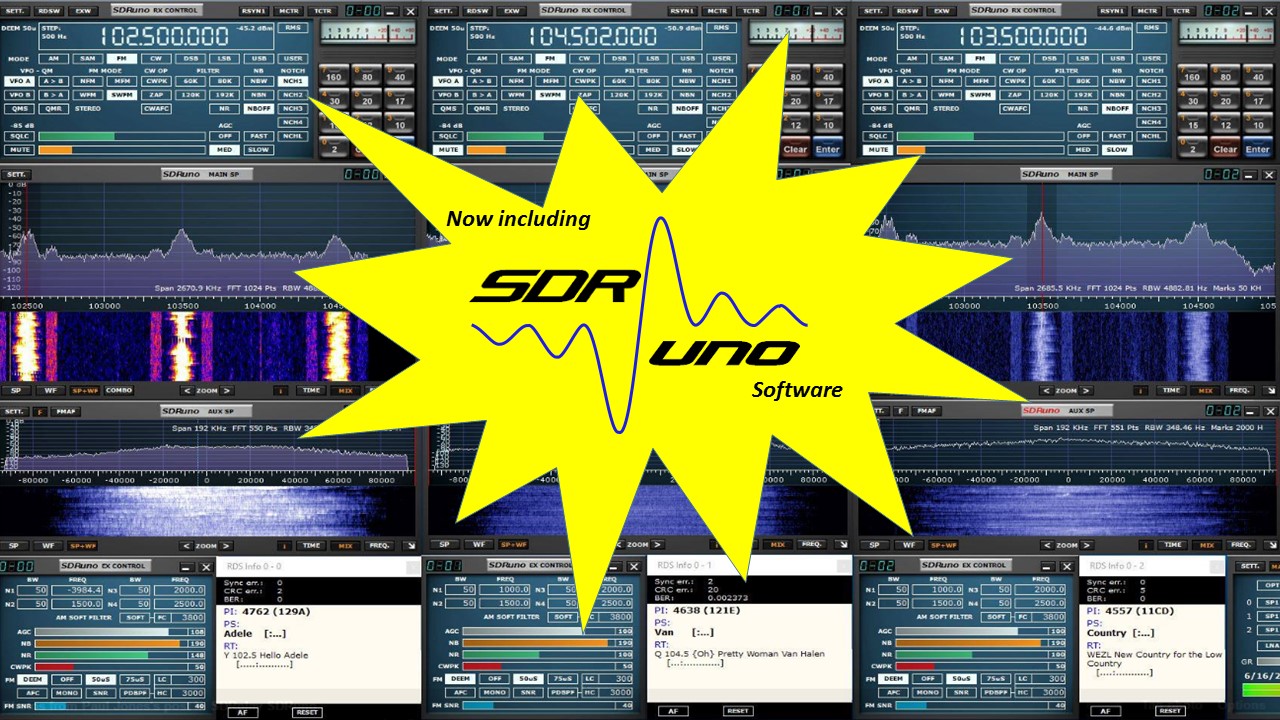 An announcement about how to obtain SDRuno will be made here at 9am local UK time today (08:00 UTC) - SDRuno (pronounced 'SDR-you know') is the new name for Studio1 on the RSP
Saturday June 18th
Just after my comments on Thursday, Mile from Macedonia posted this neat video showing the RSP in operation below 100kHz: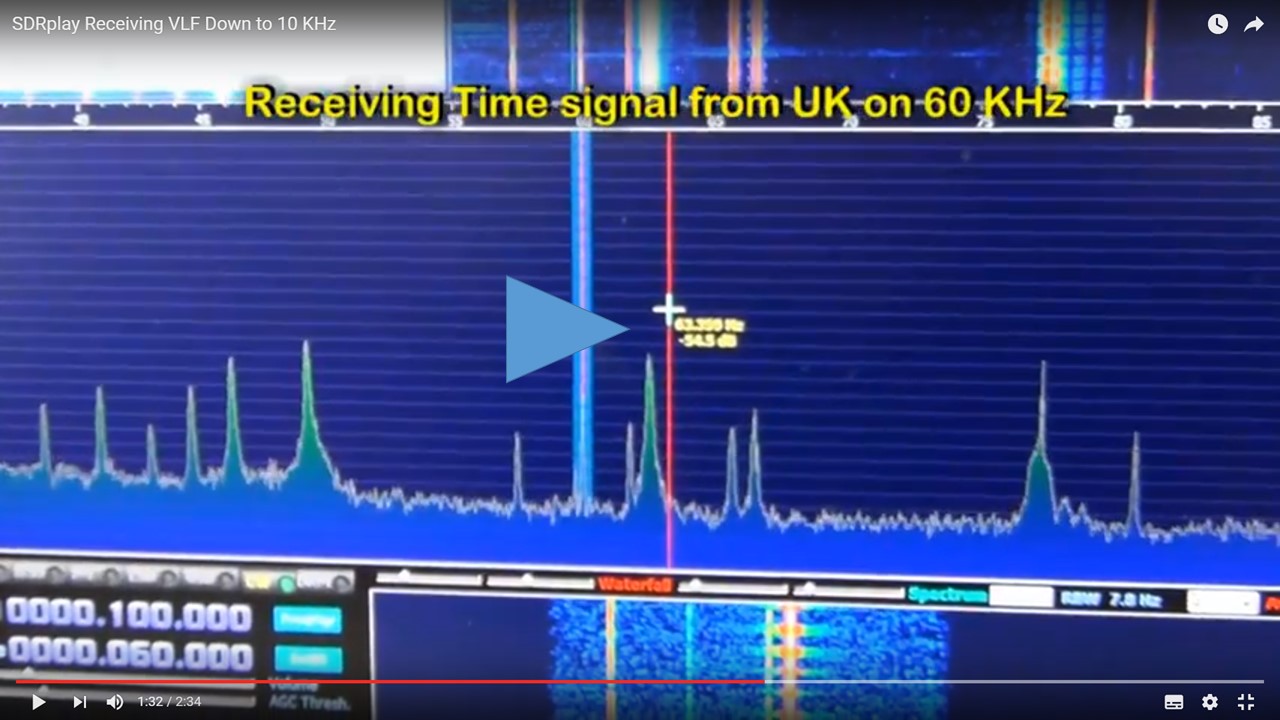 Thursday June 16th
We will shortly be releasing an update to the API and the EXTIO file to reflect a number of improvements – one of these will be to lower the frequency to which the RSP can be readily be tuned. It has always been possible to tune to frequencies below 100kHz, we are just making it easier to do so. This is the reason why new customers may have noticed we are now shipping RSPs with packaging which states our coverage range is 10kHz – 2GHz
Wednesday June 15th
We have decided that the new name for Studio1 on the RSP will be SDRuno (said SDR, uno) - beta testing is nearing completion and we hope to announce how existing and future RSP owners can obtain the software within a week from now. The unofficial Facebook Group for discussing this software has changed its name to https://www.facebook.com/groups/sdruno/ - this is separate from the popular SDRplay (closed) group which is up to nearly 3000 members.
Monday June 13th
Many thanks to all those who attended HamCom in Irvine, Texas, this weekend, and came to hear Steve's talk - congratulations to Dennis AE5GA and to Ave KF5BRS who won RSPs in the competition held each day. You can download the presentation material by clicking on the picture of the Ham Radio Outlet stand below. As with Dayton, HRO sold all the RSPs they had with them :-)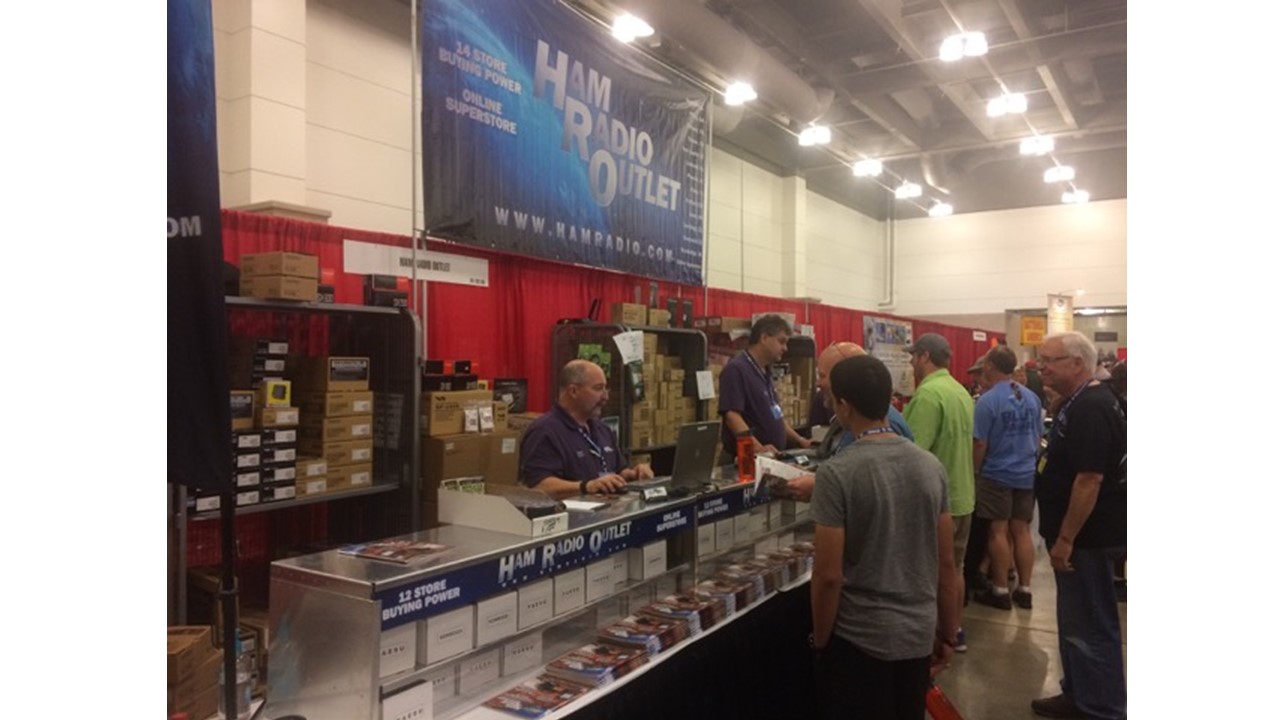 Friday June 10th
We have a few beta testers trying out the new integrated Studio1 SDR software which we hope to make available to existing and new SDRplay customers before the end of June. We are aiming for the cost to be as low as possible and we will also be changing the name because there are other English language companies that use "Studio1" as a trademarked name. The new name will be "SDR1" and there is already an unofficial facebook group up and running! See https://www.facebook.com/groups/sdrplaysdr1/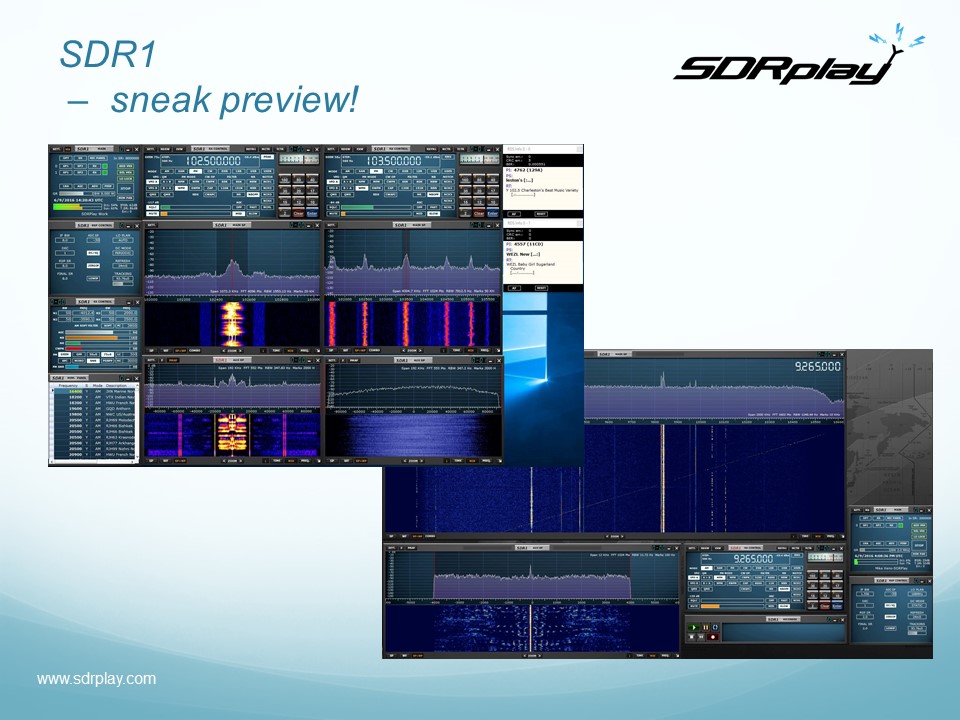 Saturday June 4th
For first time SDR users, life can be tough - and my heart often skips a beat when people post a cry for help like the one which popped up yesterday on the independent SDRplay Facebook Group - a new customer simply posted "Well it is here and hooked up but havin no luck..... help me please my phone number is at the bottom of my qrz page if any one wants to help" - 16 postings later and that new user was able to triumphantly proclaim "Well - I've played with the RSP and got it working awesomely .. thank you all for the support." We do encourage all newcomers having problems to come to us directly at SDRplay (making sure you have used the 'Start Here' interactive guide) but we are so few in numbers, we could seldom do it as quickly, (with so little information to go on!), as the Facebook group - thanks as ever to Mike Ladd, Paul Jones and many more regular helpers at https://www.facebook.com/groups/sdrplay/ for their tireless support for this amazing and fast growing band of RSP enthusiasts.
There' a new beta pre-release of Cubic SDR out - go to https://github.com/cjcliffe/CubicSDR/releases/tag/0.2.0-beta-rc1
For people chasing DRM DX then I noticed this very succinct 'getting started' guide from Marc Schrijven who wrote in the SDRplay Facebook Group on how to set up DRM:
"Step 1: Install Virtual Audi Cable, and don't forget to set up sampling in/out at 48kHz Stereo, and in HDSDR, select DRM, and audio out stereo 48kHz, and set BW in Bandwidth filter at 10kHz and set frequency 5kHz lower as specified on the internet. It seems USB signal, and DRM stations report the centre of the 10kHz signal as TX frequency, while LO must be set 5kHz lower.
Step 2: To decode install DRM decoder 'dream' and manually download faad2_drm.dll and put in dream directory.
Step3: Start DRM program dream and select virtual cable as input.
Links: on http://hfcc.org/schedule/ you can find the DRM stations. https://sourceforge.net/projects/drm/ for the dll. On http://sourceforge.net/apps/mediawiki/drm/index.php… you can find the dream decoder sw.
73 Marc " Click on the picture below to hear DRM in action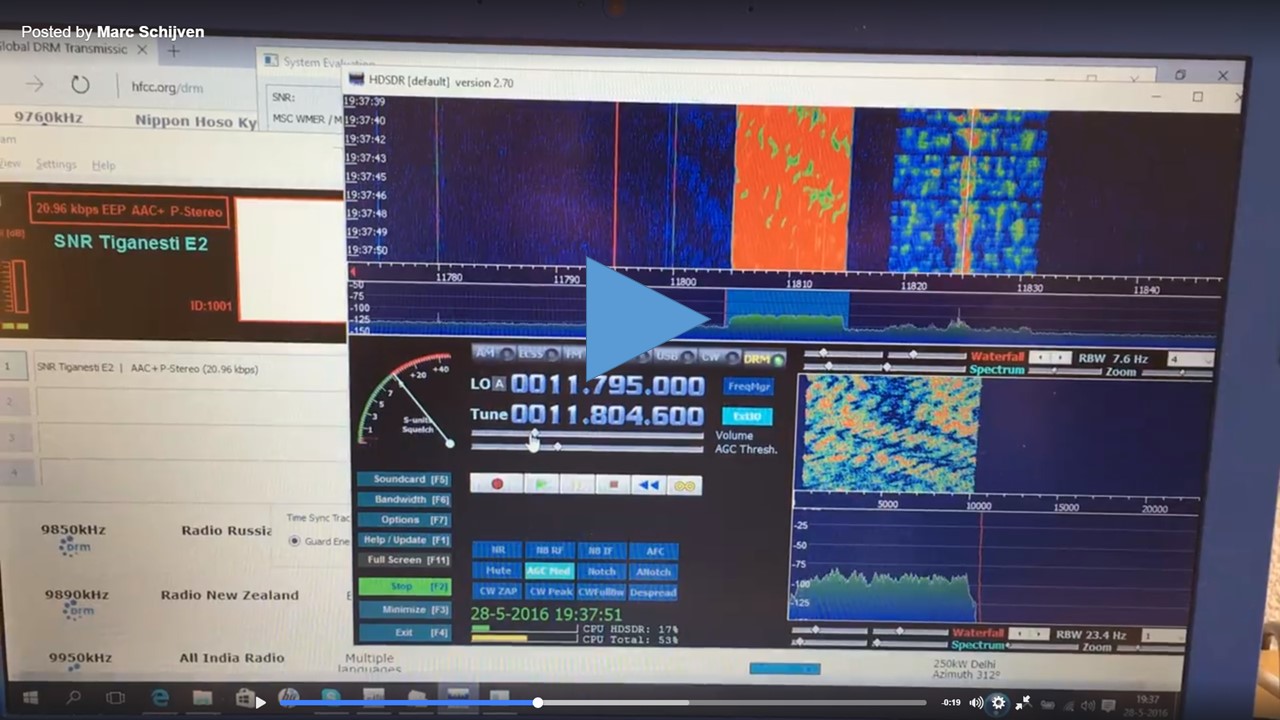 Friday June 3rd
This video clip shows SDR Touch in action on 20m using the RSP - click on the picture to view it: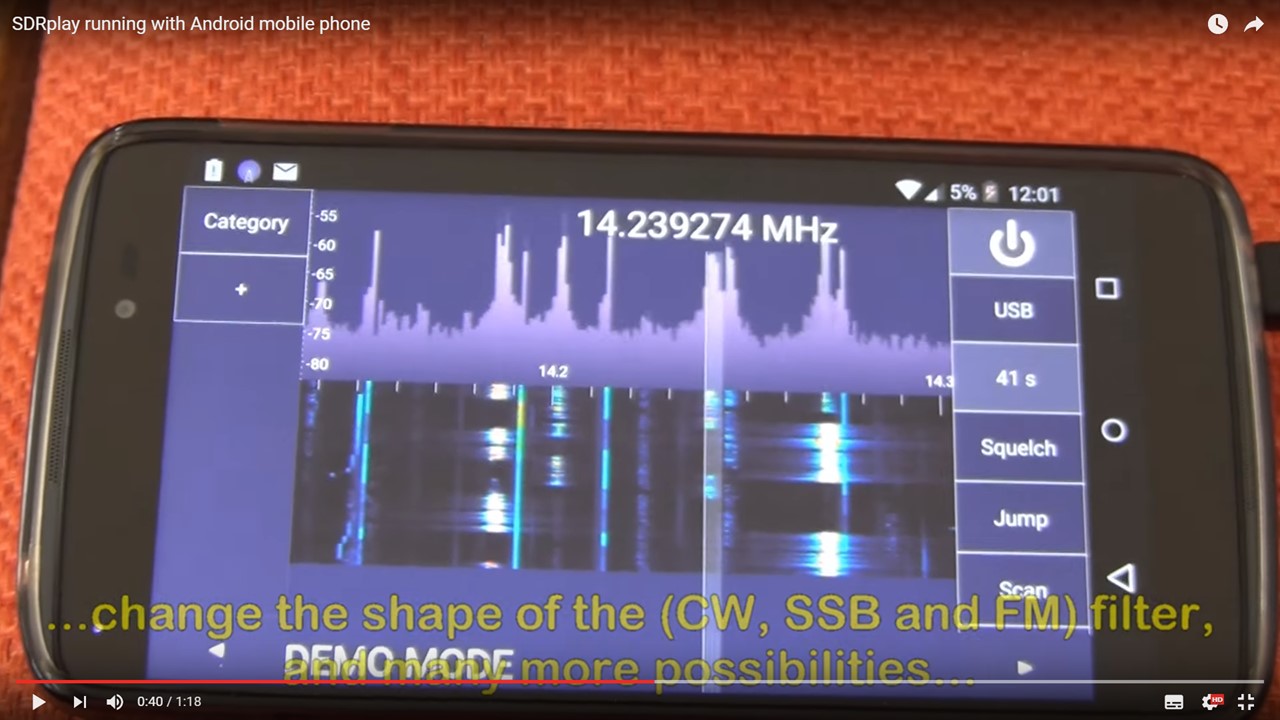 Sunday May 29th
Here's a new video from Mile Kokotov really putting the RSP through its paces during the WPX CW contest this week: https://youtu.be/A41oRL5vpLc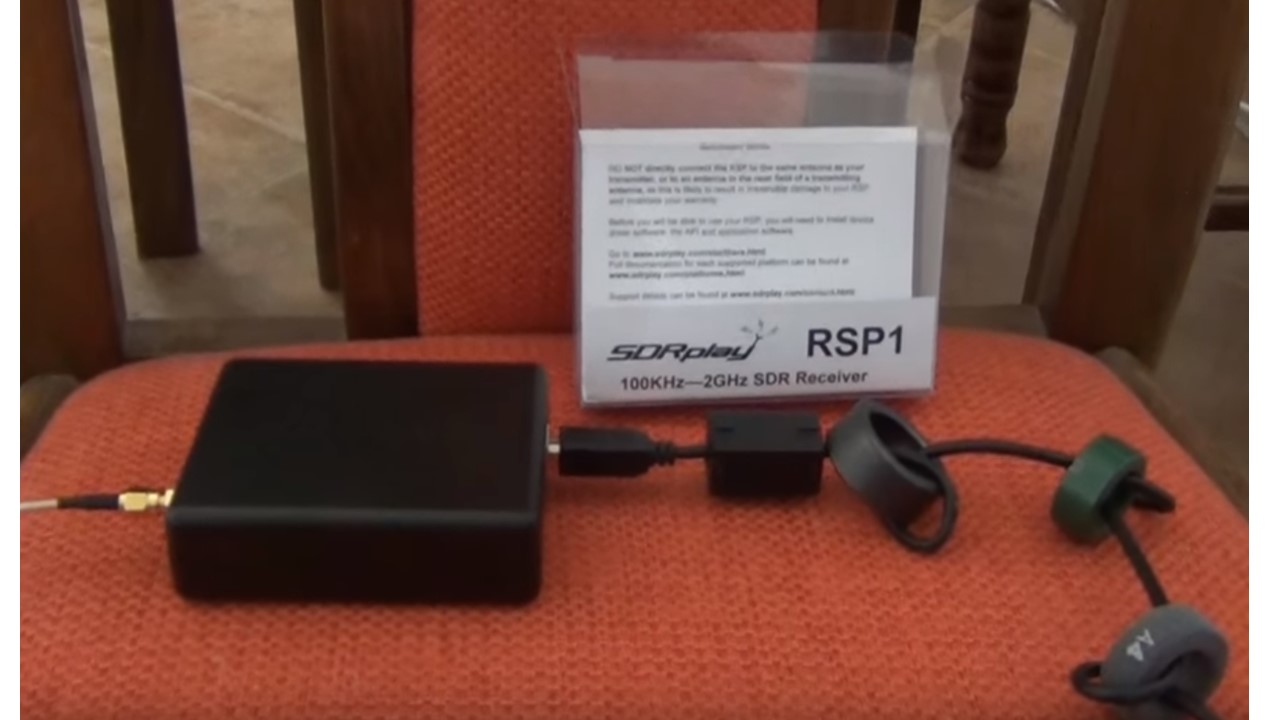 Monday May 23rd
HRO sold out of RSPs at this weekend's Dayton Hamvention by Saturday afternoon! Welcome to all those new customers. At least HRO have stock in other shops and for USA ordering from their website on http://www.hamradio.com/
You can always buy your RSP1 direct from us on www.sdrplay.com or from one of our authorised distributors listed on http://www.sdrplay.com/distis.php - Please note that RS Components also have availability in many countries where at the moment we don't have local distributors - go to http://www.rs-components.com/index.html and choose your country and enter product code 9229607.
Meanwhile WD9EWK posted this cool picture of his satellite set up he used for a 60-deg AO-85 pass yesterday: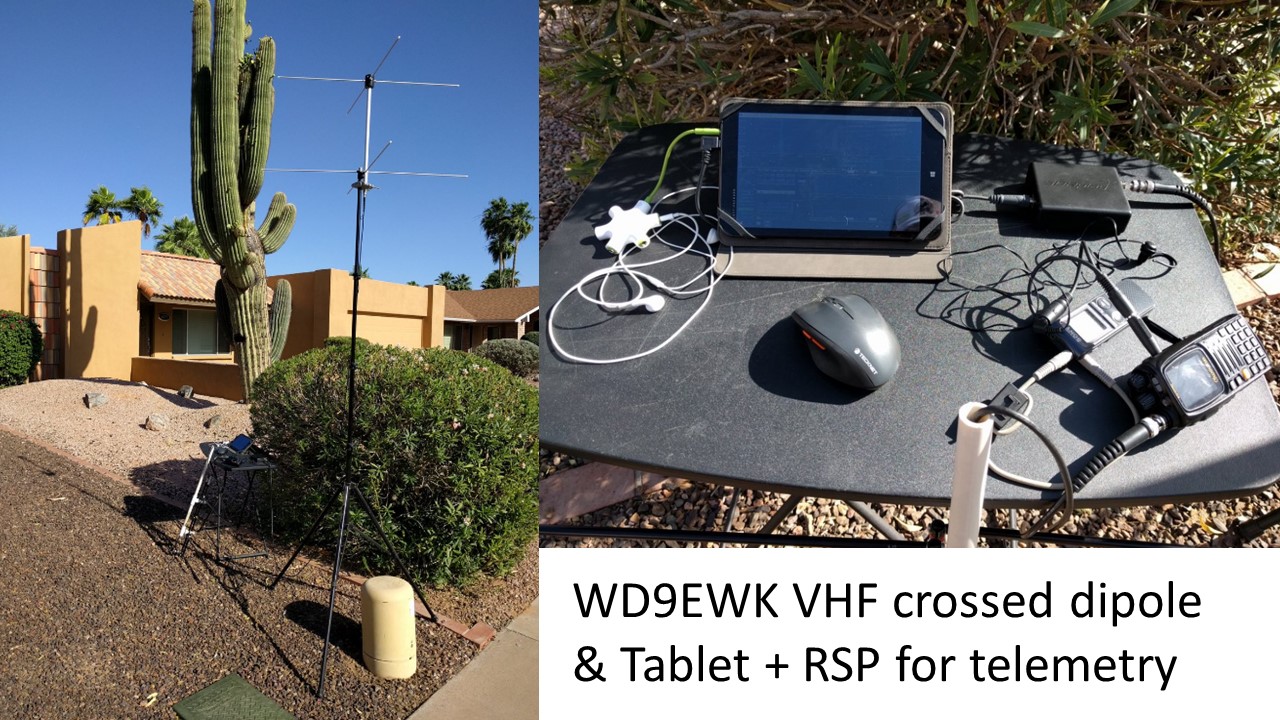 Saturday May 21st
It turned out that 1900UTC was a bit too early for a transatlantic QSO on 20m yesterday, so Mike and I tried again at 2200UTC and had quite a good QSO albeit with heavy QSB. Meanwhile Simon Brown has released Preview #2 of SDR Console V3 - click here for the link for the software - for the NN4F user guide for SDR Console V3 click on the picture below: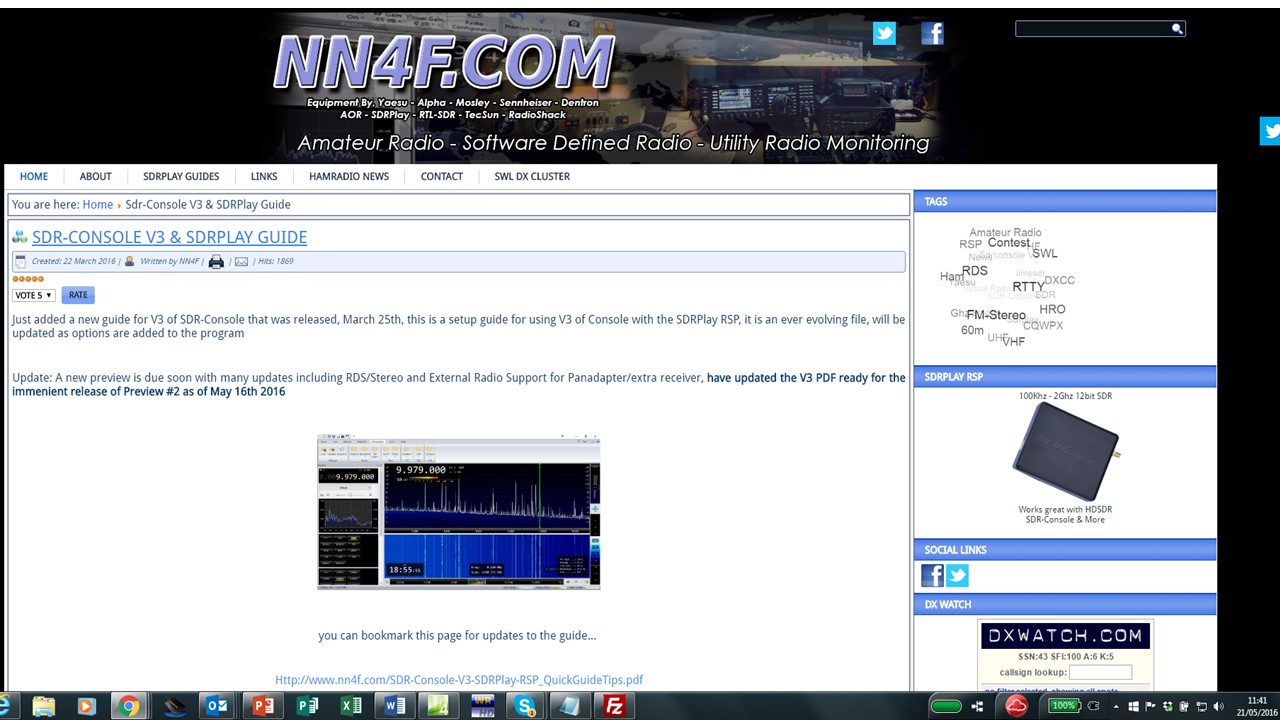 Apologies to anyone trying to access my RSP on my remote server - 2 days ago I upgraded to Windows 10 and the default firewall settings blocked remote access. It's now up and running again (apart from when I happen to be using the G5RV for other purposes). My RSP is called 'SDRplay RSP with HF antenna in UK' and is located near Bedford. There are now approximately 16 different SDRplay RSPs available for people to try out remotely - the list and the instructions on how to remotely access them with simply a copy of SDR Console and an internet connection (only Version 2 available at the moment) is on http://www.sdrspace.com/Version-2 (just realised antenna was disconnected until 1400UTC today - so anyone who tried and heard nothing today, please try again!!)
Friday May 20th
20m propagation last night was great with lots of reports of good DX. Tonight I'll be trying to hook up with Mike KD2KOG on 14305kHz around 1900UTC (8pm UK)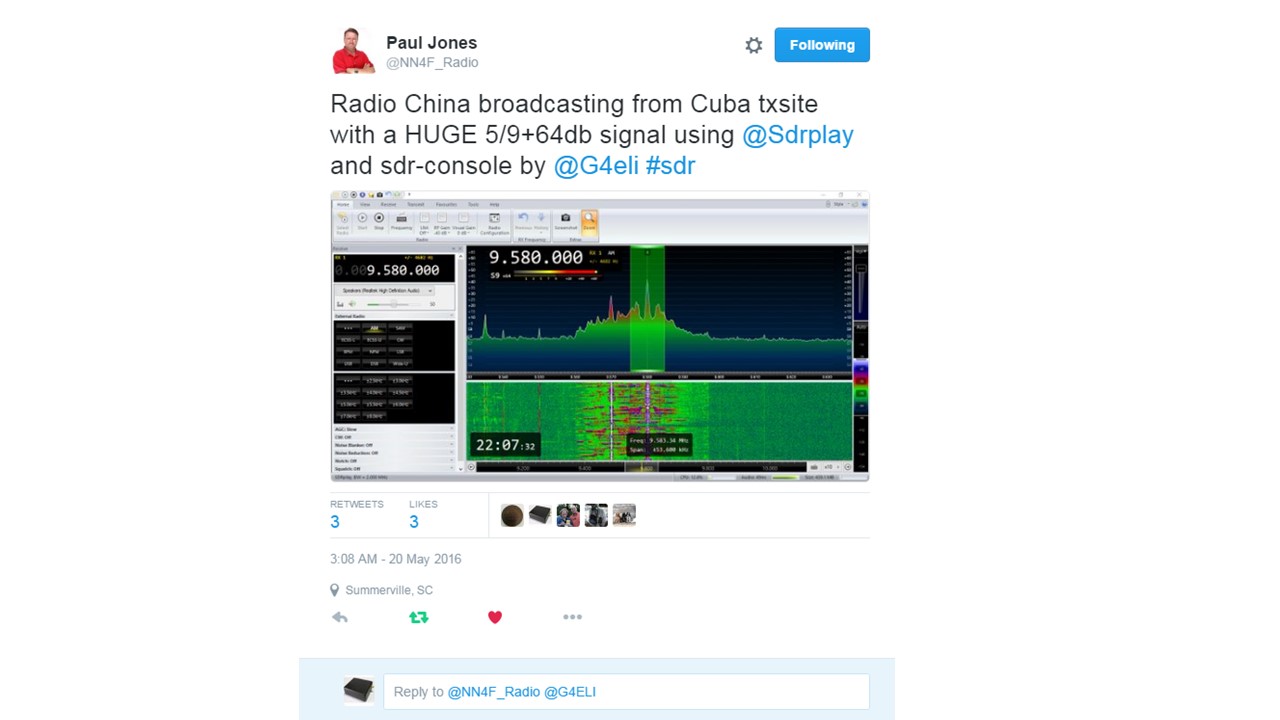 Wednesday May 18th
HF propagation has been widely variable lately with some days completely dead and other days turning in some pretty good results. We seem to be getting quite a few MW DXers reporting successes with the RSP - here's a nice snippet posted by a DXer from Northern Ireland getting good signals from the South Atlantic on 1530kHz:
Wednesday May 11th
Yet another RSP review was published today on the RTL4Everyone blog - click here to view it. It concludes with comments like "The SDRPlay is the only choice after an RTL dongle, anyone asks and I'll wholeheartedly recommend it." Many thanks to the author Akos Czermann for this candid report.
A lot of people have been using the RSP with Android devices and a recurring question is whether a particular tablet or phone will be compatible via OTG for connecting to an external radio. Maintaining an up-to-date list of Android tablets and phones which support OTG/USB external device connectivity is difficult, since manufacturers can introduce system s/w updates which cause problems. Currently we believe Samsung Galaxy phones up to and including the S5 and starting again with S7 work OK. The only way to be 100% sure is to down load the free version of SDR Touch and check this before then proceeding to the 'Key' version.
Thursday May 5th
The video below, courtesy of RTLSDR4Everyone (click on the picture) uses SDR Console V 2.3, and compares the RSP with an RTL dongle + a HamItUp coverter + Discone antenna on the 15MHz broadcast band - you need to see which one is selected before each sequence - typically when you here something it's the RSP!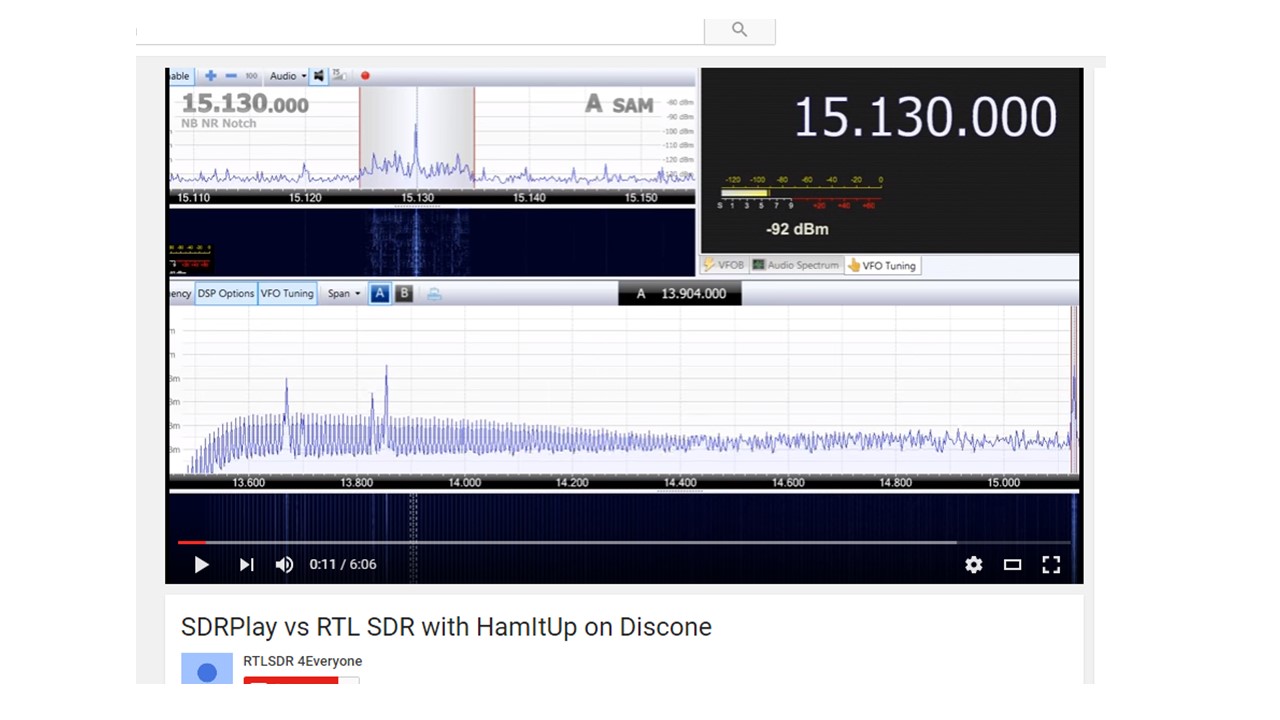 Wednesday May 4th
It was great to see this cheery post on the facebook group just now: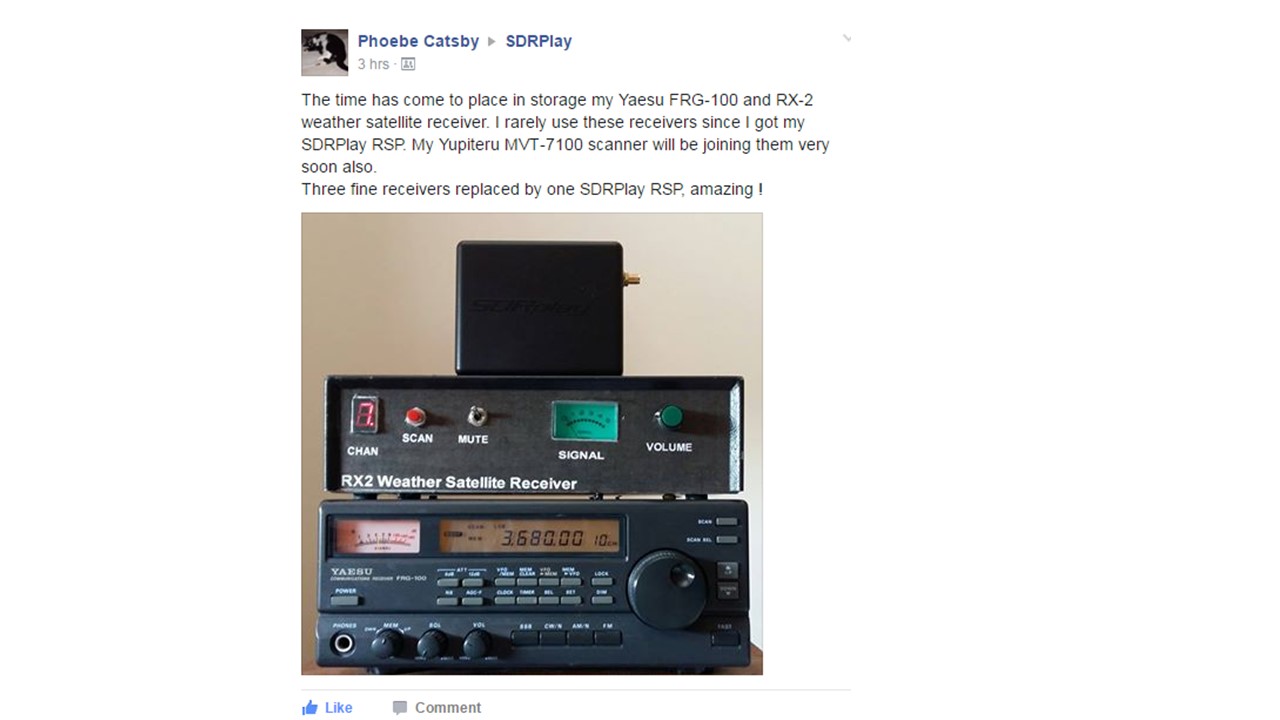 Sunday May 1st
We have update the Windows version of ADS-B (http://www.sdrplay.com/windows.html) - as with the recent update on Raspberry Pi, it supports 2MHz and 8MHz demodulator modes. We recommend you uninstall the previous version (if you had it) before installing this one. Performance should be better than before. This is still in beta so any feedback or comments to software@sdrplay.com is welcomed.
Friday April 29th
Since we announced the agreement to purchase the rights to Studio1, there have been a lot of questions and speculation regarding our future plans for the software and how this might affect our commitment to other software packages such as SDR Console, HDSDR and Cubic SDR.
The first point to note is that we have long terms plans for multiple new products over the next few years and because of the architectural innovations that we are aiming for in these products, specific software support will be required to unlock these innovations. Packages like the ones described above are largely hardware 'agnostic', but the consequence of this is the enormous demands that are placed upon the creators of these packages to support all of the different feature-sets for the wide array of hardware products out there. This involves a lot of work on their part and necessarily can take a lot of time. The only way that we can be confident of being able to unlock the full feature-set of our current and future product in a timely manner for our customers is to have control over the software that controls the radio. We already do this to a certain extent with the ExtIO plugin, but not all SDR software supports the ExtIO interface and it does have its limitations. In addition we see users express frustration at us that they cannot perform certain tasks (such as fast scanning for VHF/UHF) with the software that works with our hardware. As things stood, whilst we sympathised with these frustrations, there was absolutely nothing that we could do about it.
By having control of our own software, we now have a path towards addressing these issues. However, this in no way lessens our commitment to support HDSDR, SDR Console, Cubic SDR or ANY other software solution where the authors are willing to work with us. We fully recognise that many people have strong preferences for particular pieces of software and we do not want to do anything to undermine the options that people have to use their favoured software packages. Indeed, our view is quite the opposite. Our objective remains aim to have our hardware platforms support any and every SDR package out there. This of course may not be possible, but it is our philosophy and part of the ethos of our company.
The final point is that whilst some people are prepared to pay for software, the majority of users in this community are willing to pay little or nothing for their software. This isn't in any way a criticism, it is simply an observation. We believe that the reason for this is twofold. Firstly, there are very high quality packages available that already cost little or nothing and secondly software feels rather 'intangible'. With hardware, you can pick up and touch what you have paid for and get a clear sense of cost and value. With software, that isn't so easy. However, we have to remember that software is very expensive for the developers. Packages such as SDR Console will have taken many man-years of effort to develop and we ought to remember that whilst doing this work, people still need to keep a roof over their heads and put food on the table. As a consequence, in many cases it remains an imperative to have some way to monetise this work, either through selling 'pro-versions', selling hardware or by selling the software itself. Making the software 'open source' and therefore available to the entire community to use for free and however they wish is certainly laudable but in many cases undermines the developers ability to financially support themselves.
So in summary, our decision to acquire Studio1 will take nothing away from anyone. In fact the opposite is true. We aim to develop and use the software to provide our existing and future customers, options which we hope and believe they will find very attractive. This won't happen overnight, but we hope to have new announcements soon that will give a clear indication as to what this will mean.
Thursday April 28th
We are delighted to have reached an agreement to acquire Studio1. Studio1 is the perfect complement to our SDR hardware products and gives us the ideal platform to deliver a complete class leading SDR solution for our customers. We look forward to working with Sandro and further developing Studio1 to unlock the full capability of our current and future products - Studio1 has established a strong customer base - we also look forward to further developing Studio1 to specifically benefit present and future owners of our products :-) The official press release can be found here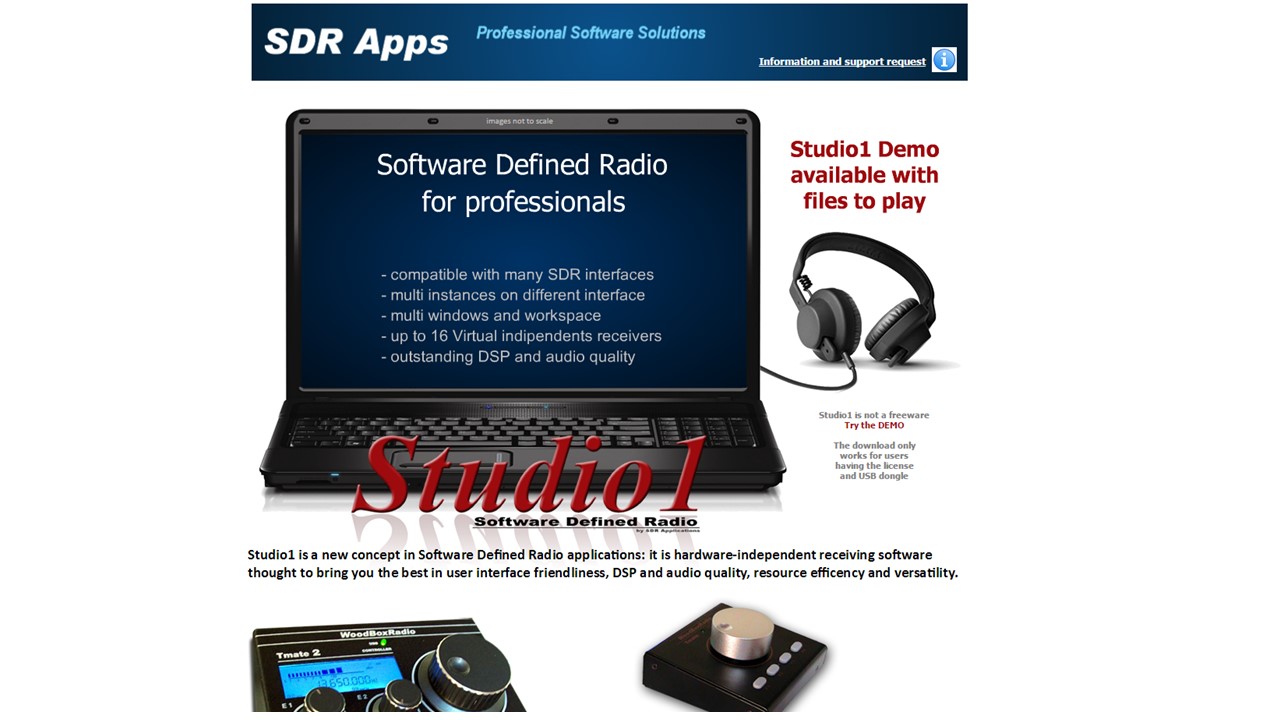 Wednesday April 27th
We now have an updated beta version of ADS-B for both the Raspberry Pi 2 and 3. This is based upon the 16bit Mutability version of dump1090 developed by Oliver Jowett and unlocks the full 12 bit performance of the RSP1. People should see a significant performance improvement over the dump1090_sdrplus version, which was based upon 8 bit code. The latest beta version can be downloaded in binary form from http://www.sdrplay.com/rpi_adsb.html . Should anyone have questions or feedback, please contact software@SDRplay.com
Saturday April 23rd
Had a lot of fun this week trying out SDR Touch for Android devices - click here for a crude video demo of what is possible using an RSP - the Android API is available from here
Tuesday April 19th
Good news for Android users - SDR Touch have released a beta version of their software with SDRplay RSP functionality - go to https://play.google.com/apps/testing/com.sdrtouch.sdrplay to sign up as a beta tester - SDR Touch works on most recent Android Phone or Tablet devices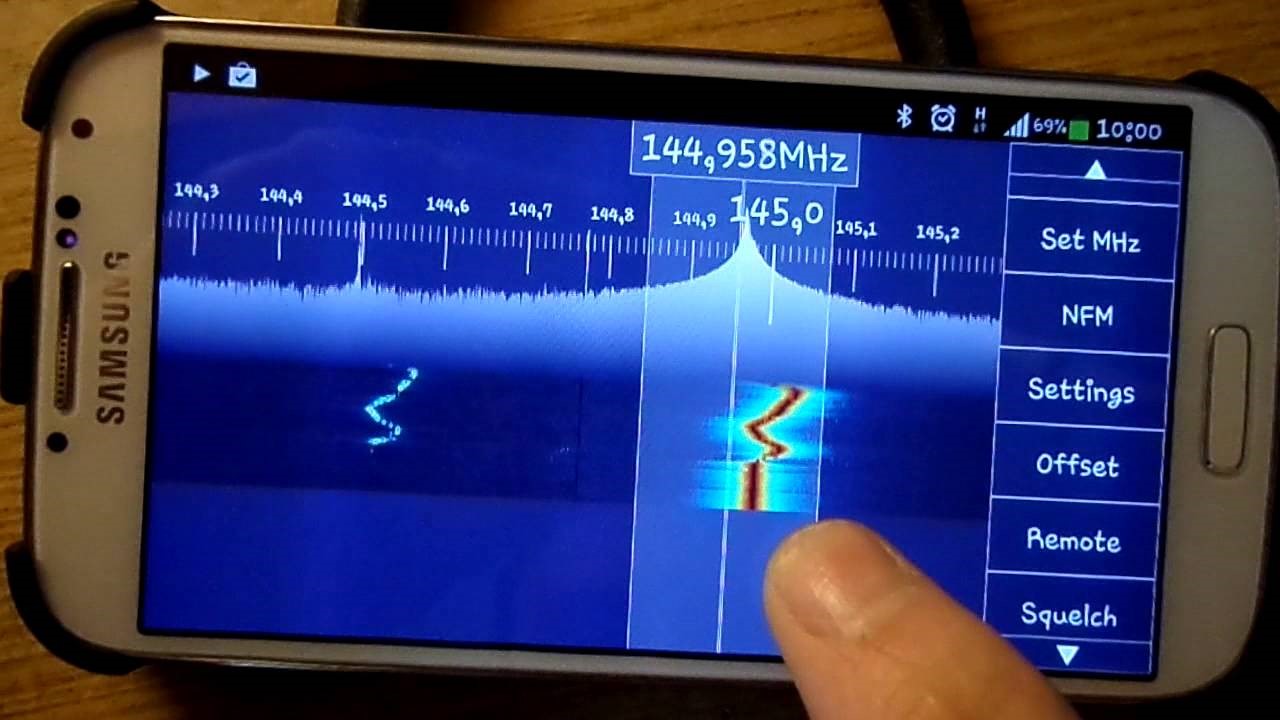 Friday April 15th
The following video appeared last night which shows an RSP connected to a narrow band 40m large antenna and reception being compared to an FT817 with CW filter. The RSP is being used to find fast CW signals - click on the picture below to see the video....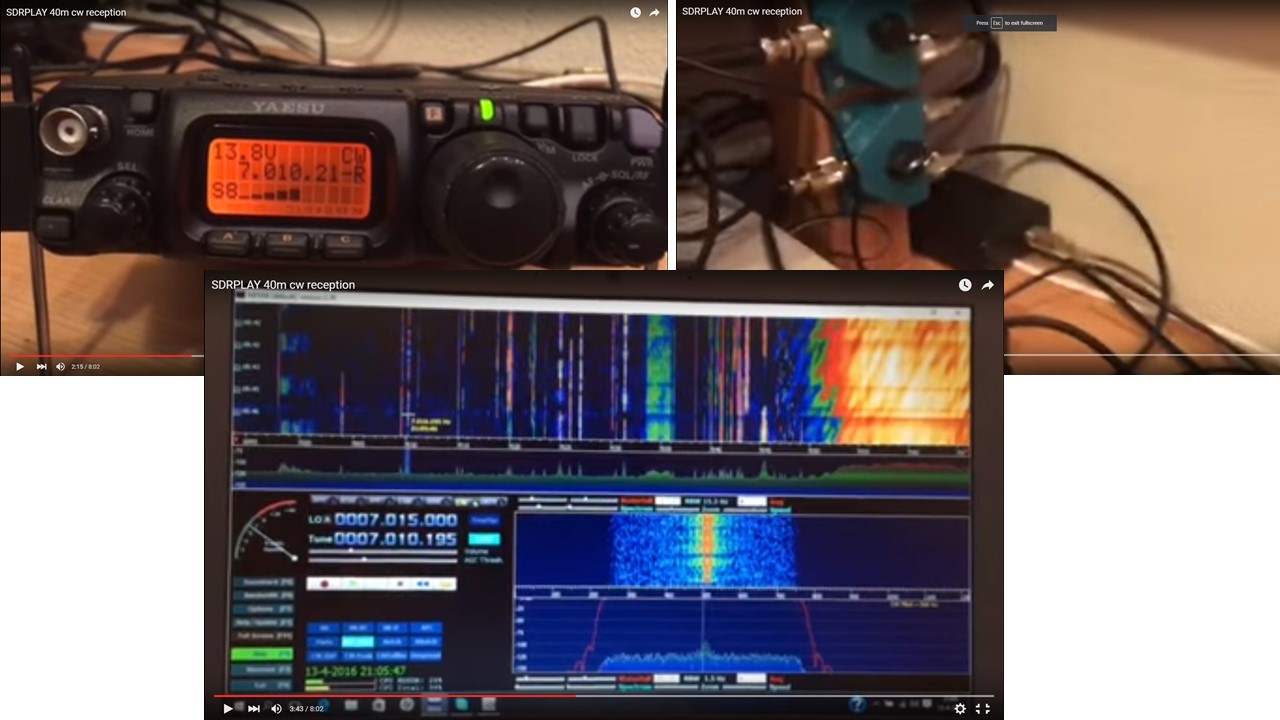 Occasionally, people have had urgent requests for support and posted them on the SDRplay forum on http://www.sdrplay.com/community/ - doing this may take longer for it to get seen and actioned compared to contacting the team directly by emailing support@sdrplay.com or support-usa@sdrplay.com (some RSP suppliers provide their own alternative support email address) - if you have an urgent RSP-specific question, then we recommend using the support email address directly. Having said that, many problems and questions really do relate to specific combinations of software, frequencies, modulation schemes, modes, interfaces, antennas and use of an RSP with other hardware and this is where the power of both the SDRplay forum and the independent Facebook Group on https://www.facebook.com/groups/sdrplay/ really come into their own - often someone has already encountered the same situation that you have and are willing to share their learning with others. please note, our forum has to be moderated so entries can take a few hours to get posted. The beauty of Facebook is that posts appear as soon as they are written so you get much more interactivity.
Wednesday April 13th
Lots of nice SSTV pictures being picked up overnight from the ARISS Commemerative event which has suffered some hitches. A faulty connector caused problems for them. Despite this, there are several cool pics posted on the SDRplay Facebook group page like this one below from Robin Moseley of Ham Radio Deluxe: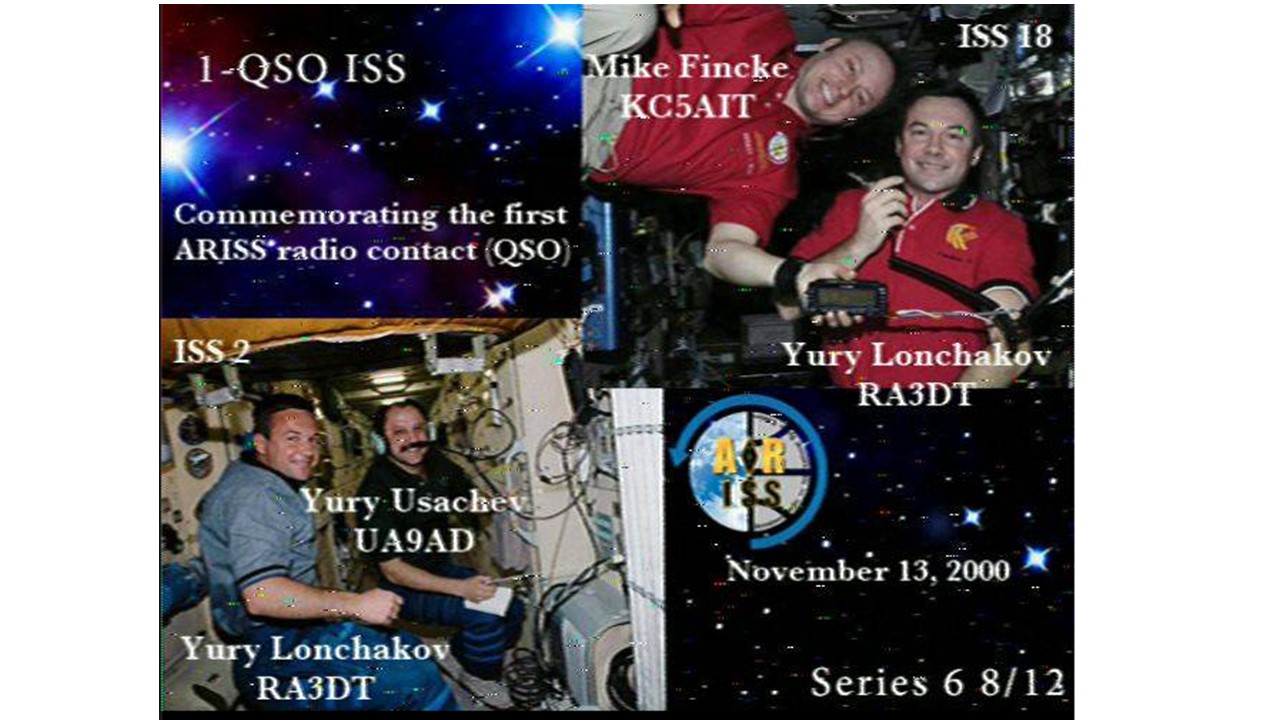 Sunday April 10th
For the FM enthusiasts among you, the new SDR Console V3 Matrix feature looks like this- this was done using an Ettus B200 but excellent performance can also be achieved with the RSP: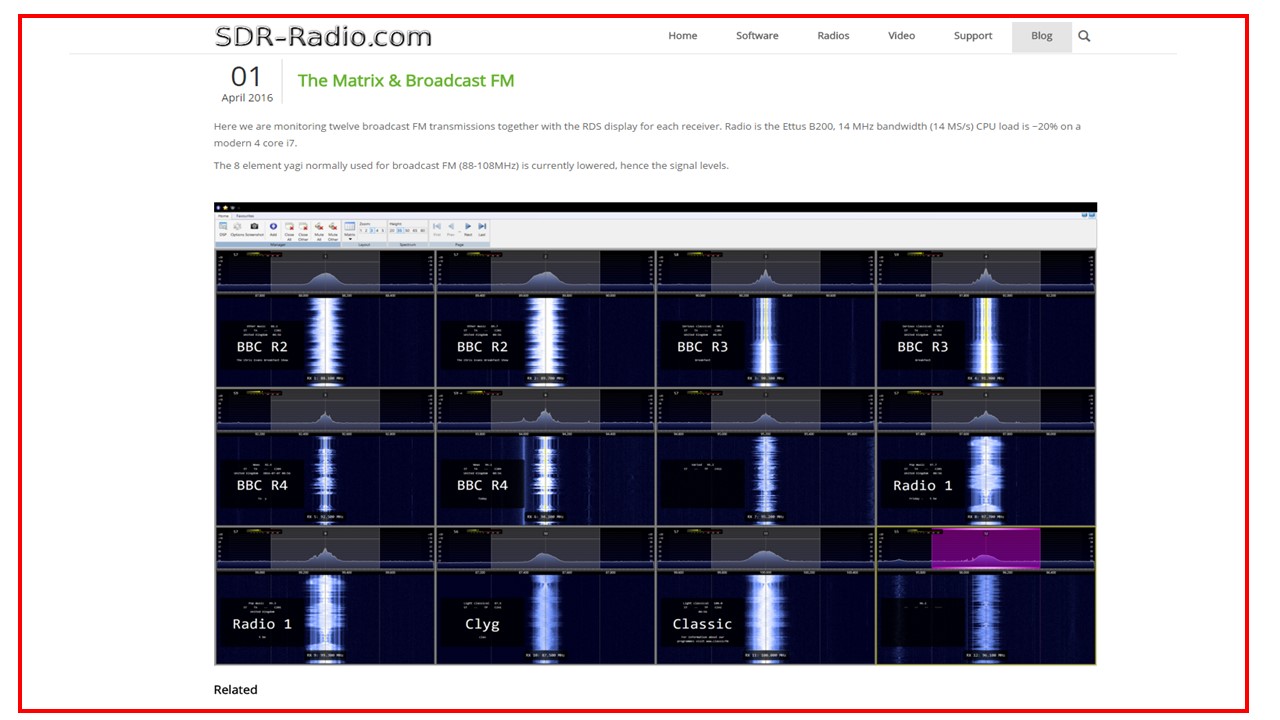 Tuesday April 5th
Here's a useful resource for Short Wave Listeners - a clickable world map showing thousands of Short Wave transmitter sites and frequencies - click on the map below to visit the website: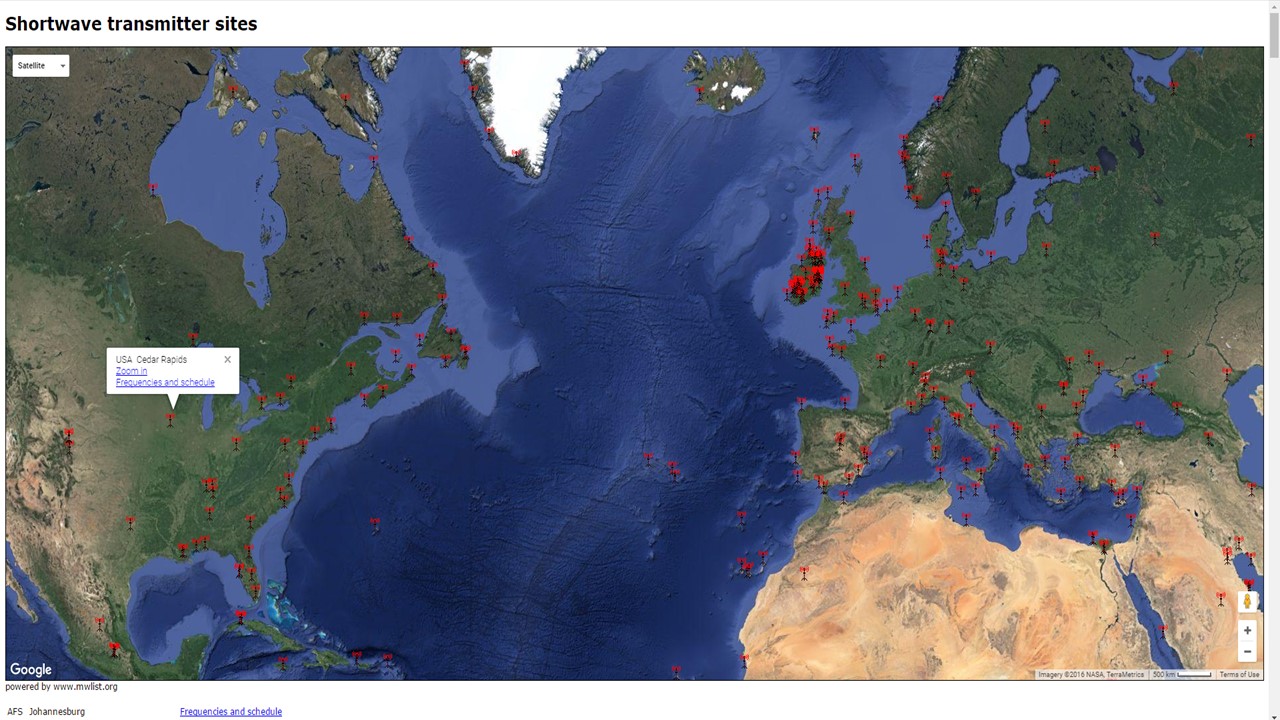 I had a nice call from someone called Chris who left me a message to say how he was enjoying his new RSP and had discovered it works well with the free TV software from NextPVR - why not try it out? NextPVR's website is http://nextpvr.com/
Saturday April 2nd
I spotted this comment on the Facebook Group today (amidst all the April 1st hoaxy fun and games!): SDRplay Group member Phil posted:
"My nephew and I are off to a local VE tomorrow at 1 PM to take our Technician exam. Confidence is high. smile emoticon And it's all because of the SDRPlay. It sparked our interest to go to the next step."
It was a very real confirmation that the RSP is proving a perfect gift for a youngster showing an interest in radio. It reminds me of that saying: 'Give a man a fish, and you feed him for a day - teach a man to fish, and you feed him for a lifetime' Giving any computer-literate person an RSP is definitely the way to teach them about radio and instill a new passion which lasts a lifetime - oh well, enough of the philosphy, and back to checking support emails!!
Friday April 1st, 2016
Lots of people are turning to SDRs for use as a Panadapter. The RSP is ideal for this. We have been working on a guide to Panadapters - this is very much an introduction to the topic and we hope to improve it based on feedback. Click on the picture below to download it:
Peter Johnson has produced a guide to decoding Meteor M N2 Weather satellite images using the RSP and Windows - see http://voiceoverman.wix.com/noaam2#!receive-meteor-m-n2-with-sdrplay/ujoqc
We are pleased to have added a new retail outlet to our distribution network - StrictlyHam in Melbourne Australia is now added to our list of RSP stockists - http://www.strictlyham.com.au/ - if you run a ham radio shop, outside the USA or Japan then please let us know if you are interested in acting as a local distributor.
Saturday, March 26th, 2016
Congratulations to Simon Brown for releasing the 'preview' release of SDR-Radio.com SDR Console Version 3 as promised, on time, yesterday. Click on the image below to download the software and scroll down to the March 23rd update to get Paul, NN4F's handy guide to using V3 with the RSP.
This is the preview version so it's a great time to provide feedback on V3 - the route for providing feedback is to join and post your comments on the SDR-Radio.com Yahoo Group - which is on https://groups.yahoo.com/neo/groups/sdr-radio-com/info and which Simon Brown is constantly monitoring.
If you enjoy using SDR Console, then please donate to this work by clicking on the button eblow and selecting 'Donate'

Wednesday, March 23rd, 2016
We are pleased to announce that companies can now purchase the RSP from RS-Components. As the RSP finds more and more uses within the lab environment, it made sense for RS-Components to add SDRplay to its catalog of quality electronic brands. To expand our reach, particularly in countries like Russia and China, we are working with RS Components to provide local sales support for the RSP.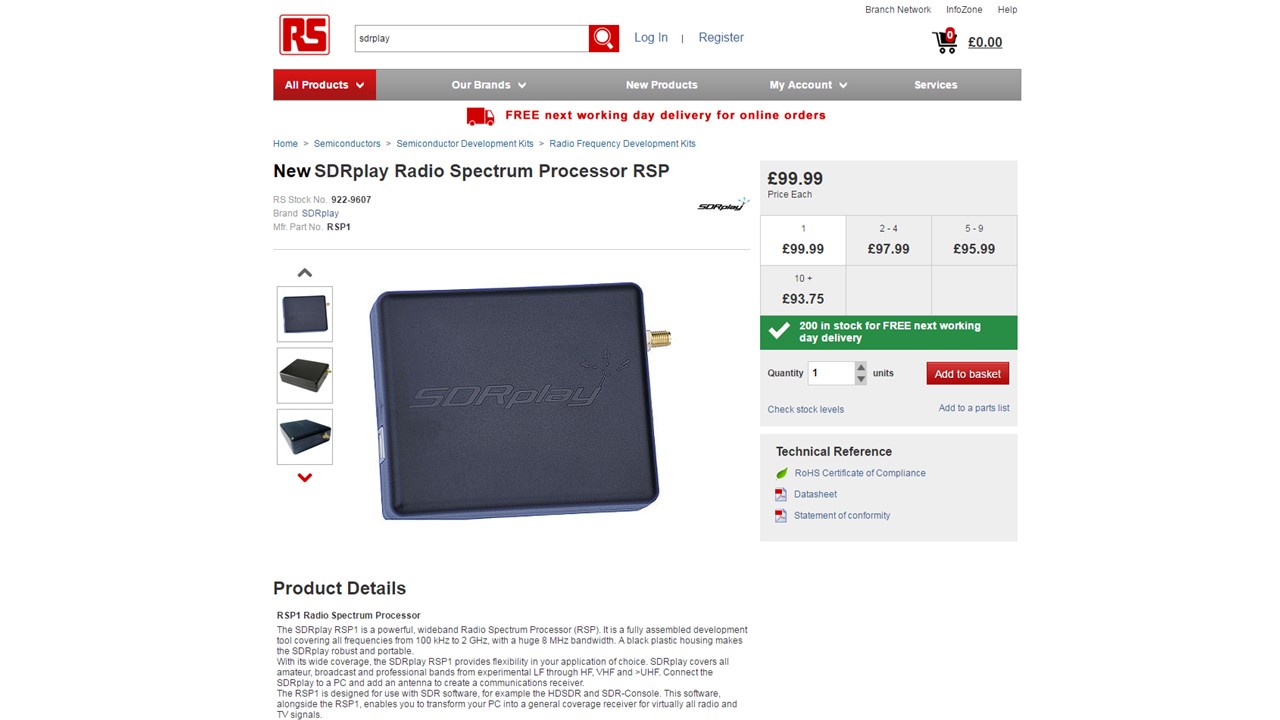 ....and a huge thank you to Paul Jones for publishing an updated SDR Console user guide which can be downloaded here ready for the imminent release of V3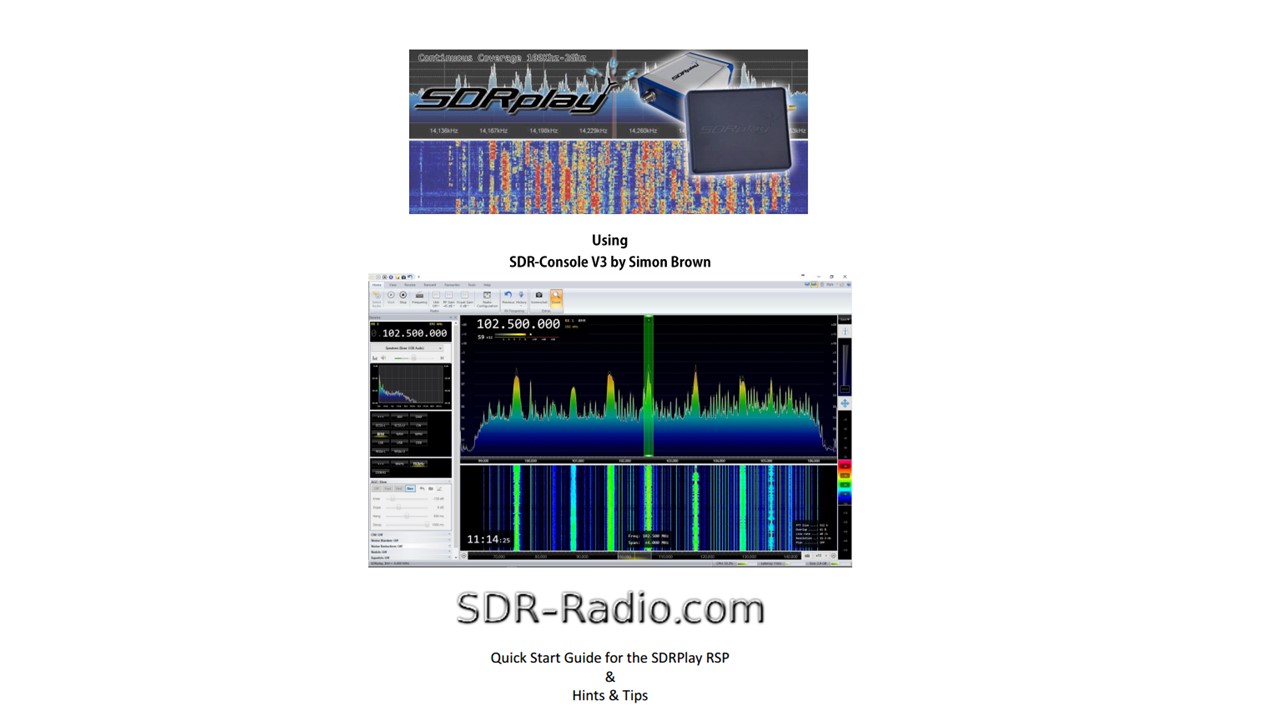 Tuesday, March 22nd, 2016
Glad to know that the ADS-B feature is being well received. Thanks for your encouraging emails at support@sdrplay.com - keep the feedback coming. it's amazing to see the variety of uses to which the RSP is being put these days. Early bird, Rudolf Schaffer in Switzerland posted this neat picture of tests he was doing with the Mirics DVB-T driver (licensed free of charge for RSP users via SDRplay) first thing this morning:
Sunday, March 20th, 2016
Thanks to some hard work by our technical team, we have released our own ADS-B (Dump1090) facility. People are already reporting significantly more planes are viewable than with a low cost dongle. This is the first version of ADS-B for the RSP and there is more development work to be done. We are evaluating the different modes of operation of the RSP and how we process the data. This hasn't been optimised yet.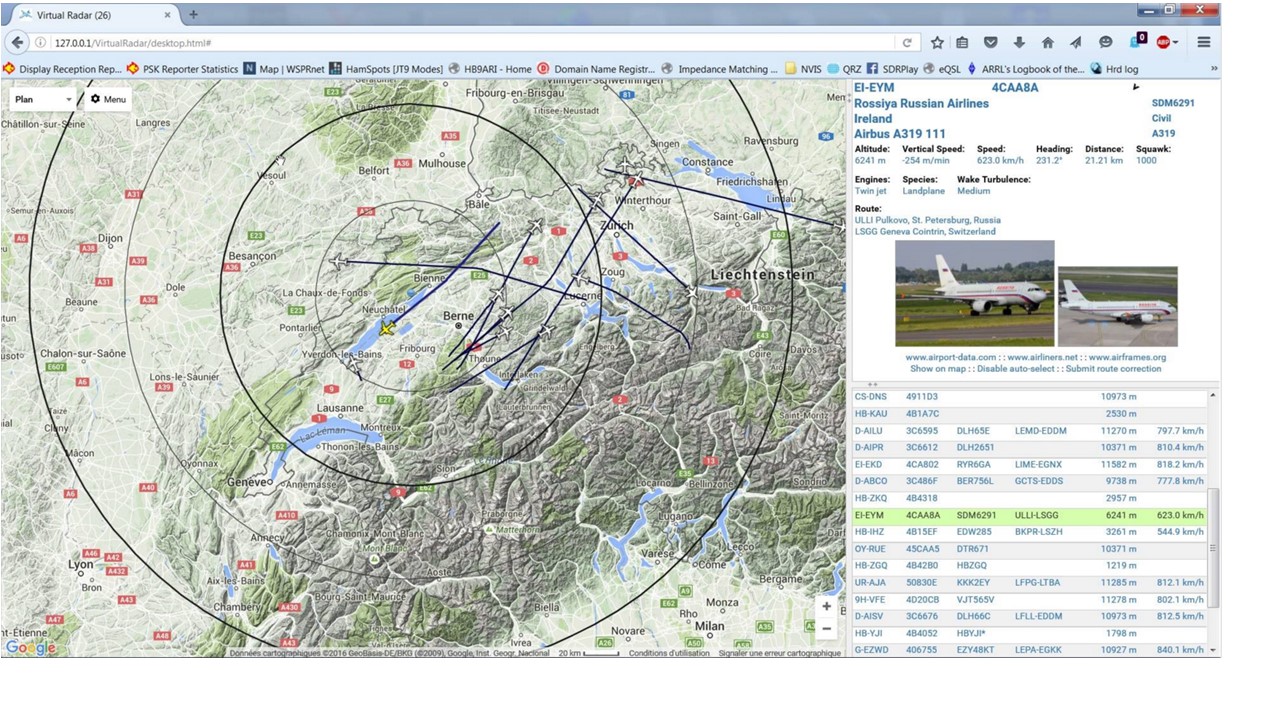 The above picture was posted on the FB forum by HB9ARI
To download the ADS-B Windows installer, just go to http://www.sdrplay.com/windows.html and click on ADSB. Let us know how you get on and post your results on the forum or email us at support@sdrplay.com
Regarding antennas (BTW I was picking up several planes on my G5RV HF antenna!) , I liked a comment I spotted on an eHam forum where someone posted "At 1090MHz, a quarterwave is 68mm! Five pieces of thick wire, 68mm long each, and soldered to a bulkhead antenna connector (or even direct to the end of a piece of coax!) will form a groundplane antenna that will work, if put up high. My advice is - dont go with excessively complex antennas, its more effort than needed. The key here is 'line of sight', whatever antenna you use, it needs to have a clear view of the sky! That means high up!"
Some great new videos are being posted on YouTube to help newcomers to SDR. For example, just figuring out how to get the right bandwidth settings can be a challenge, if the last time you tuned around was as a kid 30 years ago on a traditional short wave radio.
Check out these helpful examples:
HDSDR Bandwidth user guide: https://youtu.be/f15qRdsUrFw SDR-Radio.com (SDR Console) Bandwidth user guide: https://youtu.be/ymKOYcJ-RnE
Friday, March 18th, 2016
It might seem things are bit quiet at the moment but the technical team is making good progress on a number of fronts. We are getting closer to an ADS-B capability which uses the full capability of the RSP. We have ongoing close contact to both the HDSDR and the SDR Console authors and we're very close to the official preview release of SDR Console V3 which is due on March 25th. Meanwhile we have had further discussions with an Android developer and hope for news on this before too long. We are progressing well with a guide to Panadapters - Ham Radio deluxe, Omnirig and N4PY are among the most popular.

Some links: http://www.n4py.com/
http://www.ve7ed.com/omni-rig.html
http://www.dxatlas.com/omnirig/
http://ham-radio-deluxe.com/supported_radios.html
http://www.dxlabsuite.com/
Thursday, March 17th, 2016
To ensure that there are no misunderstandings regarding our policy on refunding postage costs, we would like to make it clear that if a unit that has been returned to us proves to be faulty, we always refund the postage costs incurred by the customer and ship a replacement unit free of charge. It is essential that we get the unit back so that we can assess what may have gone wrong with the device. If however the returned unit proves not to have any fault, we do not refund the postage costs. There are many different reasons why a device may 'appear' to be faulty when in fact the problem lies elsewhere (software set-up, antenna cable, USB cable etc). This is why we encourage customers with problems to work with us for a while to try to resolve the problem before returning the device.
Monday, March 7th, 2016
20m was buzzing last night with many US stations romping in to the UK - makes it very easy to show the power of a good SDR - and this was just with nice and simple HDSDR running: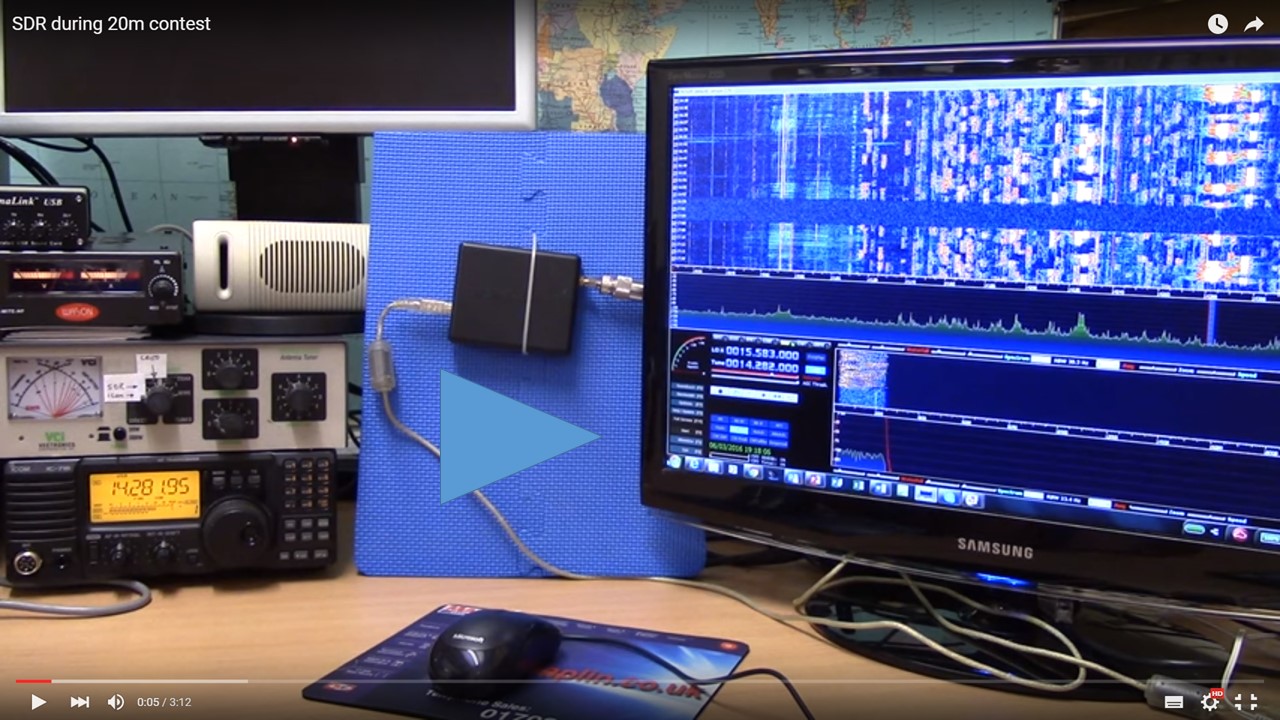 Saturday, March 5th, 2016
Congratulations to Joshua who this week became the 2000th member to join the SDRplay Facebook Group - https://www.facebook.com/groups/sdrplay/
Friday 26th February, 2016
One of the most popular uses of the RSP is as a panadapter. Here is a very nice video created by Johnny Twist, showing a TS590SG. He writes that he achieves "almost complete control over (his) rig via HDSDR & Omni-rig. A great way to have a cost efficient waterfall display and to quickly find signals when SWL or contesting. The SDRPlay is connected to the Kenwood TS-590SG via the DRV port on the back of the radio using an RCA to SMA type cable. " It's 15 minutes long with explanatory notes and recommended to be viewed in HD mode.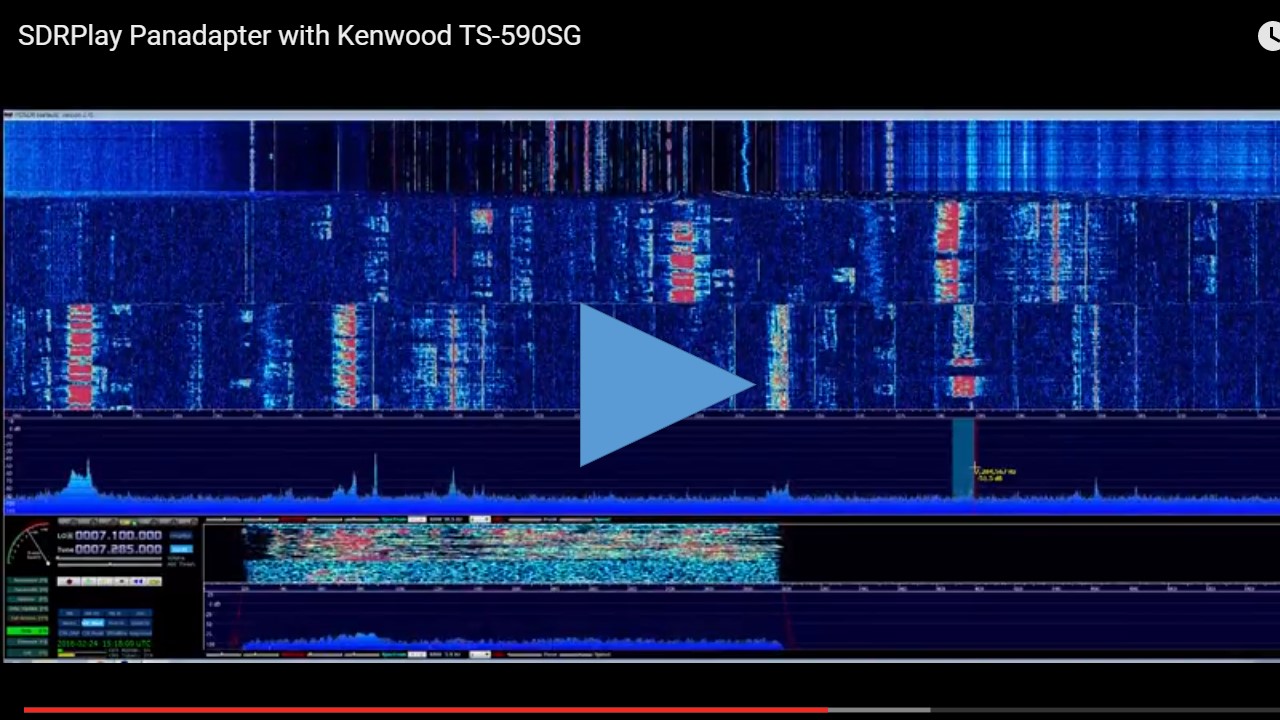 We struggle to advise people with specific rigs the best way to connect the RSP as a panadapter since there are so many variations. Joining the Facebook group https://www.facebook.com/groups/sdrplay/ and asking the question there is the quickest way to get an answer since there are so many users out there now. Things to watch when using an IF output from a rig, is how much bandwidth will the RSP get to see? For Facebook haters you can post your question on http://www.sdrplay.com/community/ but this is moderated so you don't get the quick fire interactive conversations going so easily.
Thursday 25th February, 2016
A lot of people ask questions about antennas for SDR - in this very positive new review about the RSP, W3GAS includes some great suggestions for different bands of interest. Click here for the article.
Sunday 21st February, 2016
The latest EXTIO control file (Version 3.8.1) has a very cool new feature for shortwave listeners interested in hunting HF DX stations. Using the world-wide station list maintained by http://www.eibispace.de/ you can see the name of the likely stations appear in a pop-up window as you select a particular broadcast signal. the details are in the updated EXTIO user guide selectable from the Platforms section or by clicking here. Click on the picture below for a hastily made video showing it in action:
Thursday 18th February, 2016
Today we are launching the SDR 'Playground' - SDRplay's Playground is now online -http://www.sdrplay.com/playground - share files with other RSP users such as profiles, documents, etc. - uploaded files are moderated to prevent misuse. This is a great place for people to showcase their own software or hardware designs - so long as there is specific relevance to the SDRplay RSP user community. Let us know what you think. Any issues please report to support@sdrplay.com
Wednesday 17th February, 2016
IT was good to see the new RTL SDR review showing how good the Airspy R2 + Spyverter combo, the SDRplay RSP and the Hack RF products perform, compared to the cheap dongles. What was particularly gratifying was to see how well SDRplay performed given that all the tests were done using Airspy's own SDR# for which we only have limited support. The full review can be seen on http://www.rtl-sdr.com/review-airspy-vs-sdrplay-rsp-vs-hackrf/
Fo RSGB members, there's a great review in the March edition of RadCom featuring the RSP - I'll see if we can get permission to reproduce it ASAP.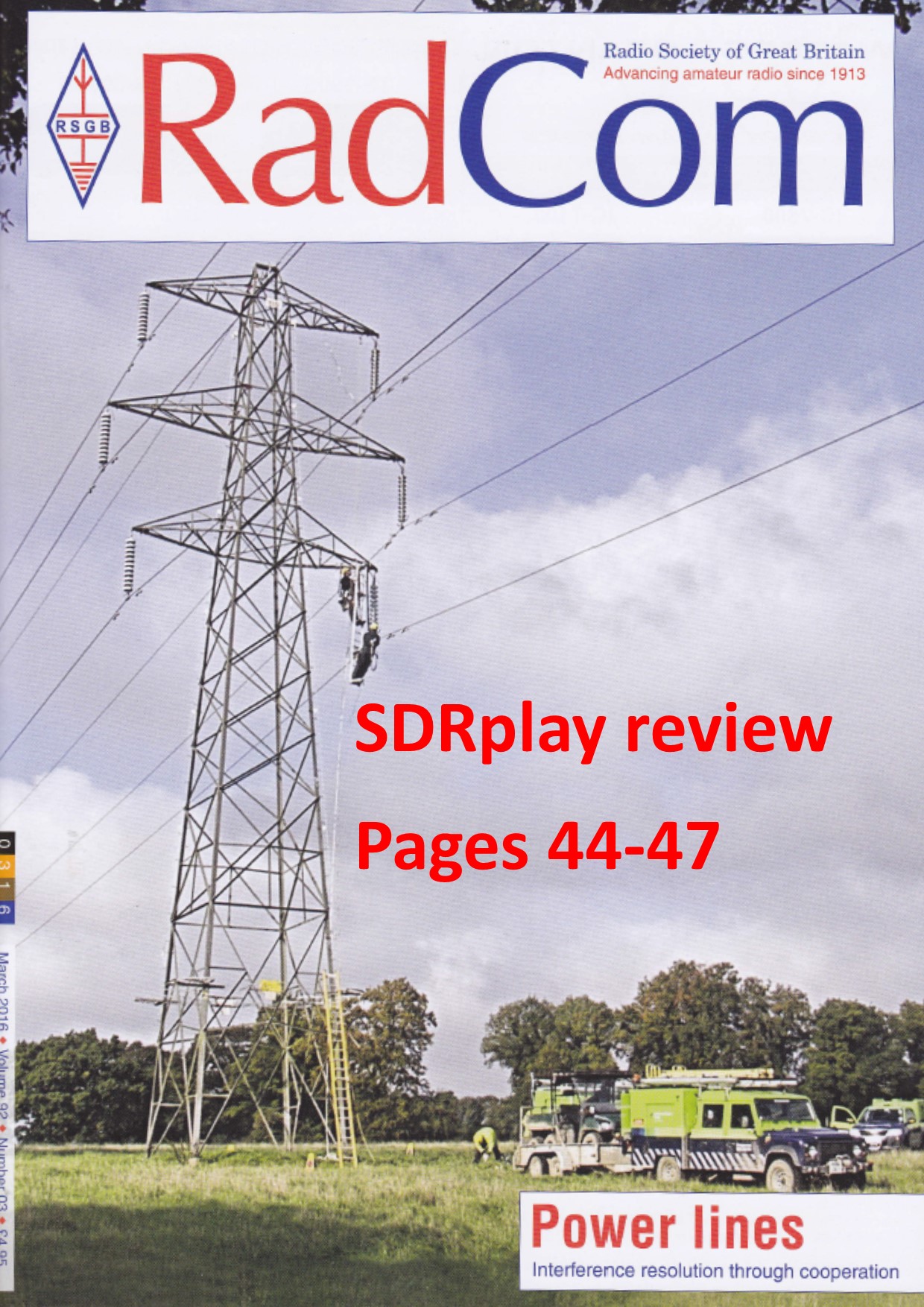 Sunday 14th February, 2016
Several more previews of SDR Console V3 have been posted on the SDRplay Youtube channel - this one, from Andrew O'Brien shows SDRplay RSP being used with N1MM and MMTTY programmes: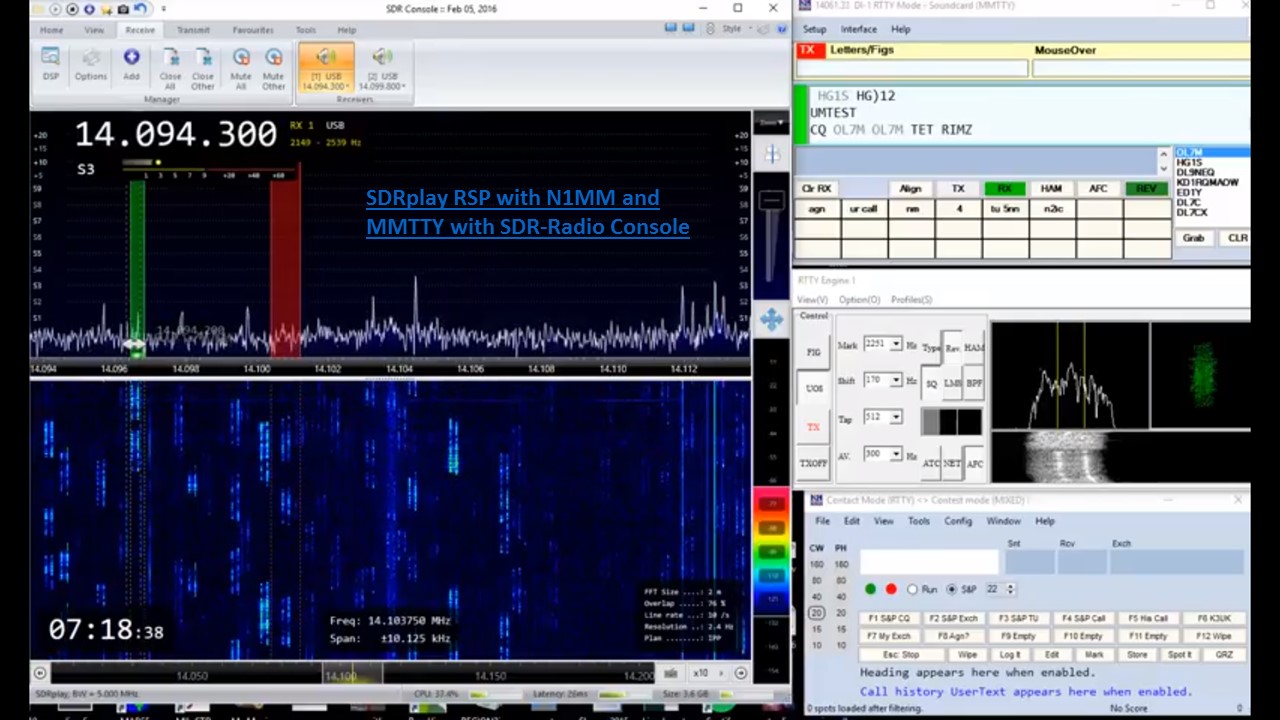 David, WA7JHZ followed up with a VDSL spectrograph taken using an RSP. Are you suffering from unwanted HF noise problems? Increasing numbers of short wave listeners are beginning to have VDSL RFI problems. All you need is a tablet or laptop and the RSP + portable antenna to start playing detective. Below you can see the VDSL leakage (egress) that David measured at his front yard's utility pole.He used an 18-inch diameter loop antenna with 330uH common-mode choke feeding the 2.6 MHz LPF and then feeding the SDRplay RSP1. This is a pretty good way of "sniffing out" RFI sources.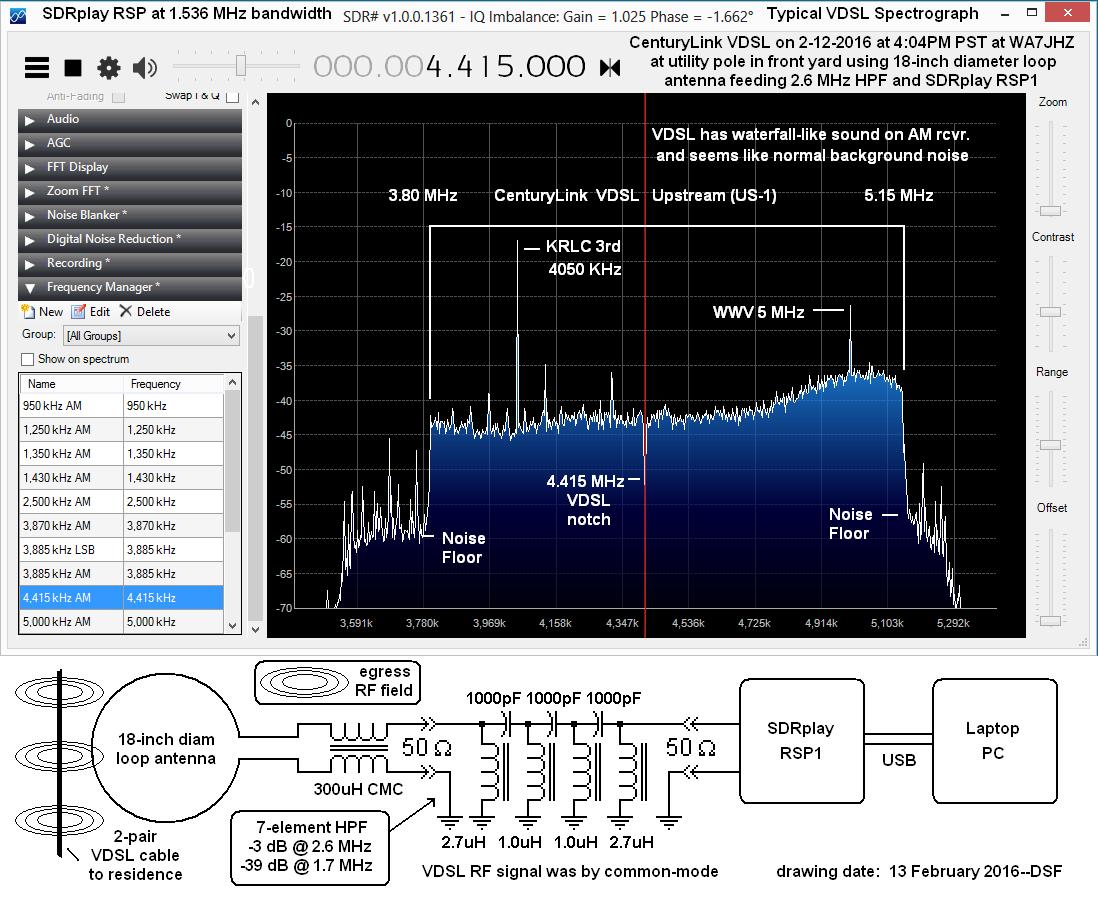 Friday 12th February, 2016
David S. Forsman, WA7JHZ has designed and assembled this 2.6 MHz high-pass filter (HPF) for use with the SDRplay RSP1. He writes " This simple input band-pass filter (BPF) might be of interest to your customers with strong AM broadcast stations that cause overload.....There are three nearby AM radio broadcast stations that overload the front ends of several of my receivers, including the SDRplay RSP. This circuit was built from junk parts. Amidon T44-2 iron powder cores would make a better design, but I decided to go on the cheap".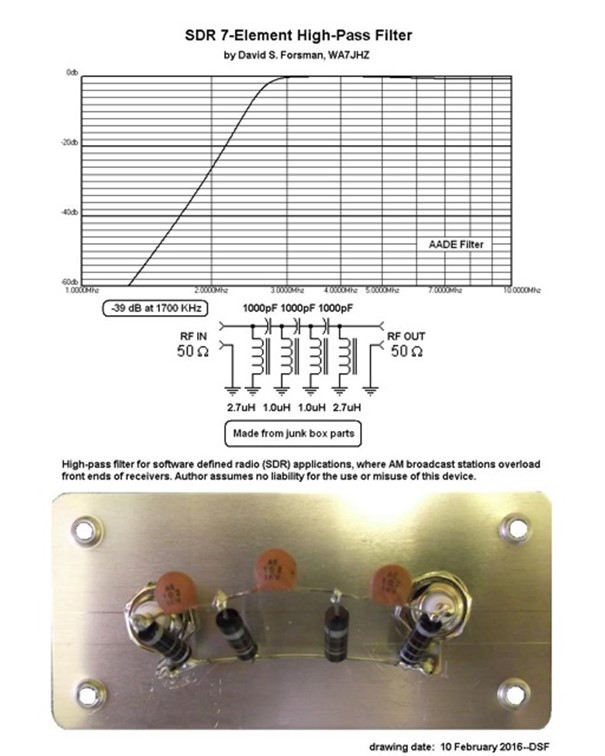 Monday 8th February, 2016
Voice of America were experimenting this weekend with 'VOA radiogram' - experimenting with digital text and images via shortwave broadcasting. Check here for their transmission schedule and to read more about what they are doing.
Click on the picture below to see how an SDRplay RSP picked up the signals and pictures in Bergamo, Italy: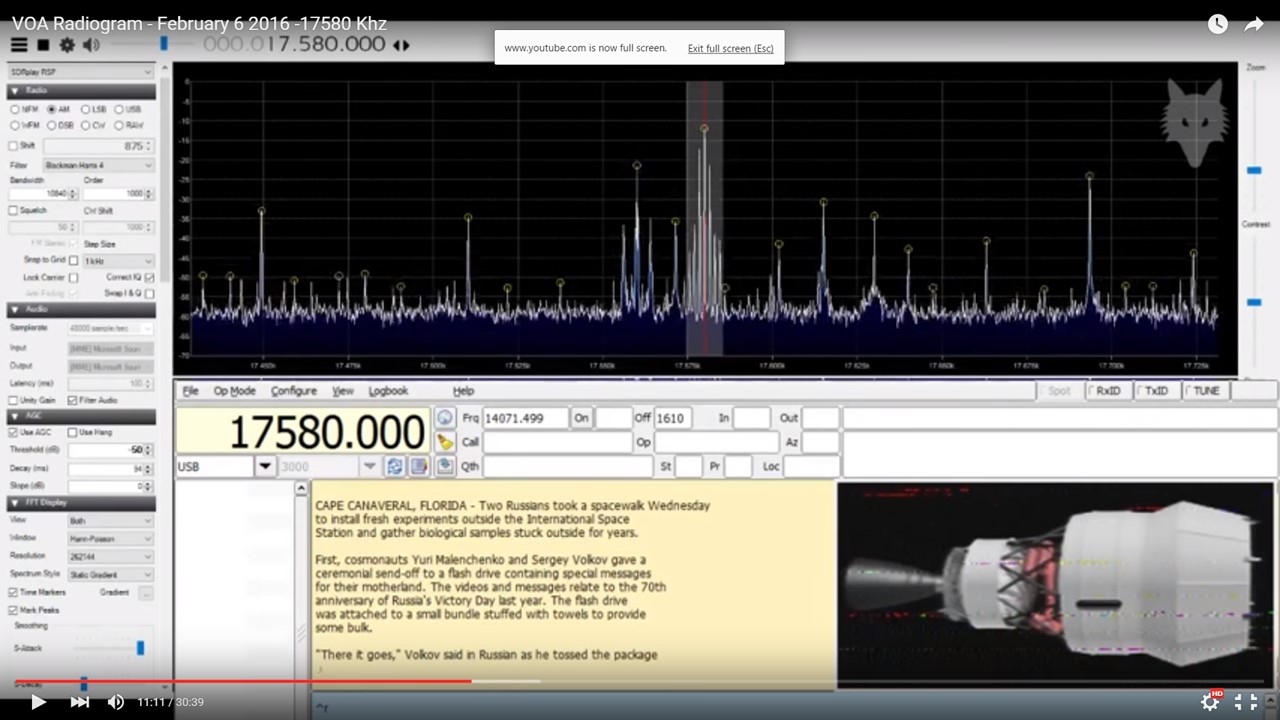 Saturday 6th February, 2016
The SDR Console beta team are working hard to give feedback to Simon Brown's V3 which includes some powerful new Spectrum tools - here's a sneak preview from Paul Jones, creator of the FaceBook Group which now has nearly 1800 members - all sharing SDRplay advice, tips and ideas. Click on the picture to see the video:
Thursday 4th February, 2016
SDR Console V 2.3 build 2381 was released yesterday - a big thank you to author Simon Brown for including all the improvements. Also thanks to the beta test team for their feedback along the way. For those of you who were already manually using the latest SDRplay API with SDR Console, the big difference is the improved gain map. Simon reminds us all that he regularly responds to comments on the Yahoo group https://groups.yahoo.com/neo/groups/sdr-radio-com/info if you have specific comments about SDR Console.
Click here to download the latest version of SDR Console
To donate to SDR-Console go to http://www.sdr-radio.com/Software/Download1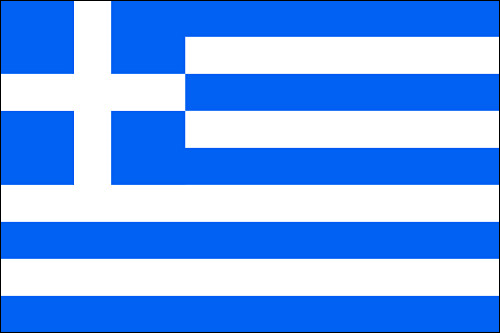 We welcome our new SDRplay distributor in Greece - Freebytes
click here to see their information in Greek
Wednesday 3rd February, 2016
More and more people are using the RSP as a Panadapter and it's amazing the variety of alternatives there are in terms of how best to interface to all the different rigs out there. We tend to refer people to the Facebook Group as the best place to find someone with a similar rig to theirs. Below is a screen print showing the quality of dialog you get there when you post a detailed question!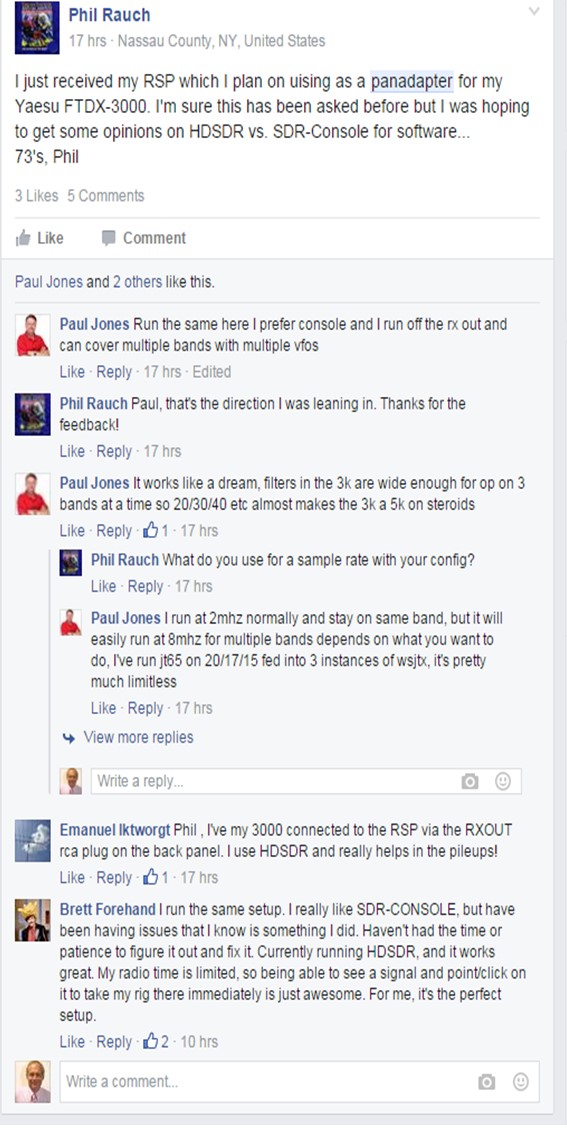 For those of you who have always resisted using Facebook, I recommend signing up with a variation of your name and the absolute minimum of information - a town 20 miles away and an 'official' birthday for example. Then ask to join the group. If you dont want to, there's no need to post anything - in fact just by searching all the posts, you may well find what you're looking for. There's a guide to facebook groups here : http://www.wikihow.com/Join-Groups-on-Facebook
Tuesday 2nd February, 2016
Simon Brown is putting the finishing touches to the new build for SDRplay and V 2.3 of SDR Console. Simon regularly reviews the Yahoo group https://groups.yahoo.com/neo/groups/sdr-radio-com/info if anyone has comments or questions specific to the software.
Thursday 21st January, 2016
Simon Brown is still putting the final touches to a new build for SDR Console V 2.3. Meanwhile Alpha trials of Version3 are also underway. Paul Jones, co-leader of the SDRplay Facebook group captured this cool screenshot of an RTTY pile-up on 30m yesterday (South Carolina)!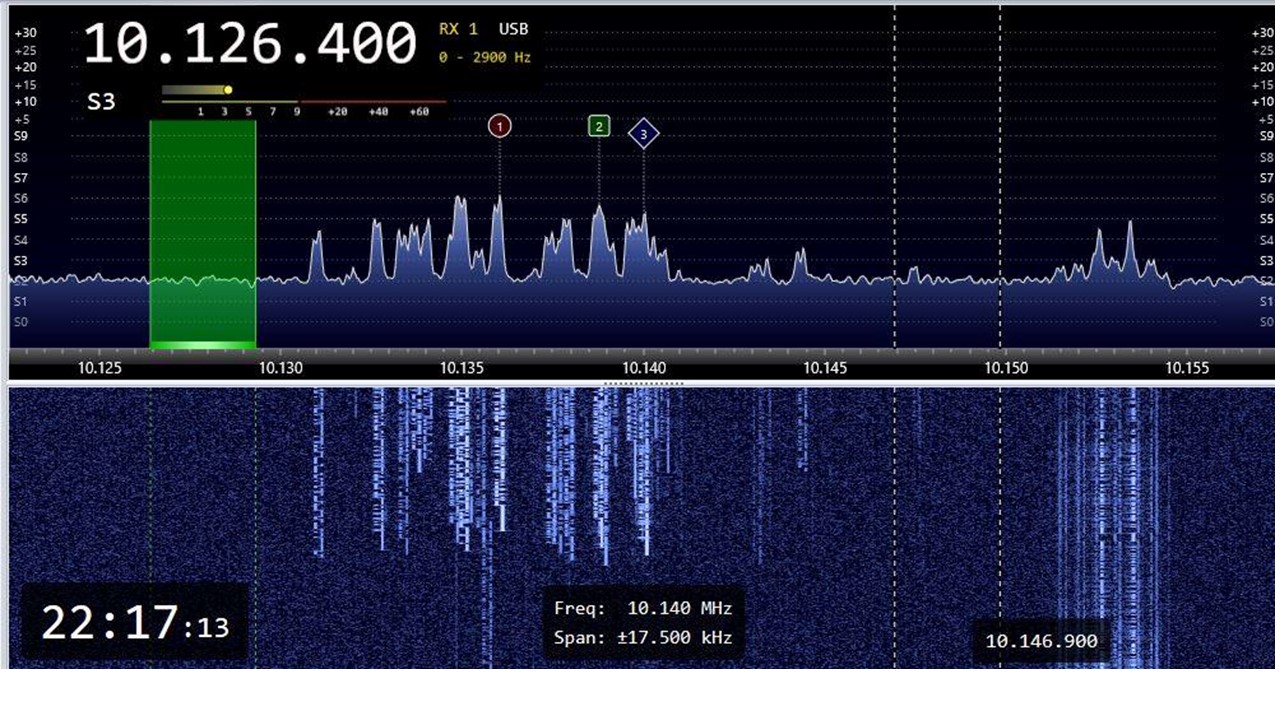 useful tip: On the subject of SDR Console users needing new (free) licenses, people are finding that it's much easier to download the latest version of Version 2.3 rather than update the key for an earlier version.
Click here for a cool demo of Version 3 in action
Saturday 16th January, 2016
Jan van Katwijk has updated his SDR-J software for FM and DAB on Windows and Linux - it now allows DAB decode on a Raspberry Pi. The DAB software for Windows and Linux PC's has a redesigned - smaller - GUI (part of the operation of having it run on a 32 bit machine). For Linux, the sdr-j-dab software can be configured such that in a separate window the spectrum of the signal is shown, the generated windows version is so configured. If configured, the GUI contains a button to hide or make the spectrum visible. See here for more information
Thursday 14th January, 2016
Please be aware that SDR-Console users have been asked to download either new license keys (free to hobbyists) or the latest version of SDR-Console which has up to date keys. The latest build as of now is build 2355 - this doesn't yet have the latest SDRplay API enhancements - this will go to beta testers later this week and then be released soon after that - we will let you know here as soon as it has been released.
Click on the picture below to hear a demo comparing the RSP with the ELAD FDM Duo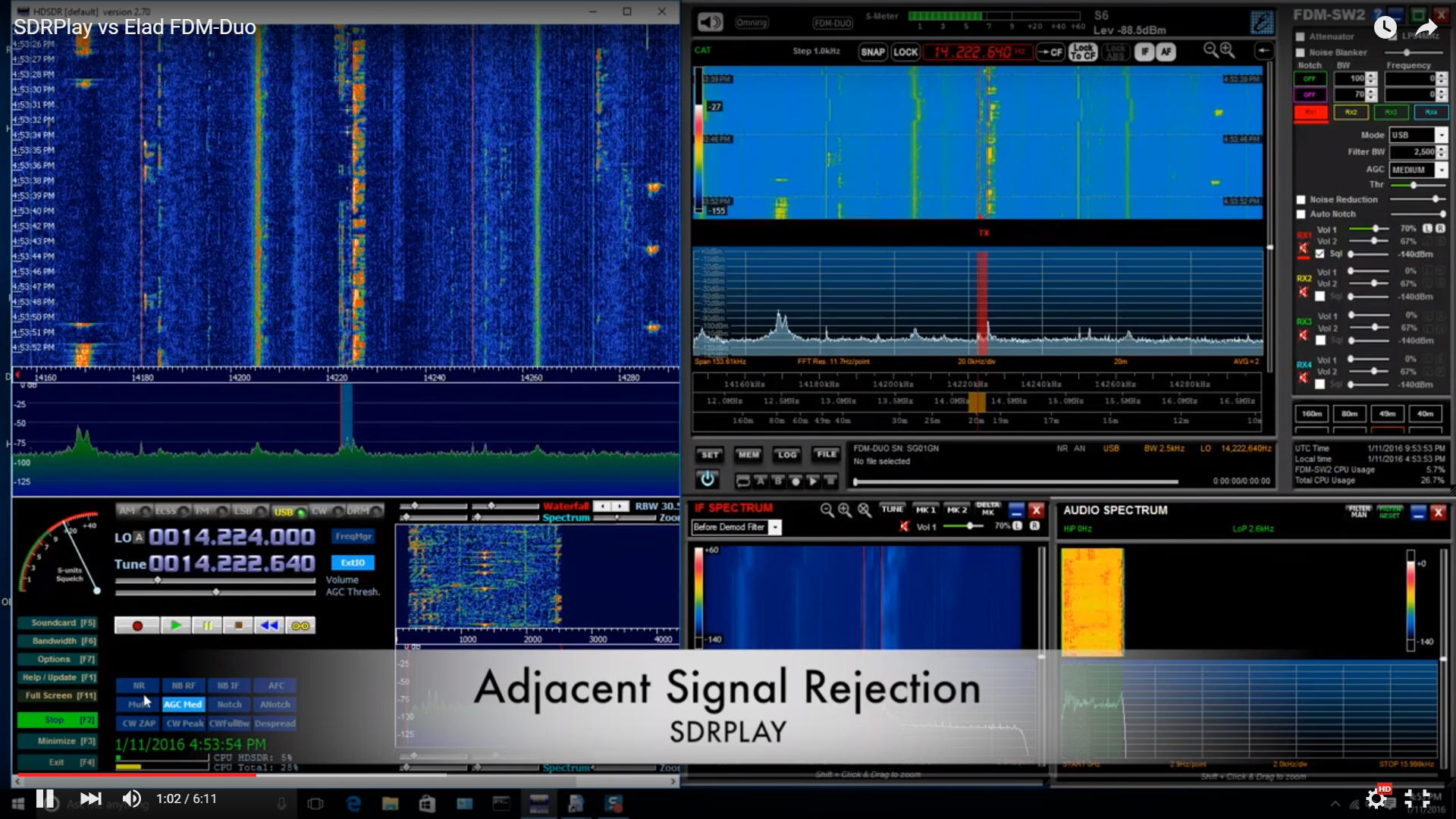 Monday 11th January, 2016
PI 1.8.1 and EXTIO plugin 3.7 released - The IF gain reduction is adjusted to avoid a large step when the LNA is switched on/off - go to http://www.sdrplay.com/platforms.html - so HDSDR users, please download this. SDR-Console users, please be aware we are in contact with Simon Brown who will need a little time to replicate the updates within his code.
Sunday 10th January, 2016
By way of tribute to what Paul, Mike, Jay and others have created with the SDRplay Facebook user group, here's a great example of what help newcomers to SDRplay can get, - newcomer Jim Allen asked for some advice, opening with this question 'As a total beginner at this, does anyone have any recommendations on where to go and read about how to set up and use the SDR play?' 26 posts later and not many hours elapsed time, Jim commented...'Quick shout out to all the nice folks who to replied to my request for tips. I was hoping maybe someone would respond and say - go read this, you'll be fine. What I got was waaay better. I never expected as many suggestions as I got. So - THANKS!! '
Take a look on the YouTube channel as more useful videos get added...https://www.youtube.com/channel/UC4JDq3US2eb1N4dRCT45_Zw - many thanks to Mike and Andrew in particular for their contributions. As well as the videos linked to SDRplay you can visit their YouTube channels for even more good stuff
Thursday 7th January, 2016
Huge excitement here at SDRplay to get such a glowing write-up from the folks at the well respected Ham Radio Science website... http://www.hamradioscience.com/best-sdr-radios-of-2015-and-2016-so-far/
Tuesday 5th January, 2016
A few months ago, we introduced a request that people register their RSP with SDRplay as part of the software installation process. We do this for two very important reasons:
1. To monitor the amount of product still in the sales channel with our distribution partners so that we can plan our manufacturing appropriately and avoid product shortfalls/delays
2. To ensure that the appropriate person in the right time zone is alerted to any requests for support so that we may respond in a timely manner with the right kind of help
We wish to stress that we keep all information strictly confidential and under no circumstances pass it on to third parties and we also never use the information provided for any marketing or sales purposes. Contact details are only gathered for the sole purposes to providing the best level of support possible.
Before we introduced the registration system, we used to occasionally get emails to support asking for help because the unit didn't work. In some circumstances people had already spent several days trying to resolve the problem themselves and had become very frustrated. When we then asked several questions to try to understand what the problem might be, it was the last straw and they simply decided to return the unit. These experiences illustrate this is why we feel the registration process is both important and in the best interests of the user.
Despite this, we still occasionally get people objecting to this request for registration, feeling that as they have purchased the item, they should be allowed to download all necessary software without having to provide any additional information.
As a consequence, we have decided that we will modify our website so that any new or existing user will be able to access any necessary software without having to provide any information whatsoever. We will still encourage people to use the interactive start here process and registration will remain a part of that process as it automatically issues support requests if people have problems with the installation of their RSP. If however, people wish to avoid registration they will be able to do so and there will be clear instructions on how to do so. The caveat is that we will be unable to provide support to anyone who has not registered their unit. During the registration process, we collect the following information.
1. The users name (just so we know how to address someone)
2. Their email address (so that we have a mechanism to respond if the interactive installation process fails for any reason)
3. The serial number of the RSP (so that we can cross check any performance issues with the manufacturing test data for that particular unit)
4. Where you purchased your RSP (so that we can direct you to the appropriate person for support related issues)
5. What the nature of the problem is
Without knowing the above, it is impossible for us help people. For anyone that has not registered their RSP, if they have a problem, we will not be able to help them unless they either first register their unit or provide the above information with their support request.
We hope that this will alleviate the concerns that have been raised by some people regarding registration.
Wednesday 30th December, 2015
I have to mention the casual way WD9EWK posted a picture of his amateur satellite RX set-up on Twitter - how compact is this? perfect for catching those ISS passes!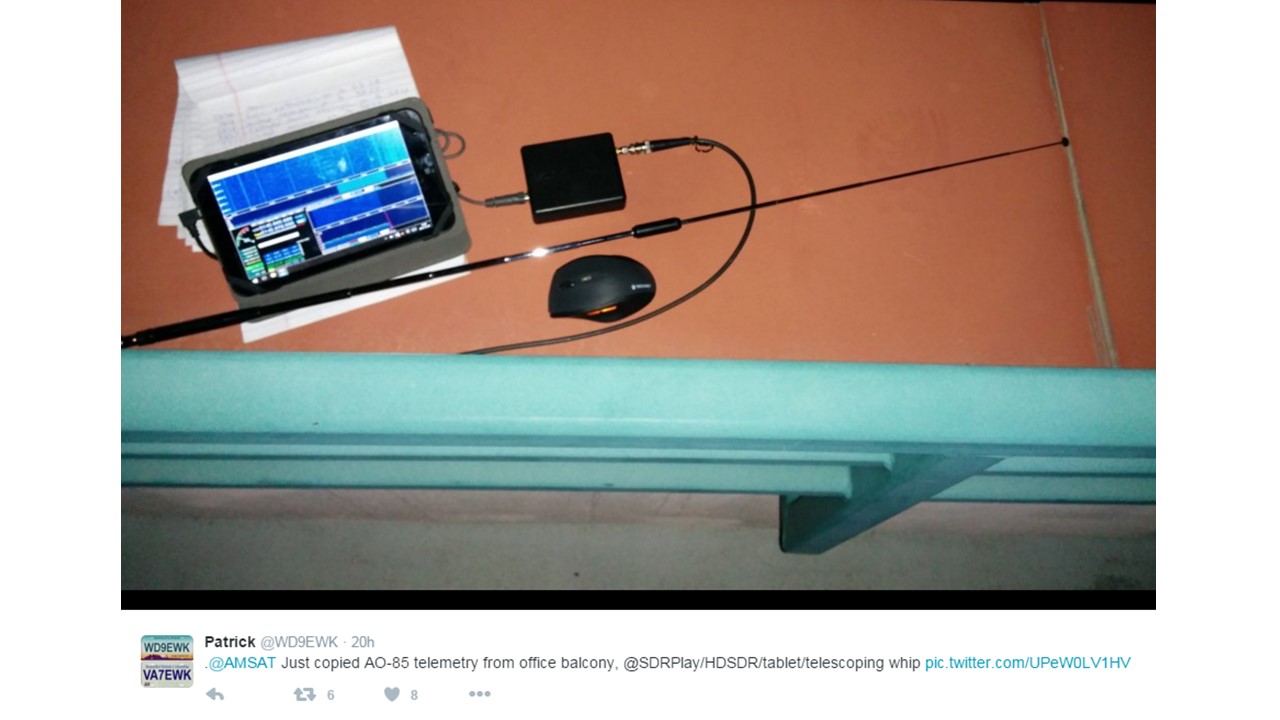 Thursday 24th December
One thing which can be confusing is the fact that our latest Installer executable (which contains the driver installer and the API installer) is version 1.6.0 and this contains within it the latest API which has its own version number which is 1.8.0 - it's easy to get muddled so be careful!
A very Happy Christmas to all our customers
Tuesday 22nd December 2015
We are pleased to announce release 1.8.0 of the API for the RSP. This is a major upgrade to the API with new features and an improved gain map which should result in improved performance over a key portion of the gain control range. Currently this API is available for Windows only, but versions for Linux and Mac OS and Android will follow shortly.

The API now incorporates automatic post tuner DC offset correction and I/Q compensation. This will almost completely eliminate the DC centre spike that was previously present in zero IF mode and also correct for amplitude and phase errors in the I/Q signal paths that can lead to in-band images when strong signals are present.

There is a new gain map for the RSP which should help improve the receiver noise floor for gain reduction settings in the range of 59-78 dB. To achieve this, the IF gain control range has been increased from 59 to 78 dB. In addition, the user can now turn the LNA on or off at any point within the IF gain control range. This means that the LNA can remain on for gain reduction settings of up to 78 dB, whereas previously the maximum gain reduction that could be attained whilst the LNA was on was only 59 dB. Being able to leave the LNA on will result in improvements in the receiver noise performance for gain reductions in the range of 59 to 78 dB. The upper 19 dB of the IF gain control range have now been disabled. In practice this part of the gain control range was useless as trying to operate within this region always lead to receiver overload even when signals were very weak.

To fully exploit the features of this new API release, we have also issued release 3.5 of the ExtIO plugin. This plugin will work with HDSDR, SDR sharp (releases 1361 or earlier) and Studio 1. Automatic I/Q compensation and DC offset correction will work with later versions of SDR sharp, but we will need to update the native plugin for users of these later versions to be access the new gain map.

Similarly, users of SDR Console will gain the benefit of automatic DC offset compensation and I/Q correction, but will not yet be able to access the new gain map. We hope that a version of SDR console that unlocks this feature will become available in the near future.

Until a new release of SDR-Console is available, you can copy the API into the SDR-Console installation directory...

from C:\Program Files\MiricsSDR\API\x64\mir_sdr_api.dll to C:\Program Files\SDR-RADIO-PRO.com\mir_sdr_api.dll

The API installer has also contains an extra certificate to be more user friendly for Windows XP, Vista and Windows 7 users.

The new API and ExtIO plugin can be downloaded from our website at: www.sdrplay.com/windows.html
<![if !supportLineBreakNewLine]>
<![endif]>
Monday 21st December 2015
We are very close to releasing an update to our API. This is a major update with some new functions and commands aimed at delivering enhanced performance across a range of applications. Our Alpha testers have been seriously impressed with the improvements in SNR seen on the HF bands for example..... more on this very soon - we were close to releasing it just now but found a couple of niggling bugs which are being fixed. Fingers crossed for a release tomorrow!
Just a reminder, during this season of goodwill, how much is done by the Apps developers who give so much of their time to making the SDR hobby always new and exciting - in particular donations are always welcome by SDR-Radio and CubicSDR
Thursday 17th December 2015
Mehdi has written a very informative article for SWLing.com on how to modify a receiver to create a Panadapter using the SDRplay RSP - click on the picture below, for the link: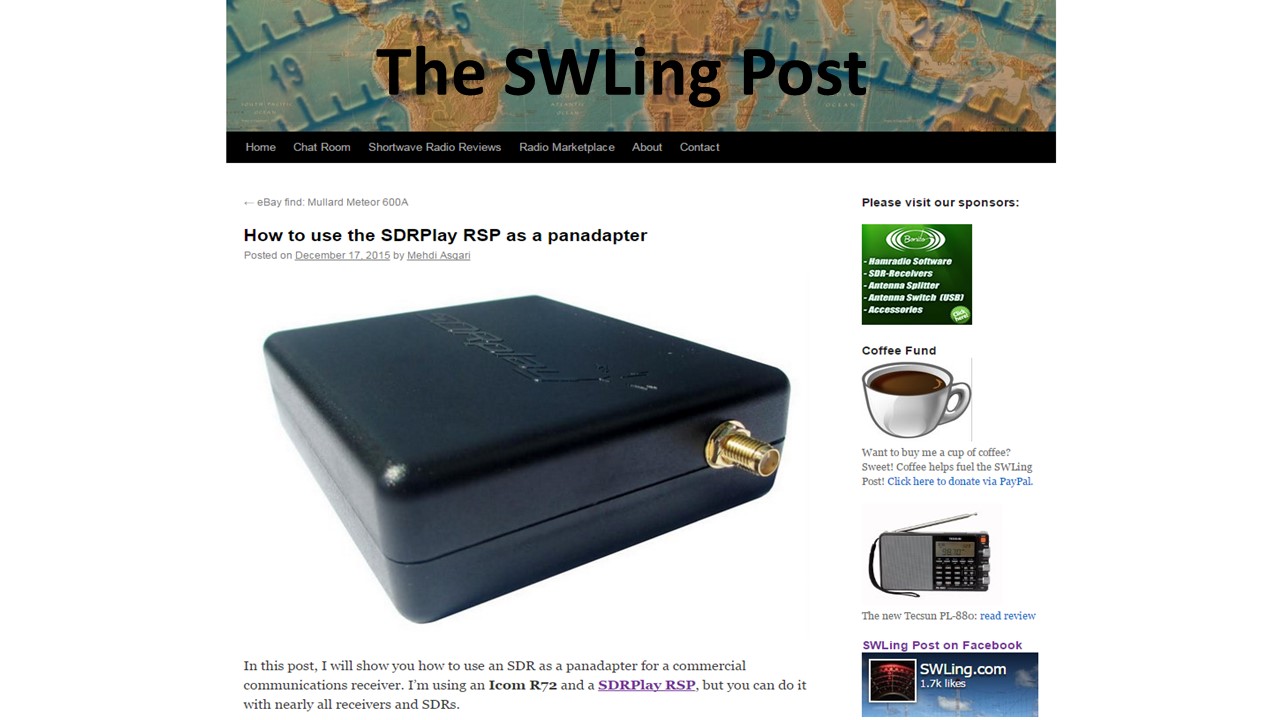 Wednesday 16th December 2015
Here's a neat demo video from Andrew, showing Fldigi working with SDR-Conslole and the RSP - click on the picture to see it on YouTube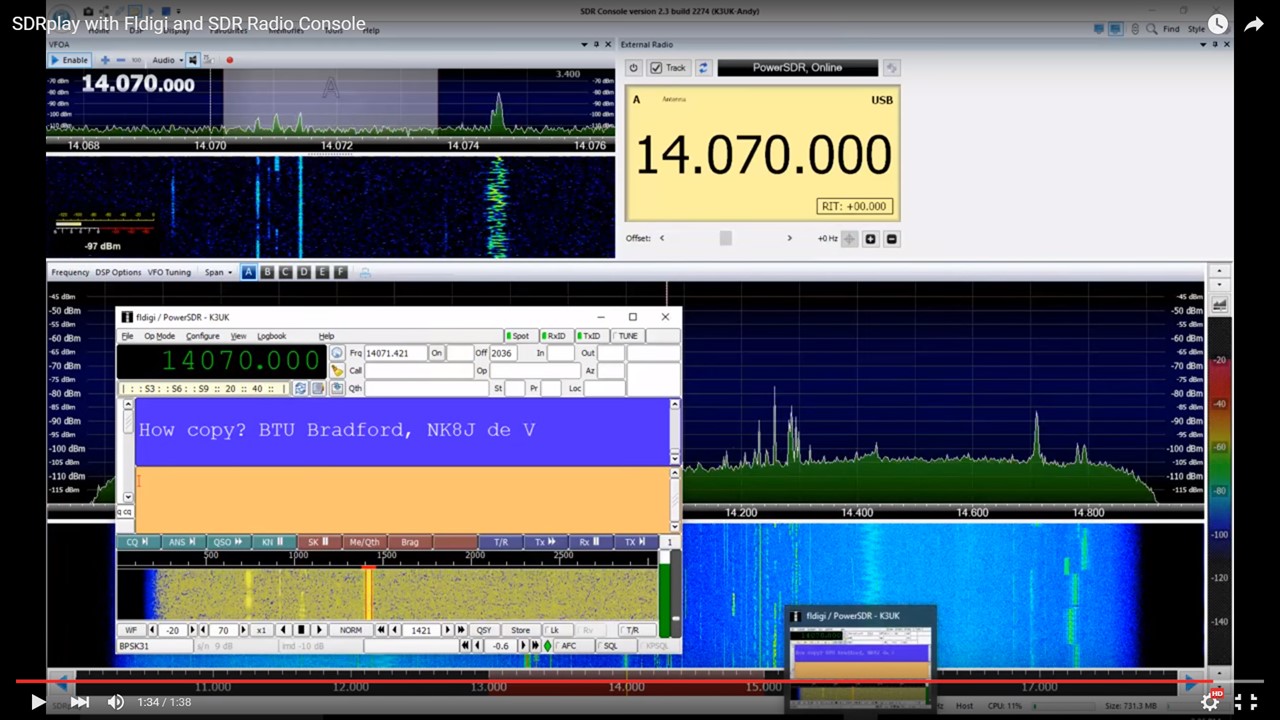 Users report that the latest alpha release of CubicSDR is looking pretty stable - click on the picture for the link to Version 0.1.20 alpha:
Saturday 12th December 2015
Mike has added 3 very helpful HDSDR 'how to' videos as follows - just click on the screenshots: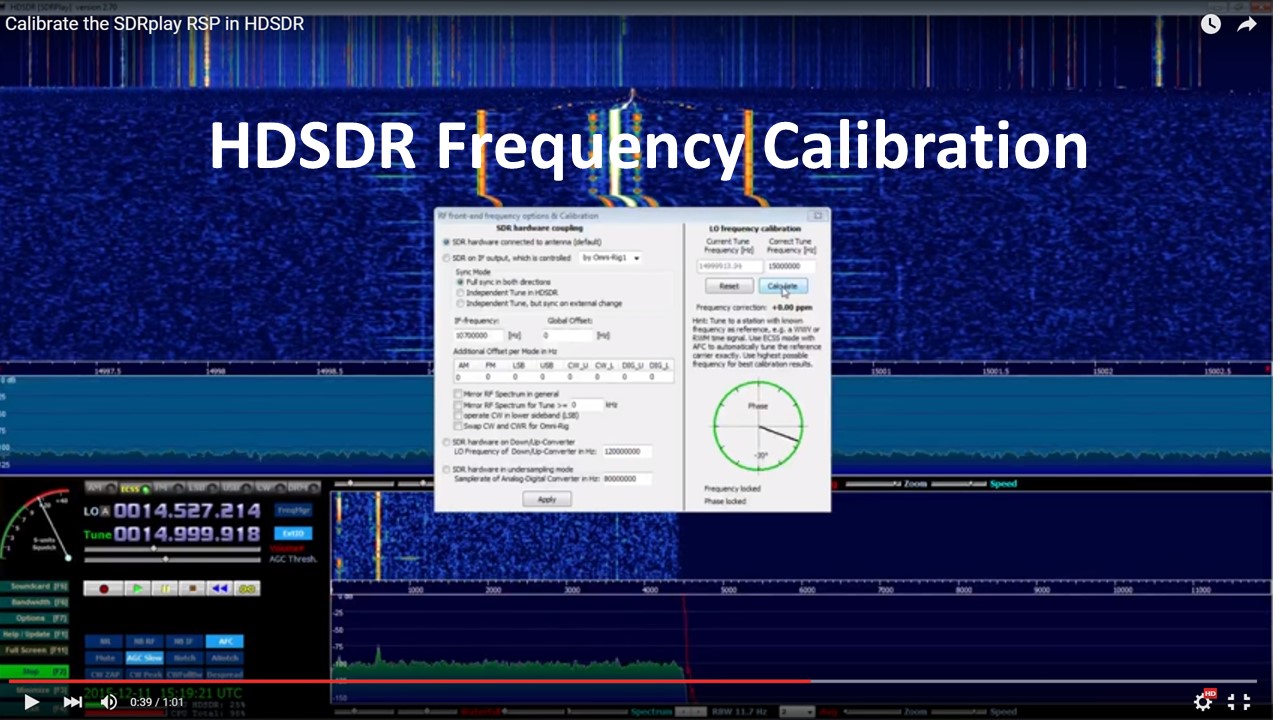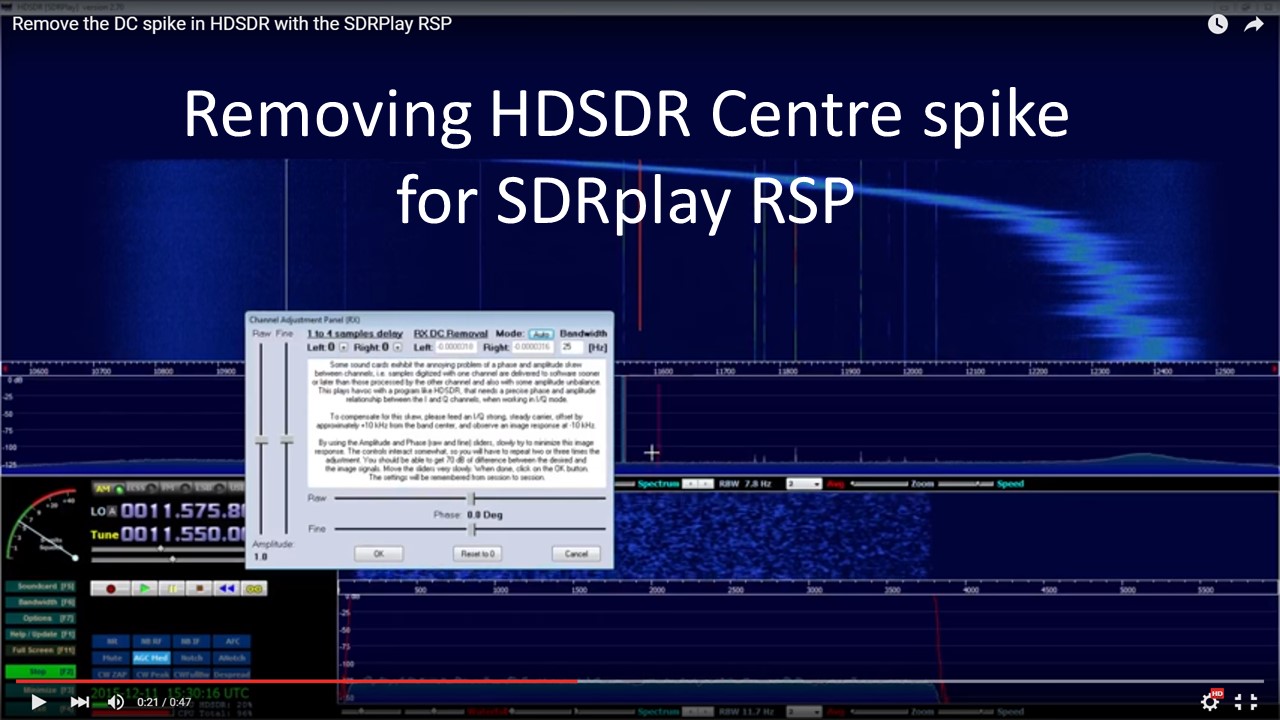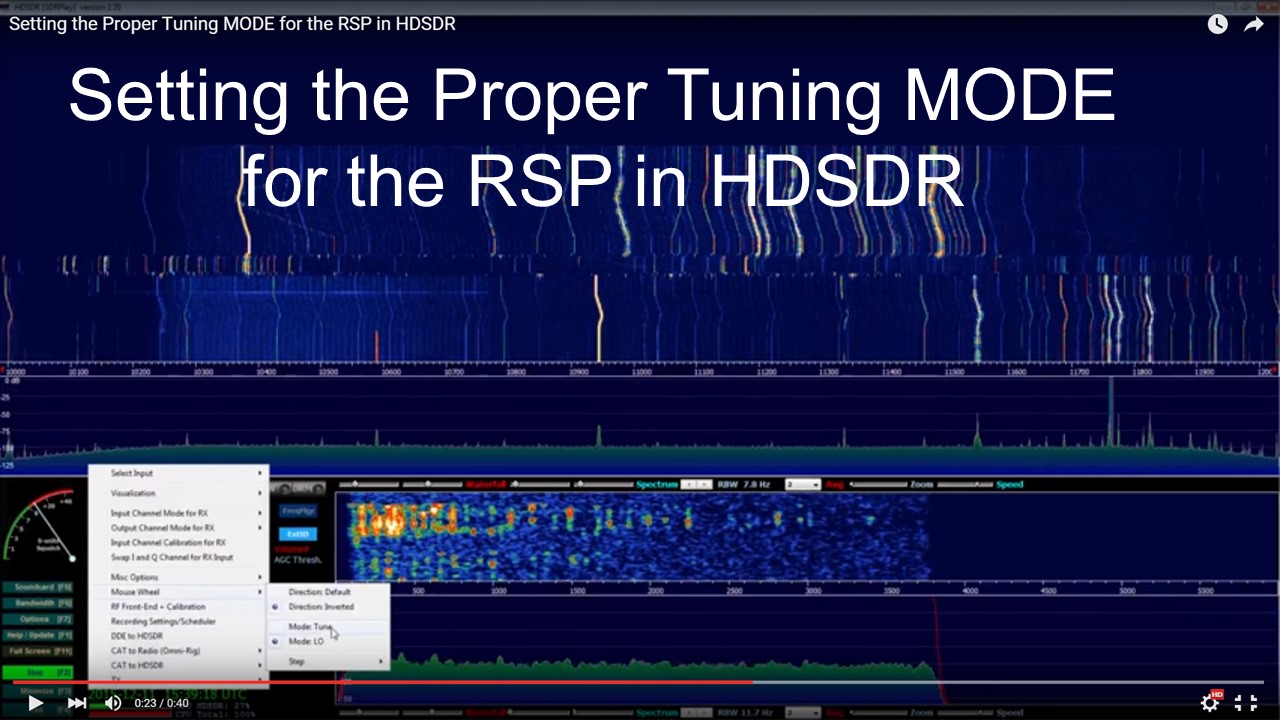 and Simon Brown has released another preview demo of SDR Console V3 - see https://youtu.be/iEZ2RjfQDKA
Friday 11th December 2015
The things people do with their RSP continue to surprise and delight - firstly, here's a showcase of what you can pick up on HF SSTV (thanks to Peter for this via the FB group page) - and all this using an RSP with an indoor antenna!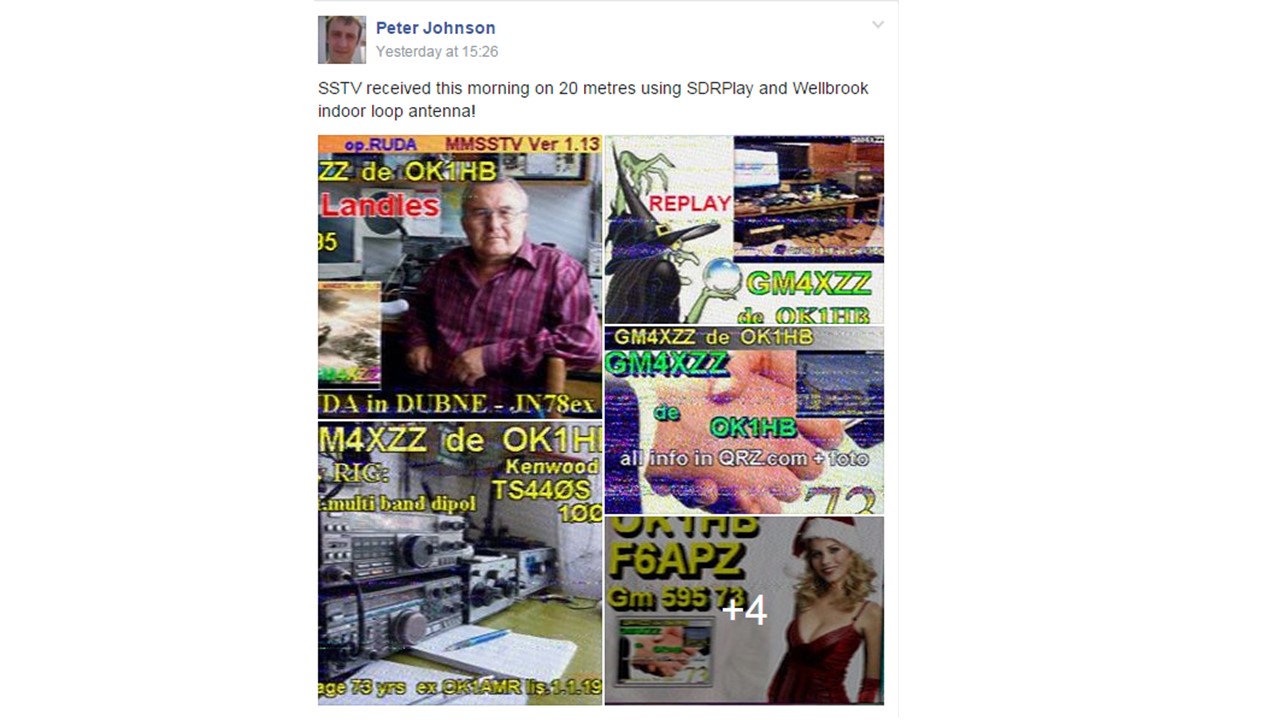 So that is an old technology alive and kicking - meanwhile at the other end of the spectrum...people are having fun with the much newer JAERO which is a new RST-SDR compatible decoder for INMARSAT signals :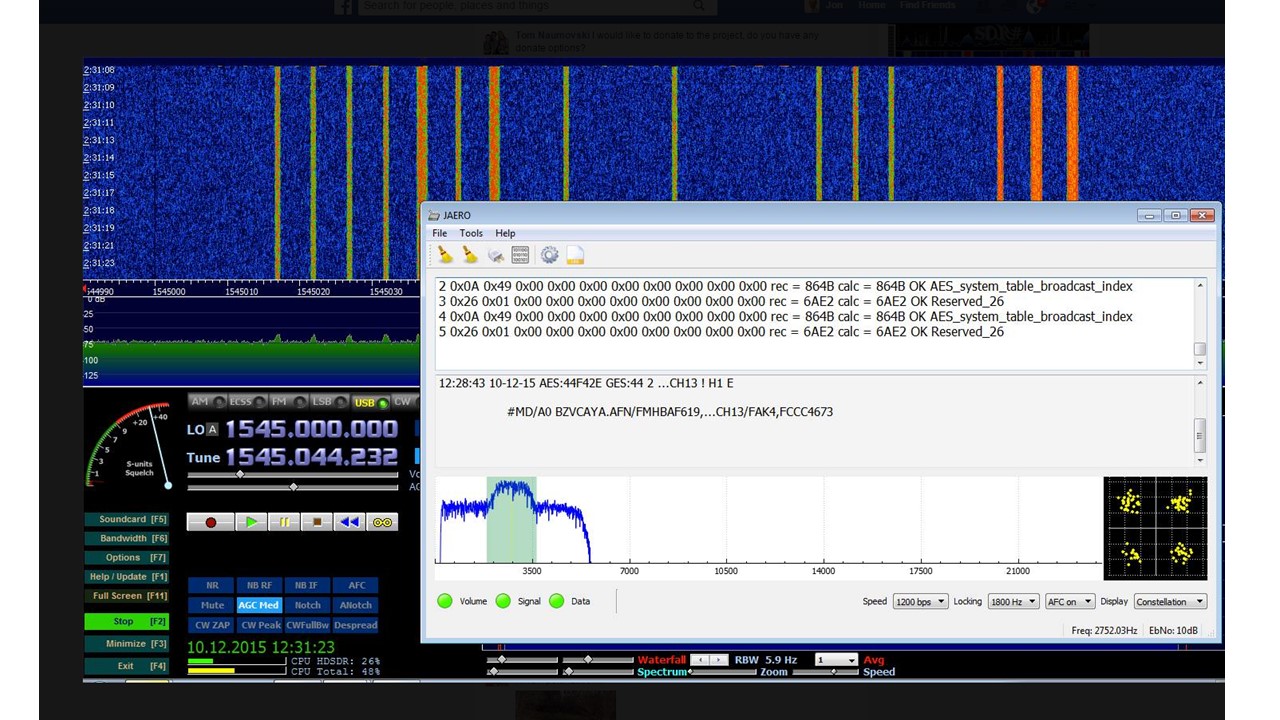 As the RTLSDR article reports "Remember that some R820T/2 RTL-SDR dongles can have problems when receiving this high, especially when they heat up. If you find that your dongle gets deaf at these L-band frequencies try cooling the R820T/2 chip with a heatsink or fan. The Airspyor SDRplay RSP software defined radios are better choices for decoding signals this high......"
Tuesday 8th December 2015
A new alpha release of CubicSDR (version 0.18) has just been released - see https://github.com/cjcliffe/CubicSDR/releases/tag/v0.1.18-alpha - it fixes some of the crash issues, the USB/LSB bandwidth display and the SoapySDR device settings are now saved.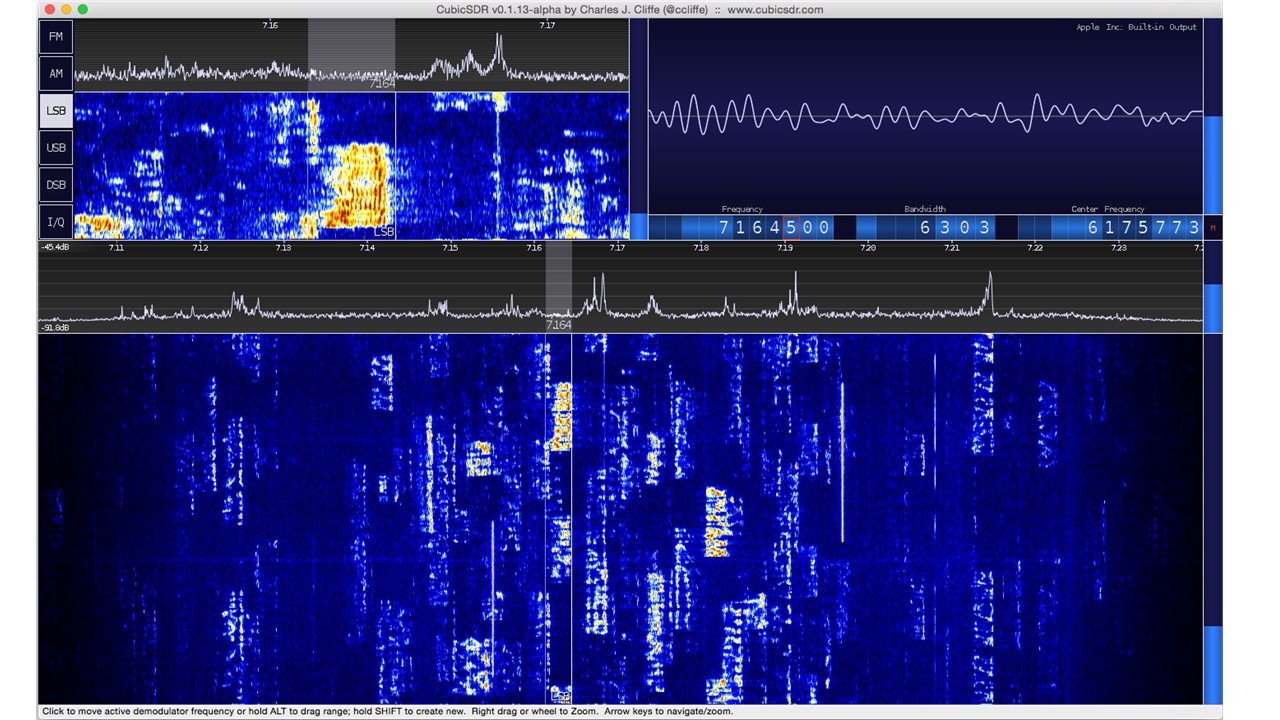 Monday 7th December 2015
PA1AP reported the following Linux update on the SDRplay forum just now...."Finally success with sdrplay... I have used all latest from github including Cubicsdr and now it starts working. I am very happy i got it to work now. Still getting used to the user interface of CubicSDR. I have versio v0.1.18-alpha running. It has all controls needed for short wave receiving. Also FM radio stations in stereo work really well. Good news :-) "
Friday 4th December 2015
As someone who ran a Drake-line (which started life as the emergency ham radio station for Texas Instruments Bedford, UK, back in the day!), I have fond memories of the TR7 which served me well for 20 years or more before the PA blew up. So seeing this nice picture posted by Max on the SDRplay Facebook user group brought a smile to my face - Max writes "New ears for the Drake TR-7. Using the SDRPlay RSP as the external receiver and transmitting on the Drake, made provision for protecting the SDRPlay's frontend by using an external relay to short the antenna input during transmit, relay control comes from the aux. out of the TR-7 which is high (+12V) during transmit. "
It prompted me to show off my attempt to update my 10W AM/CW topband/80 homebrew TX and turn it into a transceiver!:
Wednesday 2nd December 2015
People are often asking about typical power consumption for the RSP. As you can see in a recent FB post from user Alexey, a typical figure might be 500mW when running at high bandwidth and of course very low when idling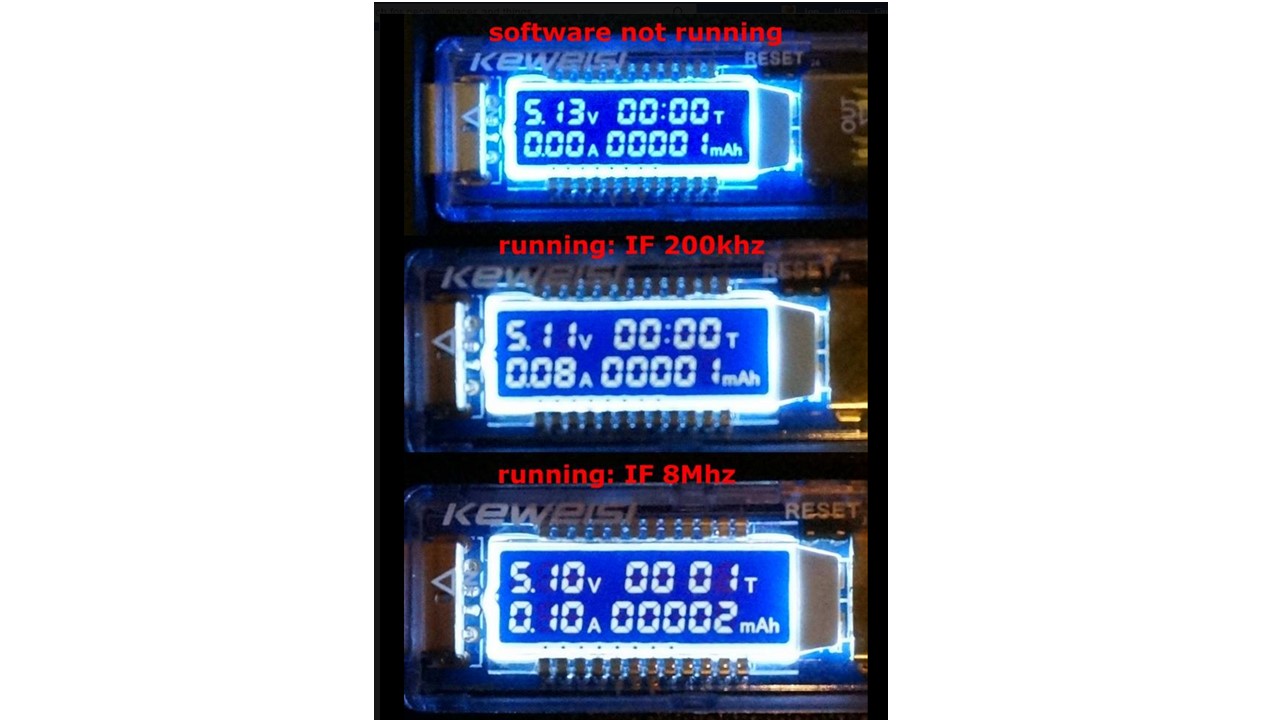 Sales last week were up a lot, of so we have lots of new users to support - it may take a bit longer to get you help, but the support team are trying hard to keep up. Posting your problems on the Community forum on this website, or on the Independent Facebook Group can often get helpful feedback from other users quicker than direct from us. As I've mentioned before - gain settings remain one of the biggest causes of confusion since if you have the gain set too high, the RSP appears 'deaf' or distorted (for speech) - we continue to recommend HDSDR (simplest for new SDR users), SDR-Console and the new kid on the block - CubicSDR (limited but growing feature set). SDR# will only work up to version 1361 at which point the owners focused on optimising it for the Airspy SDR. (update added in March 2016 - SDR# only works with the EXTIO plug in up till version 1361. More recent version will work with our latest SDR# plugin but many new features are disabled - hence why we now develop and release additional capabilities like ADSB for example - see Blog update March 20th 2016)