Monday May 2nd 2022 at 1815 UTC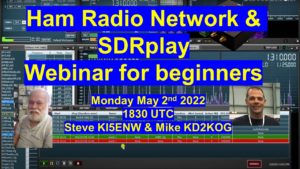 Ham Radio Network is pleased to announce An Evening with Mike Ladd (KD2KOG) and Steve Brightman (KI5ENW) of SDRPlay. The theme of the evening will be "How do I…?" and is targeted at  SDRPlay device owners that need help, support and guidance with their RSP device or SDRUNO.
The evening is focusing on user-related questions that are specific to the individual in order to help amateurs gain a better user experience. This will be an informative and entertaining evening.
The room opens at 1815 hrs UTC for a 1830 hrs UTC Start on Monday May 2nd 2022 at 1815 UTC