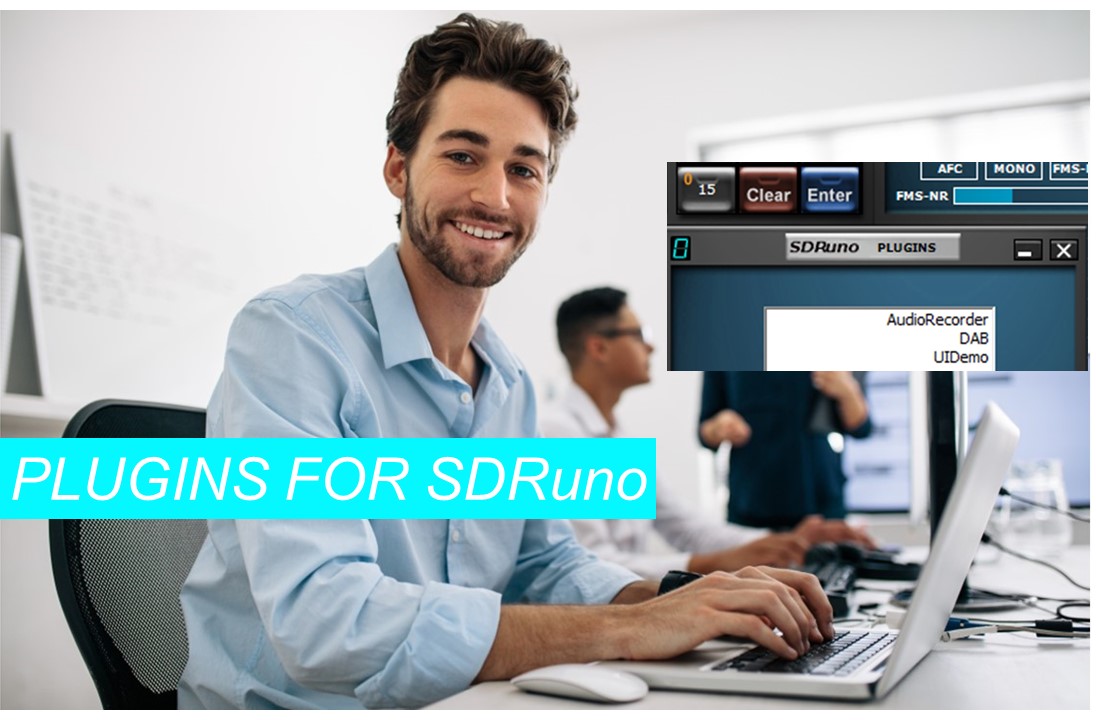 Welcome to the SDRplay plugins page with information about plugins as they become available for SDRuno.
Plugins are a way for existing software developers to integrate the power of SDRuno within their existing applications, thereby reducing the dependency on interfaces like "Virtual Audio Cable" . The new plugin system also gives anyone with some C++ coding knowledge, the ability to create exciting new interactive applications for radio reception (e.g. decoding, display, demodulators, custom signal annotation and so on).
SDRuno Version 1.40.2 brings you access to some pre-installed plugins for DAB radio decode, DX Clusters, MPX output (e.f. for use with RDS Spy) and an  audio recorder which supports recording both WAV and MP3 formats. Plugins are accessed via a plugin control panel. The Plugin Control panel displays both the plugins that are delivered with SDRuno and plugins that come from other sources and placed in a user defined location.
The latest version of the SDRuno manual has more information about accessing plugins on page 27:  https://www.sdrplay.com/docs/SDRplay_SDRuno_User_Manual.pdf
Here is some more information about the plugins:  
Please note some of these are working demos and are not perfect.  If you find bugs in a particular plugin, or as a result of using the plugin you find that there are problems with SDRuno,  it has no reflection on the stability of SDRuno.
DAB Plugin
This is for reception of DAB and DAB+ broadcast signals. DAB (Digital Audio Broadcasting) is a digital radio standard used in many countries around the world (excluding the USA)
Click here for the  written guide to the DAB Plugin and here for the video guide
DXCluster Plugin
This new plugin displays DX cluster callsigns on the SDRuno spectrum display. A DX cluster is a network of computers, each running a software package dedicated to gathering, and disseminating, information on amateur radio DX activities. With this plugin you can overlay the DX cluster callsigns as they pop up.   There's a choice of how long you let them display and you can control the way in which they appear.
Click here for the guide to the DXCluster Plugin and here for a video guide
Audio Recorder plugin
The Audio Recorder plugin records the currently tuned signal (VFO) for the selected Virtual Receiver (VRX). The plugin will output the audio in either PCM WAV or MP3 format
Click here for the guide to the Audio Recorder Plugin and here for the video guide
MPX Output plugin
The MPX Output plugin sends the 192 kHz FM stream to an RDS application such as RDS Spy
Click here for the video guide
3RD PARTY PLUGINS (COMMUNITY PLUGINS)
The community plugins are included with the latest version of SDRuno.  However, as more community plugins become available then they can separately be downloaded by going to downloads and choosing SDRuno Plugins, then "Community Plugins" .      
These 3rd Party plugins are available:
Contour Shuttle Plugin controller plugin (currently only works with Plugins version 1, needs SDRuno 1.40.1)
Over on SDRplugins.com , there's what we hope will be the first of many plugins for SDRuno –  The Contour Shuttle Plugin which gives you the ability to control your SDRuno application with your own shuttle device. This plugin works with the Contour Shuttle Express, Pro and Pro V2.  Go to https://sdrplugins.com/contour-shuttle-plugin-1
FRAN (FRequency ANotation) plugin (works with the latest Plugins version 2 and SDRuno 1.40.2)
This plugin can read SWSKEDS or .s1b memory bank files and display the active stations from the files on the main spectrum window.     Click here for the GitHub link.
Eric is an active member of both the SDRplayUsers Groups.io forum  Independent  SDRuno Facebook group where you can ask questions about it and see news of any updates coming. 
Black Cat Systems plugin (works with the latest Plugins version 2 and SDRuno 1.40.2)
The Black Cat Systems plugin was developed by the author of the Black Cat Systems software, Chris Smolinski. The plugin delivers the audio data directly from SDRuno straight into Chris' suite of software. It also provides bidirectional control for things like frequency etc. More information can be found at blackcatsystems.com
INFORMATION FOR PLUGIN DEVELOPERS
We've put a developer pack together on GitHub…
https://github.com/SDRplay/plugins
It uses C++ – Please have a look through, there is a template that should just build in Visual Studio 2017 – note that the nana UI library .lib file was too large for GitHub, so we had to compress it – see the pdf in the repository for more details.
For more Nana UI information, that can be found here:
http://nanapro.org/en-us/
This video illustrates the overlay system for annotating the main spectrum display window within SDRuno: https://youtu.be/_fXtcw0zS60
If you are interested in creating your own plugin and have questions, please contact SDRplay at plugins@sdrplay.com