Here you can find off air IQ recordings for you to check your SDRuno and related software settings for a variety of different situations.
Whether you have an RSP or not, you can use these sample IQ recordings in SDRuno as an aid in your setup for particular use cases.
Start SDRuno and follow the instructions below to select the WAV file input using one of the IQ files below.  (Please note these are not traditional audio "WAV" files – the WAV format is used as a wrapper to contain these very large data files (100s of MBytes) containing the stream of data normally exchanged over the USB cable between RSP and computer)
Please note, SDRplay has provided the recordings of radio spectrum for technical evaluation purposes and listening to or decoding certain signals may be restricted according to local law. SDRplay provides these files as is without support. They are designed to be an aid to guide you if you are unable to achieve good results with your setup for a particular use case. Images are provided within each zip file, showing SDRuno settings.
Please note: SDRuno is designed to operate optimally with an RSP connected. There are certain functions that are not possible whilst using a IQ wav file recording instead of an RSP.
How to select and playback one of these sample files:
SDRuno can playback IQ files without an RSP connected: Launch SDRuno. Click "Yes" and locate your IQ wave recording for playback.


With an RSP connected: Launch SDRuno. Before clicking PLAY on the MAIN panel. Click on the OPT button in the MAIN panel. Select Input and select WAV file.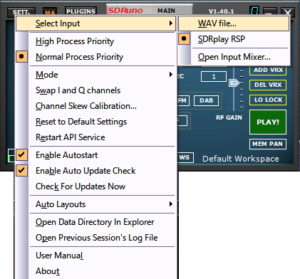 Playback is controlled via the RECORDER panel.


Here are IQ Samples recorded in Florida in mid-September covering 40m and 20m bands: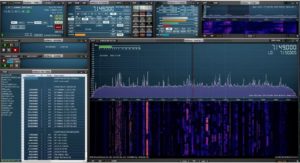 https://sdrplay.com/resources/IQ/40m.zip
(57MB zipped)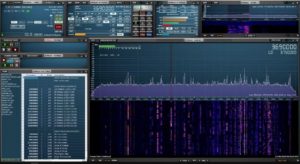 https://sdrplay.com/resources/IQ/80m.zip
(87MB zipped)
In the table below you will find links to all our other demo files:
For access to a wide range of video and written help, check out our Apps and Support Catalogue: https://sdrplay.com/apps-catalogue/