SDRconnect Updated August 10th 2023
SDRconnect is our new multiplatform software. You will find the first preview release available to download below. Please make sure to read the information on this page carefully before downloading.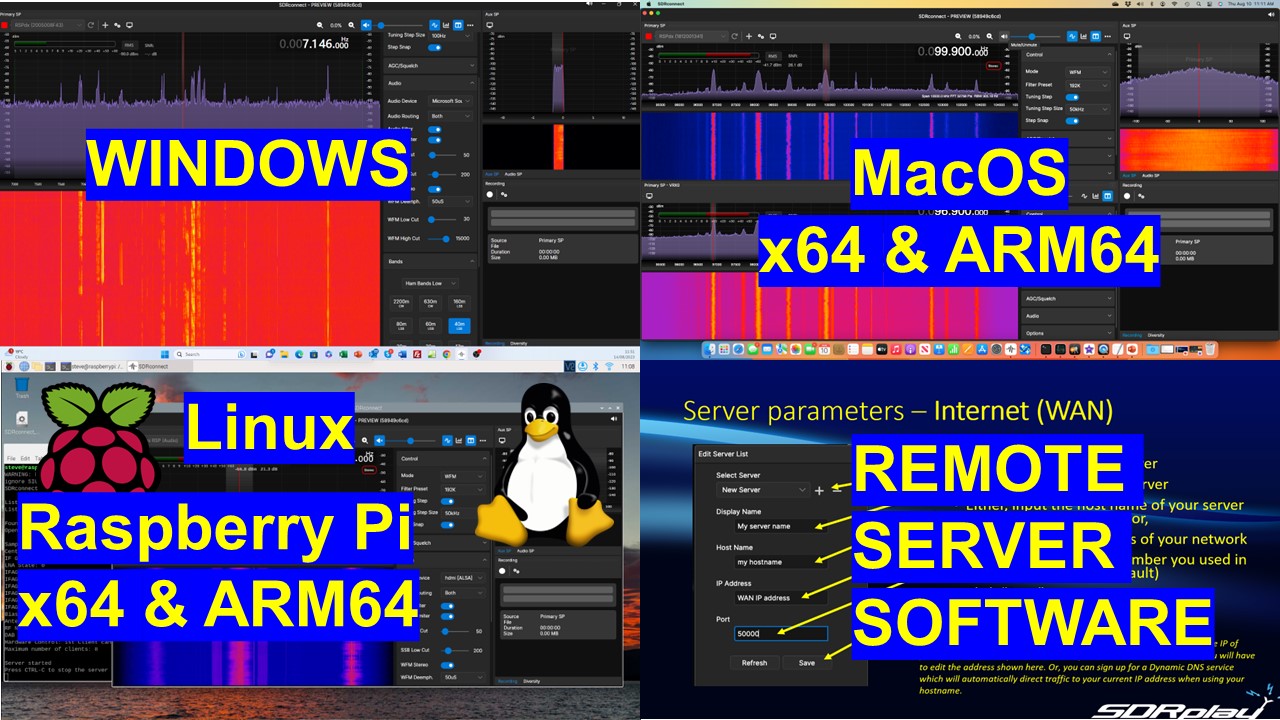 The current preview build of SDRconnect is just at the beginning of the development process. It contains a number of features, including:
Multiple VRXs with basic radio controls
Built in support for all model RSPs except the original RSP1
Remote server with two streaming modes across both LAN and WAN (internet): a) Full IQ and b) Audio – a streaming mode which provides a very efficient way of displaying a large spectral bandwidth across a network with a limited data throughput.
Calibrated Power meter and S-Meter
Band framing
HDR mode support for the RSPdx
Support for RSPduo Single and Dual Tuner mode (two tuners) within a single instance of SDRconnect
Manual Diversity Control for the RSPduo
Headless server command line options
SNR Measurement
Support for un-docking and re-docking of panels
Saving and reloading of settings
Ability to allocate the Aux SP to different tuners in Dual Tuner mode for the RSPduo and for additional VRXs
SDRconnect runs on the following architectures:
x64, ARM64 (including Apple Silicon)
Please NOTE. SDRconnect will be a 64-bit solution and will NOT run on 32-bit operating systems.
Supported Operating systems:
Windows – 10, 11 and later – 64-bit only. Note SDRconnect will NOT run on anything earlier than Windows 10, so please don't ask for Windows 8/7/XP etc. It is not possible to compile for these older operating systems with the tools used for the development of SDRconnect.
Linux x64 – Canonical Ubuntu 20.04LTS and later.
Linux ARM64 (aarch64) – Raspberry Pi OS (64bit) – Bullseye derived (we recommend the Raspberry Pi 4B or better)
MacOS x64 – 10.15 (Catalina) and onwards
MacOS ARM64 (Apple Silicon) – 13.0 (Ventura) and onwards
SDRuno plugins will not work with SDRconnect, but we will be porting the SDRplay developed SDRuno plugins so that they will be made available for use with SDRconnect as modules. The module interface will be published so that third party developers can also port their SDRuno plugins to SDRconnect modules, but we have no control over whether they will choose to do so, so please contact the plugin developers about this.
Regarding touch functionality, the first release will not support gesture recognition. This will come in a later release.
SDRconnect and SDRuno are able to co-exist on the same OS – Please note: This requires the latest version of SDRuno to be installed.
This is the latest version of SDRconnect – released August 10th 2023
Release notes for all versions of SDRconnect can be found here (https://www.sdrplay.com/docs/SDRconnect_Release_Notes.pdf)
Whilst this is the first preview version of the software, we believe that it is stable on all platforms. However, this is just the first step in the long term development of a brand new platform and future releases and modules will further enhance functionality.
You can report any bugs that you find to software@sdrplay.com – ONLY if you are using one of the supported platforms listed above. Please note that we will read any feedback sent to us but we will only respond to you if we require further information.