When you register by clicking the button above, we will ask for some brief details about who and where you are, and what you plan to do with the materials. We usually reply within 3 working days.  You then receive a link and password to download the course materials (guides, PowerPoint lecture slides, lab set-up instructions etc.)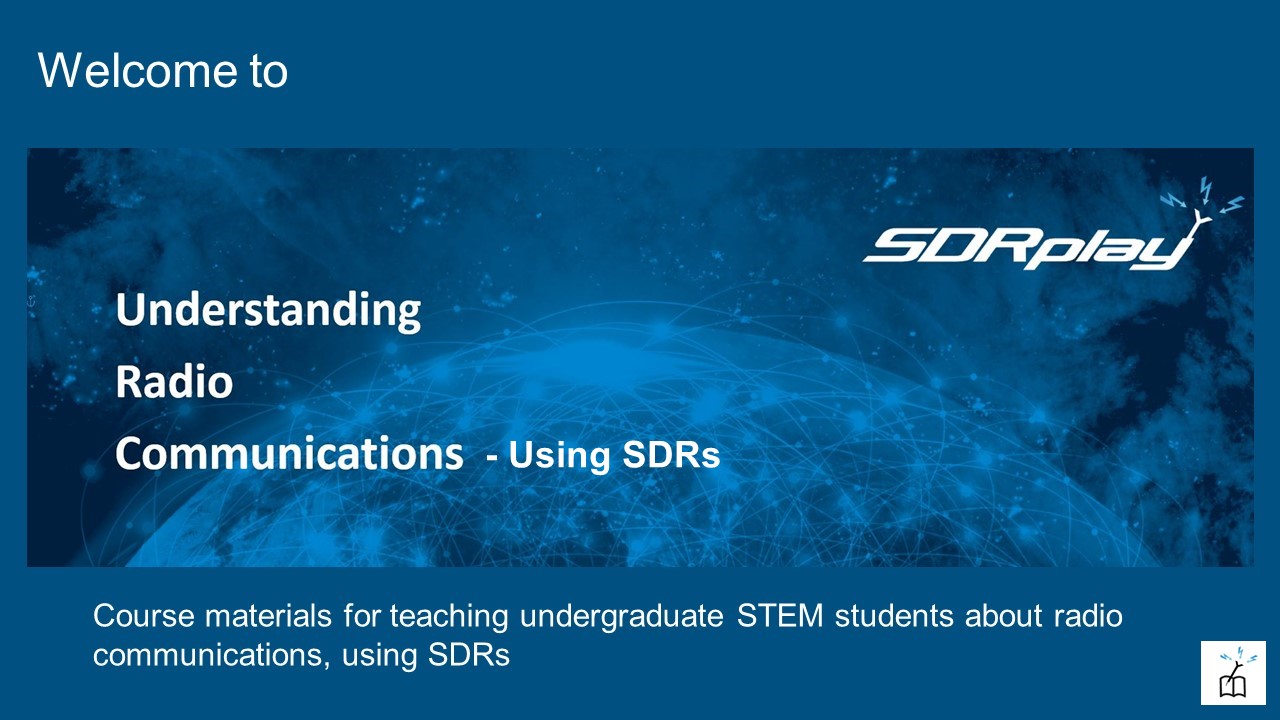 Click Here to download the information sheet in printable format
About this course
Bluetooth, WiFi, 3G, 4G, 5G, LoRA, MESH, 6LoWPAN…. digital wireless communications are a fundamental part of modern electronic and computing systems.
25 years ago radio amateurs, hobbyists, and under-graduates in Electronics or Telecommunications, all studied the basics of RF and the fundamental modulation techniques such as CW, AM, FM, and SSB. Since then, this chapter of learning has disappeared. For most "digital RF" has become a "black box".
This course provides an interesting and practical way to learn about digital wireless communications and to put the techniques to work receiving telemetry from the hundreds of "CubeSats" in orbit around the Earth. It is a fun way to learn important things!
The Authors
The course materials were developed by Lorenzo Frezza and Paolo Marzioli, PhD students atDepartment of Mechanical and Aerospace Engineering (DIMA), Sapienza University of Rome, Italy. You can ask them questions at the next  Webinar on February 4th 2021 at 1300UTC/UK:
Forum page for asking questions: https://uni.sdrplay.com/forum/viewtopic.php?f=3&t=15
(you can also ask live questions via YouTube live chat on the day but to ensure you get your question answered, the forum is the best way)
Bookmark the Webinar here: https://youtu.be/djEHrXFq9UA
Pre-requisites
The course started life as a 12-hour optional course for third-year Bachelor's students in Aerospace Engineering and has been broadened to make it suitable for all students that have some basic knowledge of signal theory and signal processing.
Videos
Our Authors at Sapienza have provided a series of videos to illustrate the Lab exercises, which are now available here: https://www.youtube.com/channel/UCsGfvgkoolsGJw-bnoA7MGg/
Support
We have set-up a dedicated Forum for users of these materials, it can be found here:  https://uni.sdrplay.com/forum/
We are hoping this will build into a valuable Knowledge-Base for  FAQs that arise as more universities adopt and adapt these teaching materials.
Please use thiat forum as the primary channel for any questions that you have about using these materials.
For specific technical questions about the RSP1A and the SDRuno software, there are already active Forums here:
https://www.facebook.com/groups/sdrplay
https://www.facebook.com/groups/sdruno
https://groups.io/g/SDRPlayUsers
https://sdrplayusers.net/forum/
Getting the Materials
To receive these materials which are provided free of charge, please click on the button at the bottom of this page to register.
The registration form asks for some brief details about who and where you are, and what you plan to do with the materials. Once received, we usually reply to your request within 3 working days.
The Future
We have plans for an Italian translation of the materials.
Furthermore we would be delighted to hear your feedback about your use of the materials and how well they fitted into your curriculum.
Introductory video describing the course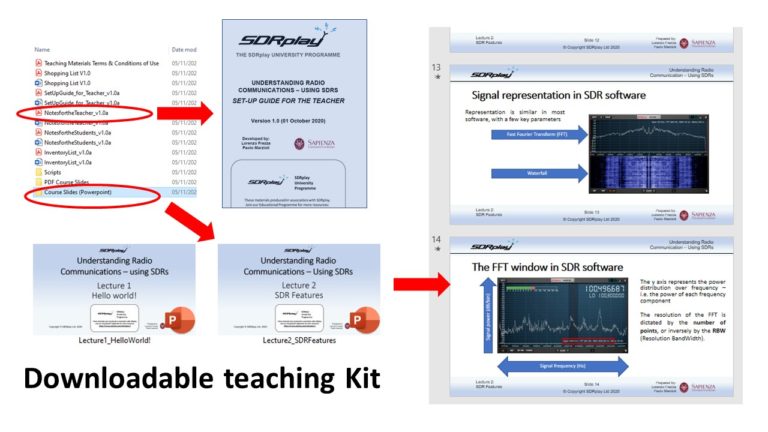 Above: the downloadable kit for teachers includes set-up guides for practical classes, as well as a full set of powerpoint presentation materials