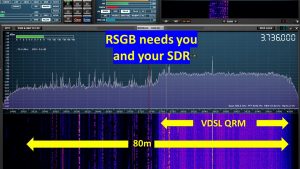 In the May 2020 edition of RadCom, the RSGB's monthly magazine, RSGB president, Dave WIlson M0OBW makes a powerful request for as many amateurs and short wave listeners as possible, to measure the actual levels of interference they are experiencing due to broadband internet VDSL interference.   The RSGB needs as many people as possible to send detailed evidence of interference to OFCOM to get some action on this problem.  Click on the letter below to download the "call to action" in full.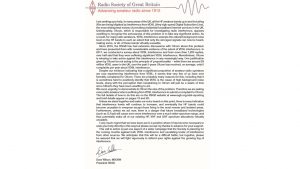 Starting on page 18, the May 2020 Radcom edition has articles spelling our what the RSGB would like people to do and how to identify and measure VDSL.   The  screenshot at the top of this blog using SDRuno and an RSP is a good illustration of how serious the impact is here in rural north Bedfordshire.  The Radcom articles also show how to go about doing the measurements using SDRuno and an SDRplay RSP . The SDRuno wideband IQ recordings are then validated in conjunction with a software tool called Lelantos developed by Dr Martin Sach, G8KDF—a member of the RSGB EMCC.  It is a stand-alone Microsoft Windows application.
For more information, see the May 2020 Radcom article.  There is also a summary of what's needed on https://rsgb.org/main/technical/emc/vdsl-interference-reporting/
Tech minds has just put out this useful video describing the process of making a recording:
At this time of lockdown, this is an ideal time to encourage non SDR-owning radio friends to get their first SDR receiver. It's an ideal way for them to learn an exciting new aspect of the hobby while helping to preserve the HF bands from ever increasing interference.   The RSP1A can be bought direct from SDRplay or from any of our  authorised resellers.