COMINT Consulting leads the COMINT/SIGINT field with more SIGINT software suites compatible with several hundred leading hardware manufacturers and system integrators.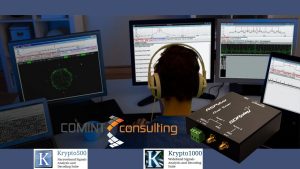 COMINT Consulting support the very best of receiver hardware options which includes the SDRplay RSP family (RSP1A, RSP2, RSP2pro and RSPduo)  They can be used with both their narrowband Krypto500 and  wideband Krypto1000 software for signal analysis and decode.
SDRplay receivers support the entire spectrum from 1kHz to 2GHz with no gaps. Using 14 bit ADC technology and advanced analog filter design they provide an extremely cost effective alternative to more expensive hardware solutions.  The detailed specifications of each of the SDRplay RSP designs can be found by visiting https://sdrplay.com/products/ and clicking on the image of the particular radio.
COMINT Consulting has been instrumental in creating complete new techniques in COMINT, to include precision classification, fingerprinting and visual parsing.
Please note: COMINT Consulting software is for military / government or other authorized (non-amateur or hobby) users and is ITAR-controlled
To find out more, visit their website at  https://www.comintconsulting.com/