There has been a  flurry of great new reviews popping up in the past few weeks.
Here is a selection:
Aviation Blogger, "MerseyRadar" reviews the RSP1A and is very complimentary with comments like "SDRuno development is constant and when the new features arrive they are very well executed."……… "Value..The best out there given what you get for your cash." and "Designed and manufactured right here in the United Kingdom and sold all over the world..Yes we still make very good quality items right here in GB!"
He expands further:
"The SDRPlay RSP1A really is a revelation in SDR radio to have a "HF/VHF/UHF right up to microwave in one box, and best of all the cost is just circa £90 in the UK or $120usd in the US.
The performance out of this thing is nothing short of amazing.
Thinking about taking the plunge into the world of SDR radio or a serious upgrade/substitute for your RTL dongle ?
If you are an airband fan civil or mil ,The RSP1A will not disappoint.
Think about it, the RSP1A retails at less than the cost of the very popular and highly rated Uniden UBC-125XLT "pocket rocket" scanner  and significantly less than a Uniden BCT-15X or Whistler WS-1065 base station scanner.
In fact instead of buying a BCT-15X/WS-1065 base station , you could buy an RSP1A to use as an all band/all mode base station listening post plus a UBC-125XLT for airfield spotting trips and still have a good amount of change to put in the funds pot for that new antenna !
Strange but true !
It seems as though SDRPlay have squeezed just about everything on the wish list for the aviation enthusiast listener into this box of electronics and kept the price very affordable. The RSP1A has set the bar very high indeed when it comes to value for money.
At this price point, nothing even comes close. Insane value when you think about it.
I can thoroughly recommend the RSP1A from SDRPlay, it is everything an aviation enthusiast listener could ever want in a base station radio, and some !"
Read the full review here: http://www.merseyradar.co.uk/airband-radio/sdrplay-rsp1a-review/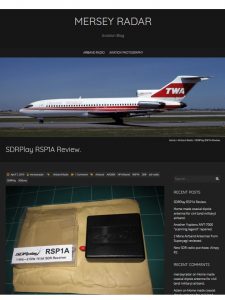 In this detailed video, TomTekTest demonstrates the impressive low noise performance and sensitivity of the Steve Andrew Spectrum Analyser software
Dave Zantow (N9EWO), writes: "Our greatly "Updated" SDRplay RSP1A review is now available (with new number two 2019 manufactured test sample).As usual with our web pages be sure and have pop up blocker on full (allow no pop ups) and browser security settings at default or above." Click here to read it: https://www.qsl.net/n9ewo/sdrplay.html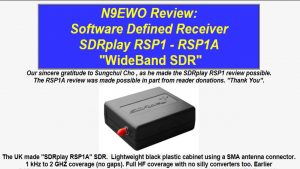 Richard Lacroix reviews the RSPduo and puts it  head-to-head with his Harris RF-590 and Rockwell Collins HF. He also compares the RSPduo performance to the  ICOM IC-R8500 in the LOS SATCOM band.
Read the review here:  http://www.milspec.ca/sdr/sdr.html

YouTuber SevenFortyOne just added an update to his ever popular series of review guides to show the very latest version of the SDRuno Scanning software V1.31: