SDRplay are proud to announce that SDRplay hardware and software (an RSP2 plus SDRuno)  has been chosen for the downlink reception of the momentous moonbounce activities being staged by the UK Bluedot festival this weekend,  celebrating the 50th anniversary of the moon landing.
Here is the email we received from our friend Dr Tom Muxlow (school buddies with  SDRplay's Jon Hudson and Steve Brightman!) from Jodrell Bank here in the UK:
"Just wanted to tell you that the SDRplay unit that was purchased by Jodrell Bank Observatory is being used to display the transmitted Moon bounce during the Bluedot festival – please see attached shots I took in the Lovell Telescope control room during a practice set up session today.  They are planning to record selected messages from the public and then send them to the Netherlands via the internet for transmission by the Dwingeloo 25m dish (~Identical to our Defford e-MERLIN antenna) – The Mk2 telescope on JBO site will then receive the signal via the Moon which will then be relayed to the main stage on site  – please see  https://thefestivals.uk/bluedot-moon-messages/ .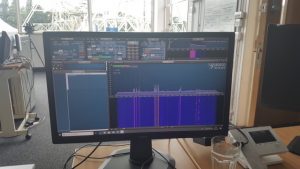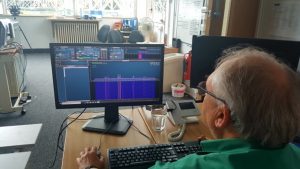 They may also be streaming the event (2am Sunday morning UK time) – see https://www.discoverthebluedot.com/news/watch-bluedot-live.
(The Lovell telescope is parked in the Zenith all Summer for engineering work  – Hence the use of the Mk2 dish)
The transmitted moon bounce signal is at 1296.13MHz suppressed single side band.
Thought you'd be interested!!
    ;-))
Cheers Tom
For further info on the Bluedot Festival:
2019 Lineup – Bluedot Festival
Click here to view the full 2019 lineup for Bluedot music festival. Featuring a diverse lineup of music, science, cosmic culture, arts and comedy, our 2019 lineup will be headlined by industrial legends Kraftwerk, who bring their 3-D tour to the UK. Buy tickets for Bluedot 2019 now.
www.discoverthebluedot.com
bluedot Festival will bounce messages off the moon this weekend
bluedot Festival to bounce messages from Kraftwerk, New Order, Hot Chip, Jon Hopkins & Anna Calvi off the Moon.
thefestivals.uk"
Editors note:  indeed – BBCs breakfast TV featured a trial of this on https://www.bbc.co.uk/iplayer/episode/m0006wk0/breakfast-19072019   (1 hour 40 minutes in)  – probably only viewable in the UK and for a limited time.