Here's an update on RSP availability.  As you may have noticed, we are still not selling the RSPdx direct from our web purchasing page.  This will start as soon as we have completed 100% of all the  committed deliveries to our channel partners and distributors.  (The current estimate is mid December).  Most of the resellers have now received their initial orders.  However, due to tremendous demand, some of them are running out of devices already!  We are working with our manufacturing partner to get more built as soon as possible.
At this time of year, shipments tend to take longer so if you were thinking of sending an RSP as a Christmas present, there are only a few days left. The RSP1A makes a perfect gift for both the old and the young.  The old may be a lapsed short wave listener, radio ham or retired radio communications engineer looking for a new hobby. As long as they have a windows PC or laptop, it's a small step to get going, especially with the band framing buttons which handle the tricky set-up stages automatically on SDRuno.    The young may be enthusiastic computer-savvy youngsters who could be inspired by having access to clean RF signals for say a Raspberry Pi-based project.
Then for those wanting the ultimate flexibility and the added advantages of diversity tuning, there's the RSPduo.
This comparison chart helps compare some of the most popular features provided by each RSP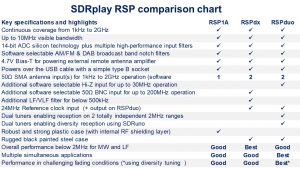 We currently have both the RSP1A and RSPduo available to buy direct on: https://sdrplay.com/purchase/
(You can put in your country and choice of device to see the total cost including shipping costs before proceeding to payment)
For datasheets and more information on all the RSPs, go to https://sdrplay.com/products/   and click on each picture.
For anyone lucky enough to receive an RSP as a gift, the SDRplay support team will be working over the whole holiday season to provide help whenever you need it.