We already knew about fake RSP1s and RSP1As but recently it seems some unfortunate customers have been tricked into buying other counterfeit devices.  The counterfeiters are becoming more resourceful at marketing their fake products, ably assisted by Banggood, AliExpress and Walmart as illustrated in our traffic light warning picture below. eBay should also be coded red, but for the fact some trusted resellers sell via eBay as do respectable individuals who might want to sell their pre-loved RSP.  Be careful with Amazon who have a mixture of genuine resellers and fake product sellers.  They encourage the sale of Chinese fakes via "reliable" traders who mostly sell low cost trinkets in order to maintain 95% customer satisfaction ratings.
So this is just another reminder to everyone to be doubly sure of who they are dealing with, before buying from them.   Here's our latest guidance on the subject: https://www.sdrplay.com/fakealert/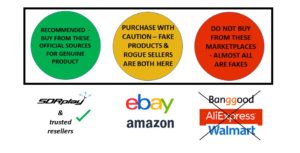 Above: approach these markets as guided by the traffic light above
Safe shopping everyone!