The downloadable SD card image for the Raspberry Pi3 is proving very popular and we have now updated it to make sure it always enables hardware acceleration, out of the box. It also includes the latest version of the RSP TCP Server for remote RSP operation and it enables SSH by default for headless operation.   The new server feature opens up more ways of using an RSP remotely – you just need a Raspberry Pi, an RSP and an internet connection to allow most RTL-SDR compatible software to access the radio.
Here then, is what comes pre-installed in the downloaded SD card image:
The RPi3 operating system (you don't need to mess with your current software set-up)
Cubic SDR (complete SDR receiver software)
GNU Radio Companion
GQRX
ADSB (Dump1090)
QT-DAB receiver
RSP TCP Server
SoapySDR/SoapySDRPlay
SoapyRemote
Click here to find out more about this latest release: https://sdrplay.com/community/viewtopic.php?f=6&t=4135
Click on the picture below to see the video guide showing how easy it is to get up and running: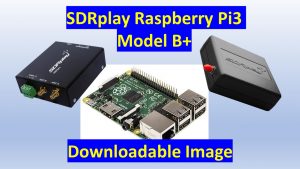 If you know of anyone who is looking to try new things with their Raspberry Pi, then the RSP is a fantastic way to get them interested in radio.  A cheaper dongle might also be a starting point but without the built-in filters included in an RSP, it can be a frustrating and off-putting experience.
More information about the RSP TCP server software  included in the download:   The standard "RTL-compatible" mode has been revisited to improve things like the gain control and options have been added to start the server with RSP-specific options such as "Antenna select", "Bias-T enable" and enabling of specific hardware broadcast notch filters. This new version also has an "Extended" mode whereby these RSP-specific controls can be changed on the fly, when client developers add them to their software. This updated version can be found on SDRplay's GitHub repository: https://github.com/SDRplay
You can read more about the latest RSP TCP server (also runs on Windows and MAC) here: https://sdrplay.com/community/viewtopic.php?f=6&t=4134