As we enter 2021, I'd like to say a special thank you to all our resellers out there who provide local support in so many countries around the world.  The good news is, that despite the challenges of Brexit, we are able to support them with shipments from the UK thanks to the hard work of our logistics partners in the UK and Ireland.   Local language support is very important and we see lots of local documentation being available.   This month I'd like to make a special mention of ParmaCom who provide a free of charge starter guide in Dutch to each new RSP customer.
They have just written a new book in Dutch which includes more detailed instructions on how SDRuno works as well as descriptions of application examples. The author, Ger points out that all the applications described have been extensively tested before being published.  Dutch readers can find out more about the book here: https://sdrplay.nl/boek/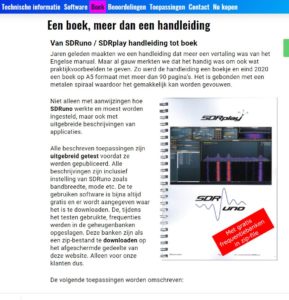 Here's a list of many of the authorised SDRplay resellers around the world:  https://www.sdrplay.com/distributors/
Please be careful when shopping on the internet.  For example, most of the "SDRplay" , RSP1 or SDRuno compatible SDRs sold on AliExpress are fakes!  As well as authorised resellers on eBay and Amazon, there are fraudsters who cut and paste pages from official resellers' or from our website, and fool people into sending money.    They may even send a 10c trinket just to give you something to track!  After a while they close down and someone else pops up!.
On a positive note the growing communities you can find here are full of very genuine and helpful folks who can advise you before you buy anything 🙂
Happy New Year from the SDRplay team.