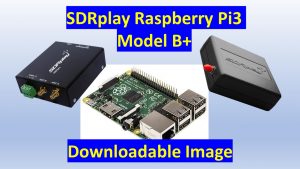 SDRplay is pelased to announce the availability of an updated Raspberry Pi3 image: This release (V0.4) is a complete image for the Raspberry Pi 3 with a range of pre-built applications for SDRplay devices.
Please note the following:
1. This software is made available purely for the convenience of users to save them from having to build the software themselves from source code.
2. All software apart from ADS-B is provided by third party developers and SDRplay can take no responsibility for any faults or bugs and is unable to provide support. For any support for these applications, we recommend that users contact the original authors.
3. Where the RSPduo is supported by applications, it can only be used in single tuner mode.
4. Whilst this should work with all RPi3s, we have only tested with RPi3 B+ and that will provide the best performance.
List of known issues:
Enabling Hardware Acceleration
The image should enable hardware acceleration by default, but if it isn't enabled (CubicSDR windows will open slowly) then run…
sudo raspi-config
in a command prompt and go to the Advanced options (A7) and then select G1 GL Full driver. Then OK and back to the main menu to exit, you should now be prompted to reboot.
SoapyRemote
Will only work over LAN connections and locally. It will not work over Wide Area Networks
CubicSDR
Will only support the RSPduo in single tuner mode
Gnu Radio
No known issues
GQRX
Some limitations with tuner hardware control
Audio only via USB and HDMI audio
CPU load is quite high and may cause audio stuttering
ADS-B
RSPduo not currently supported
Port B is the default port for the RSP2
Qt-DAB
Will only support the RSPduo in single tuner mode
TCP Server – This is a fork of the RTL-SDR (TCP) server developed by F4HH. This software should work with any client that supports the RTL-SDR (TCP) server software with some limitations. This software should be viewed as being for experimental purposes.
RSP2 works only on port A
RSPduo not supported
Maximum sample rate limited to 3.2 MHz
Some limitations with RSP1A RF gain control
Download links:
https://www.dropbox.com/s/kvaatu0ndet5pns/SDRplay_RPi3_V0.4.img.xz?dl=0
or
https://www.sdrplay.com/software/SDRplay_RPi3_V0.4.img.xz
Size: 2249196664 bytes (2145 MiB)
Checksums:
CRC32: 204AE0BE
CRC64: 76FAA00F83A96F1D
SHA256: 2BDB44BFCA95241AA9FE26F02EFB78FD0370869AC2775F76832AC68F7E9DA153