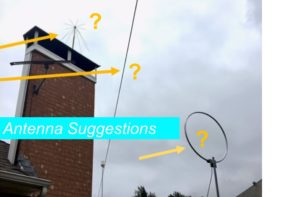 Newcomers to the radio hobby, are often at a loss as to where to start when it comes to choice of antennas for their SDR receiver.  We're working on adding web-based suggestions, eventually with links to recommended antenna manufacturers.
With any of the RSP family you have the possibility of receiving signals anywhere from 1kHz all the way up to 2GHz.  That's a lot of spectrum and no single antenna will give good performance over the entire frequency range.  However it is possible to cover most of it with just 2 or 3 antennas.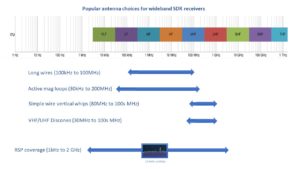 The picture above shows the four most popular choices of antenna for covering the bulk of the spectrum offered by wideband SDR receivers like the SDRplay RSP family. The "long wire" (more correctly named as the "random wire" antenna) and the whip antennas are the lowest cost options but have some limitations which is why the more expensive active magnetic loop and discone options have become popular.  The key pros and cons are shown in the table below:

For dedicated reception of a narrow band of specific frequencies there's a whole host of specialist options (e.g. ADSB antennas for 1090MHz, Inmarsat antennas for 1.6GHz, special 137MHz antennas for NOAA satellite reception and so on as well as the traditional yagi antennas with directional properties.
However for now, just looking at those "get started" choices, here are links to wiki pages each of the popular antennas types mentioned above:
The long wire antenna: https://en.wikipedia.org/wiki/Random_wire_antenna
The active magnetic loop antenna : https://en.wikipedia.org/wiki/Loop_antenna
VHF/UHF whip antenna: https://en.wikipedia.org/wiki/Whip_antenna
Discone antenna: https://en.wikipedia.org/wiki/Discone_antenna
There are several Facebook groups dedicated to specific types of antenna.  This group is ideal if you fancy making your own Mag loop antenna: https://www.facebook.com/groups/861746933918546
Antenna connectors:
The RSP1A RSPdx and RSPduo all have one or more SMA female antenna sockets.  These sockets are designed to perform well over the entire frequency range whereas the other types of socket options provided on the RSPdx and RSPduo (BNC and wire terminal block respectively) are intended for use at frequencies  below 200MHz (BNC)  and 30MHz (wire terminal block)
The SMA socket therefore requires a standard SMA male plug (which has a centre pin).  We discourage the use of all-in-one adapters to larger sockets (like the SO239) since these will put a strain on the socket.  It is much better to use a length of coax to the next connector or antenna.

Watch out for news on these new guides for beginners in the coming weeks.