The International Space Station crew have been sending SSTV pictures this week . Over on the independent SDRplay Facebook group on https://www.facebook.com/groups/sdrplay  ,Roger Need reported: "Got this one with a 2M magmount stuck to a pizza pan inside the hamshack – using RSP1A, SDR-Console V3 and MMSSTV."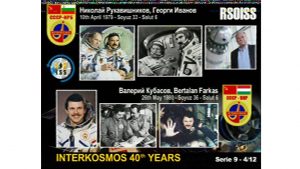 The Facebook group has over 8500 members and is a safe and friendly forum for SDRplay users to exchange tips and advice for whatever they're doing with the RSP.  It's also a good place to find out whether an RSP would meet your needs for an SDR receiver.  For those wary of Facebook, I recommend providing a minimum of personal information – first name and approximate location (within say 20 miles) is all that's needed out of courtesy to other members (propagation comments, or suggestions on where to get components become meaningless if you pretend you live somewhere completely different from reality!) – the rest can be fictional!  The group is a "closed"  group in order to maintain a collaborative spirit and to keep the spammers out.
Many thanks to the many YouTubers out there making great videos of what they're capturing using RSPs.  Keep them coming!  We try to showcase the ones we spot, by "liking" and linking them to our playlists on our YouTube channel: https://www.youtube.com/c/SDRplayRSP  – for those of you considering whether an RSP makes sense for you, if you go to YouTube and search for "SDRplay" and an additional search subject you will likely find some informative information.     Here's an example of one posted only yesterday by Pete Sobye, G0PNM:  https://youtu.be/OWiw5HM3d1g – I came across that by simply doing a YouTube search for "SDRplay Panadapter"
As a reminder of the full list of alternative ways to get help and support – take a look at https://www.sdrplay.com/contact/  (including a link to our own community forum of over 4000 members, where you don't even  need to be a Facebook user! )
A note of apology to users for an unscheduled outage we suffered with our website on Tuesday night (UK time) – it was due to an attempt at a malicious attack which we quickly identified, but meant we had to go off the air while we double checked everything.  It was bad timing since it coincided with the one day when Simon Brown over at SDR Console was performing scheduled maintenance to his Version 3 server and website!  At the last count, of the 48 actually working remote servers, exactly 50% of them (24) were SDRplay RSPs!    Take a look on  http://www.sdr-radio.com/Software/Version3/Server  to see where the publicly available RSPs are.   This video guide shows how you can access these remote servers and how you can make your own radio available for either private or public remote access.  Please note that the default gain settings in SDR Console are not always optimum on all frequencies – also make sure in the case of a remote RSP2 or RSP2pro that you are selecting the correct antenna!
Finally, just to let you know that SDRplay will be attending Dayton Hamvention (May 18-20) with demos planned in conjunction with Ham Radio Outlet. We will also be at Ham Radio, Friedrichshafen (June 1-3) in conjunction with Funk24 and Funktechnik-Dathe.  We look forward to seeing you there 🙂