Just a reminder that there are a lot of scams and fake SDRplay devices out there on the internet.  Our RSP1 and RSP1As  in particular have several imitations – some are real attempts to duplicate the functionality by copying the design.  Other fake postings are "cut and paste" mis-representations of genuine SDRplay resellers' webpages. These can be really hard to notice. A site called calvinpus.com has recently been carrying product items which mimic a genuine reseller's artwork and product description (see the bottom screen shot below for an example).
May 2021 update: Walmart has a listing for a fake RSP1A right now – it looks like this: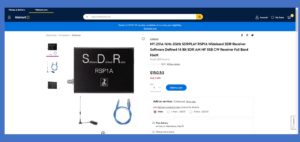 So be careful.   The fake copies are unlikely to work with SDRplay software including SDRuno. There will be no technical support even if you get some limited functionality using out of date software.
Even when you see what looks like a genuine post, double check the reseller is either a company you know and trust OR is listed here: https://www.sdrplay.com/distributors/
Just doing 4 searches we saw these results: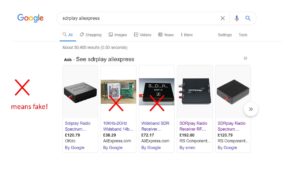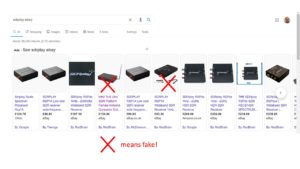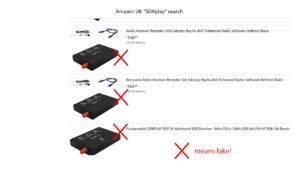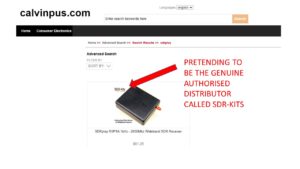 One Canadian customer paid $61 only to get a tracking number – and then 3 weeks later he got a 10 cent plastic cable tidy in the mail!  All this delays the point at which the customer realises he or she has been taken for a ride!    By then, some of these sellers have closed down and changed their name yet again! Others keep going because they sell 1000s of genuine trinkets and just a few 10s of fraudulent products, thereby retaining their 97% customer satisfaction score.
Of course there are other speculators who will charge you a a 50%+  mark-up,  and then buy and resell the genuine device and add their profit!
So safe shopping everyone!
Here's the purchasing link to our website – enter your country and proceed through the pages, to see the taxes and shipping costs which we charge ( You won't be charged until you enter credit card information) : https://www.sdrplay.com/purchase/
As a footnote, we are grateful to those of you out there who report fake units to the websites and others responsible for encouraging them.  In particular we'd like to thank Frank, K4FMH for all his work in this area.   Checkout his blog on https://www.amateurradio.com/ah-geez-play-fair-with-sdrplay-and-if-some-dont-heres-what-can-be-done/