Since we introduced SDRuno V1.4 with plugins last month, several software authors have been busy writing their own plugins, and links to these can be found on the SDRplay Plugins page of our website: https://sdrplay.com/plugins/
Eddie from https://sdrplugins.com/ has released a plugin for using a Contour shuttle. He writes
"The Contour Shuttle Plugin for SDRuno brings you the ability to control your SDRuno application with your own shuttle device. This plugin works with the Contour Shuttle Express, Pro and Pro V2. It provides native support for the shuttle devices, meaning no more clunky mapping of shortcuts. Simply load the plugin and your ready to go. All functions available through the SDRuno plugin API are available to dynamically set to any button, the shuttle ring or the jog ring. Select the VRX you want to send command to and those commands will control that VRX. You can control the demodulator type, filter bandwidth presets, volume, squelch. Noise Blanker level, toggle squelch, audio mute , toggle the VFO and many more features…Also, the plugin is speed aware. The plugin will respond to the the shuttle wheel and jog wheel position in terms of speed and release rates, making it easy to control a function in any increment from fine to coarse."
Eric Cottrell has released his FRAN  (FRequency ANotation) plugin which can read SWSKEDS or .s1b memory bank files and display the active stations from the files on the main spectrum window.   Eric is in the process of setting up a website for his plugins and other projects. Until it is done, click here to get Version 0.3 of FRAN.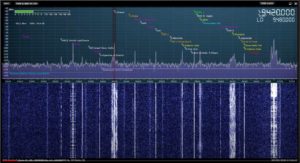 The FRAN plugin allows annotation from memory files 
Eric is an active member of   the Independent  SDRuno Facebook group where you can ask questions about it and see news of any updates before the website is announced.
News about additional 3rd party plugins will be posted on https://sdrplay.com/plugins/ as they become available.  That's where you can also find links to information about the plugins already provided by SDRplay for DAB radio, DX Clusters and an audio recorder.
We've also made this short video to clarify how best to install 3rd party plugins: