We have released SDRuno Version 1.32, API Version 3.04 and ADS-B (dump1090) Version 1.45
The purpose of the new SDRuno software release is primarily to add the MRC (Maximal Ratio Combining) Diversity functionality for the RSPduo, but it also contains other fixes and additions based on customer feedback. Diversity functionality is described on P.78 of the SDRuno User Manual from which the following is taken:
From V1.32 onwards, MRC (Maximal Ratio Combining) Diversity is supported using the RSPduo. MRC
Diversity can be used to combine the 2 tuner input streams together to potentially improved the SNR
(signal to noise ratio). The same frequency is used for both tuners in the RSPduo and the gain can be
adjusted either on each tuner independently or locked together (the default method).
Diversity mode is enabled by clicking on the RSPduo MODE dropdown and select DIVERSITY. Make sure
both the 50 ohm ports are connected to the correct input source and note that the HiZ port is not available
for Diversity mode. Trying to use the HiZ port will result in an error message being displayed.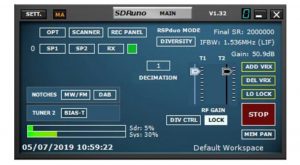 Once diversity mode is enabled, the diversity controller window will appear (shown below). This window
shows the current phase and amplitude being applied and the automatic values that are being
continuously calculated and applied (if the APPLY AUTO button is pressed, which is the default mode).
The automatic values have A preceding them in the display.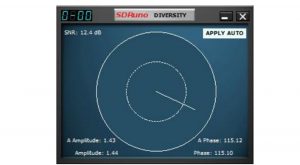 The automatic mode can be disabled by pressing the APPLY AUTO button and then with the left mouse
button pressed down, select a phase (indicated by the angle in the circle) and an amplitude (indicated by
the length of the line to be applied to the incoming IQ streams.
The result of the combination is sent to the rest of SDRuno as a single IQ stream and so all the post
processing within SDRuno is still fully functional.
A full list of the changes can be found in the release notes: https://sdrplay.com/docs/SDRplay_SD … _Notes.pdf
Also we have updated  the windows version of dump1090 to V1.45 – this supports the API 3.04 which has also been updated today.
If SDRuno 1.32 has been installed then API 3.04 will already have been installed automatically. Otherwise, API 3.04 will need to be installed to use dump1090 1.45
Issues can be reported to us via our ticket system: https://sdrplay.com/support
Comments and feedback can be sent to feedback@sdrplay.com – emails sent to that address are usually not responded to unless we have questions, but are always read and noted.