As we have mentioned before,  due to the worldwide shortage of electronic components, we are suffering from production delays at both our manufacturing subcontractor operations here in the UK.  This means that many of our resellers have completely run out of RSP1A and RSPdx devices.
However we are pleased to say that this week, we have  been able to build some additional units.  This means that by the end of next week (February 25th), our resellers should have more stocks of RSP1A and RSPdx.   More RSPduos are promised for mid to late March.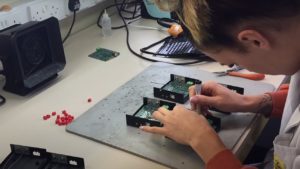 It is highly likely that even after the latest production runs are delivered, some of our resellers will run out again in the weeks ahead.  Meanwhile we are working to do all we can to secure more critical components for our manufacturers. This includes tweaks to the designs so that they can accommodate alternative more readily available parts.
Many thanks to customers who have been left waiting to buy, and to our resellers for your patience as we navigate though this situation.
A list of our authorised resellers can be found here: https://www.sdrplay.com/distributors/