SDRuno Version 1.4 Release Candidate 3 has been released today (https://sdrplay.com/sdruno) – many thanks to everyone who sent in feedback to feedback@sdrplay.com on RC2.   We are getting close the full release and the software is getting very stable.
Version 1.4 Release Candidate 3 adds a DX Clusters plugin to the pre-installed plugins for DAB radio decode and an audio recorder already available in RC2.
Here is more about the plugins system being introduced in SDRuno Version 1.4: https://sdrplay.com/plugins/
As before, please try it out and send us feedback as described on the web page.
Before reporting any issues, please check that they are not already listed in the outstanding known issues.
The release notes can be found here:  https://sdrplay.com/docs/SDRplay_SDRuno_Release_Notes.pdf  – these notes detail the changes since V1.4 RC 2 and the work still outstanding.
When you install version 1.4 it will install version 3.07 of the API, and this may have consequences if for example you also have other software installed on your PC  which is currently designed to work with version 3.06 or older.  The latest version of SDR-Console is now compatible with this release.
If your only SDR software is SDRuno SDR software you should have no problems upgrading from V1.33 to Version 1.4 RC3.
We welcome feedback to feedback@sdrplay.com – we won't be able to respond to all emails received but all will be read, although at this stage, feature requests cannot be included in the Version 1.4 release.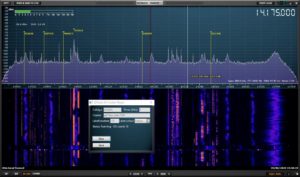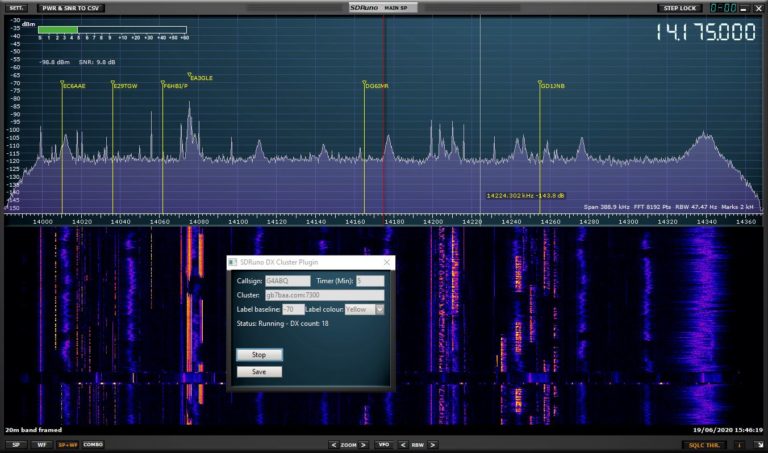 SDRuno with DX Clusters plugin running on the 20m amateur band
More about DX Clusters:
This new plugin displays DX cluster callsigns on the SDRuno spectrum display.   SDRuno already provided band buttons whereby you can press say "20m" and the software takes care of all the settings needed to present you with exactly 1.0 to 14.35MHz fitting in the main spectrum display window.  Now, with the new plugin you can overlay the DX cluster callsigns as they pop up.   There's a choice of how long you let them display and you can control the way in which they appear.
(Notes about DXCluster (from Wikipaedia): A DX cluster is a network of computers, each running a software package dedicated to gathering, and disseminating, information on amateur radio DX activities. The computers comprising the network are called nodes, the network itself being termed a cluster of nodes. The nodes may be connected either via radio links or through the internet. Internet nodes generally connect using the telnet protocol. The system acts as an aggregator of information, accepting input from various sources, then making that data available to any user who is connected to the network.)