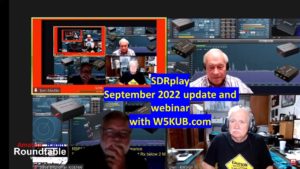 Our thanks to Tom Medlin and the W5KUB Amateur Round Table for inviting us onto their weekly show where Tom hosted an SDRplay update and webinar.   You can see links to this session along with many prior events by checking out our webinars page: https://www.sdrplay.com/webinars/
Our next webinar will be on Monday September 19th 2022 when  Radio Network will host "An Evening with Mike Ladd (KD2KOG) and Steve Brightman (KI5ENW) of SDRPlay"   The theme of the evening will be "How do I…?" and be targeted to SDRPlay device owners that need help, support and guidance with their RSP device or SDRuno.
The evening is focusing on user-related questions that are specific to the individual in order to help amateurs gain a better user experience.
They promise an informative and entertaining evening and expect that participation will be high.
***The time below is in British Summer Time***
The room opens at 1815 hrs UTC for a 1830 hrs UTC Start