SDRuno V1.41 was fully released today.  It includes the much requested full scheduler facility which allows you to set up numerous recording events for your RSP.  As well as providing all the expected calendar options (time of day, date, start and stop times, repeating options and so on), you can also set the 'profile' for each recording – this allows you to pre-set frequencies, bandwidths, demodulator options (AM/FM/USB/LSB etc.), choice of filters and antenna port selection.  Additionally you can choose the settings for connectivity to other third party software or the running of a specific plugin.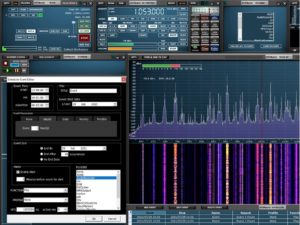 Added
• New Scheduler panel which replaces the old "Recorder" panel (launch using the SCHEDULER button in the main panel).
• A new autolayout to include the scheduler (for screen resolutions of 1920×1080 and above).
• Backup and Restore of the ini file settings (access via the main panel OPT menu)
• Screenshot button has been added to the SP1 title bar
• IQ wav files can now be used in plugins
Changed
• Autolayouts now take account of the taskbar location and size.
• Autolayouts have been improved to take account of higher resolutions.
• Saved workspace notification moved to the status bar.
• Memory Panel will now prompt to save any changes made when switching to another memory
bank.
Fixed
• Decimation and the LOLOCK state are now correctly saved and recalled within a profile.
• Main panel version tooltip now displays correct information.
• The step size could be set incorrectly when using non-FM modes and pressing any of the FM sub
mode buttons.
• ADS-B/DAB mode now handles when in both band-framed mode and also when the LO is locked.
• Bugs associated with wav file playback
• When loading a profile, the last used memory bank field will update correctly
• Saving a profile will now update the displayed loaded profile field correctly
Known Issues
• SP2 CWAFC drift issue (Zoom/window size/freq display)
• IF output mode disabled SP1 spectrum mouse clicks
• Occasionally if SDRuno is closed whilst a plugin is still running, it may not close properly. This may
necessitate a PC reboot to fix it.
You can find this latest version of SDRuno on our downloads system :https://www.sdrplay.com/downloads
Also available with SDRuno V1.41 is a new ADSB plugin which simplifies the way you can use an SDRplay RSP for decoding real time transponder signals from aircraft in your vicinity. You simply ensure you have a suitable antenna for 1.090 GHz and launch SDRuno and the new ADSB plugin. This new Plugin works with freely available Virtual Radar Server software which collects the data from the SDRuno plugin and produces a clickable map that shows all the aircraft found in real time.   Anyone who has an RSPduo (the dual tuner SDR) can simultaneously listen to the corresponding ATC voice channel to monitor the pilot interaction with air traffic control.  Mike, KD2KOG  from SDRplay has produced a video and a comprehensive app note covering this and the many ways this new plugin can be used to customise displays via its internal ADSB web server: https://youtu.be/CtcS9OstHJI
The documentation can be found here: https://www.sdrplay.com/docs/ADSBpluginBeta.pdf
December 2021 update –  Please note that for licensing reasons in version 1.41.1 (December 2021 onwards) the ADSB plugin is no longer included in the SDRuno download. Instead you can get the plugin installer by going to: https://github.com/…/SDRuno_ADSB_Plug…
(click on the Download button on the right) Links to that page can also be found via the software/downloads section of the SDRplay website.
Another great plugin improvement is the squelch activated record facility in the audio recorder plugin.  This allows recording of only the active signals which break through the sqelch theshold setting. There's another new video which demonstrates this:  https://youtu.be/WB8GctTka0M
Finally, please note that we have also updated the SDRuno roadmap. You'll see that we have changed the order in which we are doing things to bring forward the release of V2.0 – you can see the roadmap here: https://www.sdrplay.com/sdruno-roadmap