This weekend, the whole SDRplay team has been on the road – in the UK it was for the UK National Hamfest in Newark (UK).   In the US it was for HRO's "Superfest"
We met with many  customers – old and new.  It was such a friendly atmosphere at both locations.    Many thanks to all who dropped by – either to buy an RSP or to give valuable feedback on the preview version of SDRuno which we demonstrated.
It was great to have Mike over in the UK – Mike is responsible for our Video Guides on our YouTube Channel. He coped well with the jet lag having only touched down at Heathrow, midday Thursday. He was in full swing Friday morning and ready for an ICQ podcast interview by lunchtime!
Steve's talks at Ham Radio Outlet's Milwaukee Superfest were well attended – you can download the slides from the "Video guides and Media" section on our Downloads page.
Apologies if our support turn-round time is slow for the next 2 or 3 days – with everybody travelling over the weekend and early this coming week, it will take a while to catch up!
Some pictures from the UK National Hamfest Newark…..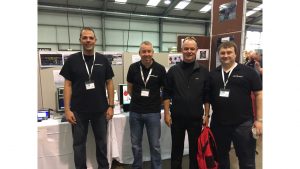 Above:  Mike (from the USA). Ian, Preben and Andy
Below:  Mike and Jon with Chris from ICQPodcast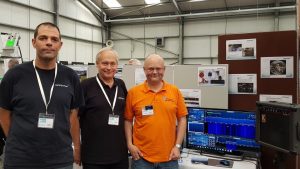 and from HRO Superfest Milwaukee……..
Above: The SDRplay booth
Below – a happy customer with Steve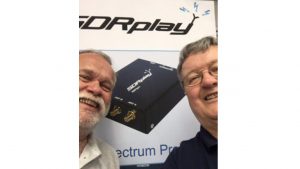 SDRplay made the main feature on today's ICQPodcast which can be downloaded from https://www.icqpodcast.com/download-the-show/2017/10/1/icq-podcast-episode-249-sdr-play