Mike Richards has written a comprehensive review of the RSP1A in the January 2018 edition of RSGB monthly magazine "RadCom"  which is now out.  See page 40. We hope to be able to reproduce the article here by the end of January.
"The RSP-1A is now a very attractive proposition for those wanting a wideband, budget, SDR. The RSP-1A is significantly better than any of the RTL based alternatives. The combination of the new filter banks and the 10-step RF gain control make it easy to tame the incoming signal for best overall performance. Also, don't forget the bonus of RF level measurement. "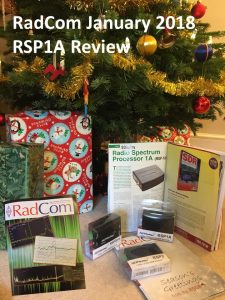 Mike Richards checks out the amazing accuracy of the RF power measurement facility which means (like its big brothers the RSP2 and RSP2pro) you can justify one for work and one for play!
To download and read the  October 2017 ARRL QST magazine review of the RSP2/ RSP2pro – click here for the link