Usually in January and February, there is a bit of a lull in sales but this year we have been exceptionally busy.  So much so, that we have temporarily run out of RSP1As – we hope to be restocking distributors and resellers next week.  Our list of distributors and resellers can be found here:  https://www.sdrplay.com/distributors/
Some people have accused us of being a bit biased towards the lower end of the 1kHz to 2GHz spectrum coverage we support, but it's worth noting that the outstanding performance of the RSPs at VHF and UHF continues to delight new users. We've noticed a lot of recent enthusiasm around satellite imaging and here's a nice screenshot recently posted by Jan Henning Holmedal Lustrup on the independent SDRplay Facebook Group after a successful EMR (Moonbounce) contact on 1296MHz using his RSP2pro as the receiver.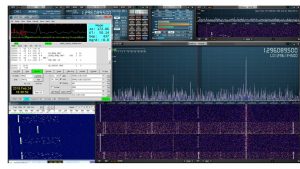 Above: Jan's screenshot     Below: the moon in my Wellbrook loop 😉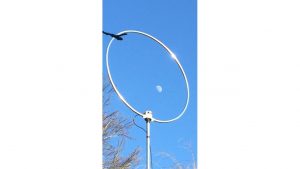 I am hoping to build up an FAQ section on the SDRplay website to address the many common questions which we get on the support desk, or which are answered so eloquently in the FaceBook group or on our own moderated community forum.  If you haven't already joined, I encourage you to join one of these very useful communities and watch this space for more news about FAQs.