SDRuno plugin authors have been busy adding enhancements and new plugins for SDRuno.  Plugins allow the user to seamlessly access 3rd party software and enjoy exciting new capabilities.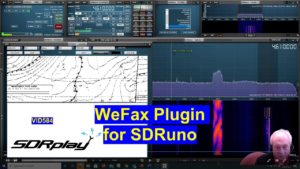 Jan van Katwijk has written a basic Weather Fax plugin for SDRuno. It can be downloaded from:  https://github.com/JvanKatwijk/SDRuno_weatherfax/tree/master/the-dll
It's very simple to operate as you can see in this video: https://youtu.be/Cz4-8-vMasM
Introducing "CloudMarkers" – an SDRuno Community database for markers
Jo Schmidt has released his CloudMarkers plugin which is accesses a community maintained database for markers that you can show in the your spectrum display.  Every CloudMarker plugin user can add new markers and edit existing ones. For each marker some additional information can be stored, so that you can see which station you are receiving when scrolling over the spectrum.  Jo encourages you to have a look at it and  give feedback and suggestions for improvements. You can always find the latest version of this plugin at http://markers.cloud Download the ZIP file and extract the DLL to your community-plugin folder
The CloudMarkers plugin is now included in the community plugin installer (v2.3) along with the updated version of Fran – https://www.sdrplay.com/downloads
Eddie Macdonald (author of the Contour Shuttle Plugin) has completed a screen reader accessibility plugin which will be tested in the coming days and has also been working on a very exciting "SDRuno Shortcuts" plugin…..watch this space!
The SDRplay website plugins information page is: https://www.sdrplay.com/plugins/ (Here you can find help and links to a video guide showing you how you can add and manage plugins for SDRuno)
You can find out the latest plugin news and links by going to : https://www.facebook.com/groups/sdrunoplugindeveloper