This weekend, Steve KI5ENW released a new video specially for newcomers and we have also updated the SDRplay website layout, hoping it makes it a bit easier to navigate.  Of course for those familiar with how it was, it will take a couple of minutes to find your way around again.
First of all, here's Steve's new video "SDRuno: The (very) basics":
And here's the new look simplified homepage showing how the new buttons map to the prior top level menu items: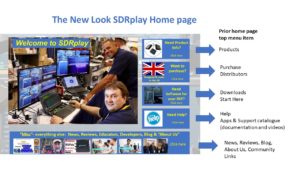 ( April 1st update ) – Here's a new video describing these changes in more detail:
If you find problems with the changes to  www.sdrplay.com , let me know at jon.hudson at sdrplay dot com and I'll do my best to address them if possible.