Steve Andrew has released version 1.1 of his Windows Spectrum Analyser software which has been upgraded to support the RSPdx.
This popular software turns the RSP into a wonderful low cost lab tool with fast scan, sample and hold, and most of the key features you'd expect in a piece of lab gear costing 10 times the price.
For more information, go to: https://sdrplay.com/spectrum-analyser/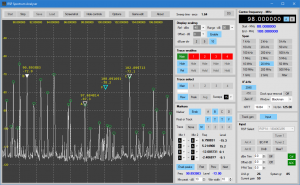 The spectrum analyser software runs on windoes and is totally separate form SDRuno.  You either run one or the other at any time.   This software is great justification for having an RSP for work!