Steve had the opportunity to meet lots of customers at the Denver FallFest last weekend  – HRO filmed this live demo of setting up an RSP as a Panadapter with a Kenwood transceiver to work with SDRuno.  The video quality is a bit grainy since it was filmed with a cellphone, but you get a good appreciation of the process involved such as making sure the settings are right in Omnirig.  Click here to see the video (then click on the 'play' arrow)
https://www.pscp.tv/w/1eaKbqMjjRZxX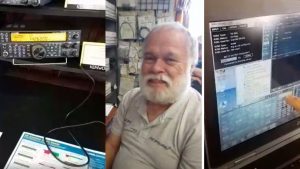 Meanwhile, many thanks to all of you who have sent comments back to us about the new release of SDRuno.
Following up on the first wave of feedback,  Andy our head of software, writes…
Dear All,
It is around 15 months since we announced the acquisition of Studio 1 and released the first incarnation of SDRuno. Studio 1 was an extremely complex and sophisticated piece of software and our first task was the tailor the software to make it more tightly integrated with the SDRplay hardware platforms for ease of use. Since then we have issued a number of new release, aimed at fixing bugs, incorporating new features and improving the usability of the software. Studio 1 was a well written and documented piece of software, but modifying the code written by someone else can in some cases be more time consuming that writing it from scratch, as you first have to unpick what and how it has been done, before you can decide how to modify it.
Release 1.2 involved a major re-write to some of the code base and whilst some of these changes will not be noticeable to every user, we feel it puts us in a better position to develop it further in the way that we would like to.
I would like to stress, that release 1.2 is not the end of the road for SDRuno development. Far from it in fact. We have a very long list of new features that we plan to release and our objective is to be constantly adding to the feature set and improving the user experience for our customers. Inevitably some people will be disappointed that we have not yet incorporated features that they personally would like to see and when this is the case, it is not because we are ignoring them or because we are "dumb", but because we feel that regular upgrades that give incremental improvements is better than trying to incorporate everything in a massive re-write that would take years to accomplish (literally). Those of you familiar with designing software will appreciate how difficult and time consuming this kind of development can be and finding all bugs can be fiendishly difficult before the software is released. To that end, I specifically want to thank all of our beta testing group, but especially Paul Jones and Preben Lohse Rasmussen for their extremely diligent testing and precise and concise feedback. Without their help, the software would be in a much poorer state than it is now.
For those that haven't yet got the features that they had hoped for, I would ask that you bear with us. We will get there, but these things take time. If you have any specific ideas for things that you would like to see incorporated, please contact us and we will consider all requests and suggestions that are politely given. Please bear in mind though, that when it comes to stylistic things, an approach that one person may love, another may hate. We cannot make everyone happy with the way SDRuno works, but we will try our hardest.
Many thanks
Andy
Co-Founder & Chief Software Developer – SDRplay