Today, various members of the SDRplay team would have expected to be sitting in airport lounges, laden with carry-on bags bulging with laptops and radio gear.  By now, we'd have dropped off our out-sized check-in baggage in the special designated area and be already on our way to Dayton, Ohio.   It's a real pity not to be making the annual pilgrimage to Hamvention where we get to meet our friends and customers.
So this year, for everyone not travelling to Dayton, SDRplay is planning an all day "SDRplay-awayday" this Saturday May 16th, 1400 UTC onwards
Our "SDRplay-awayday" will be an all day series of live streaming YouTube presentations, demos and Q&A sessions.  Co-hosted by SDRplay and Katie WY7YL from Ham Radio Outlet, the event kicks off at 1400 UTC this coming Saturday May 16th – feel free to dip in and out through the day.  You can add your questions to the ongoing live chat just as you would if you passed by our booth, at the real Hamvention event.  We will do our best to line up answers to your questions throughout the day.
There should be something for everyone – from introductory items for newcomers to SDRs,  through to in-depth discussions of the latest capabilities of SDRuno V1.4
It's a great way to introduce your locked-down friends to our amazing hobby.   There are so many isolated vulnerable folks out there who might enjoy re-kindling an interest in listening to the airwaves. These are people who wouldn't have travelled to Hamvention so this is a great opportunity to virtually invite them to our booth – just forward this to them.
Join Katie WY7YL, Jon G4ABQ, Mike KD2KOG, Steve KI5ENW and SDR-play co-founder and software architect Andy online, for this all day event.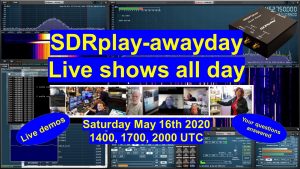 This is the YouTube link: https://youtu.be/nX9hLizPnCU
IMPORTANT: In the event of any problems with the link on the day, then alternative link information will be posted live on our webinars page:  http://www.sdrplay.com/webinars/ 
Below are some pictures from previous Hamventions:
SDRplay's Steve KI5ENWand Ham Radio Outlet's Katie WY7YL in 2019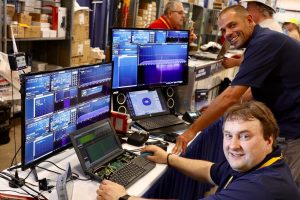 Above: Mike KD2KOG (standing) and SDplay Software architect Andy (foreground) last year
Below (l to r): Mike, Andy and Steve last year
Below (l to r): Steve, Andy, Carol and Mike last year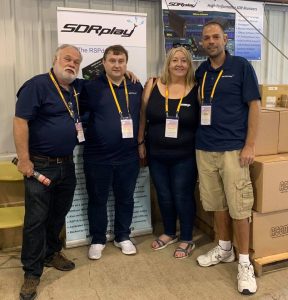 Below (l to r): Mike, Jon and Andy at Hamvention 2018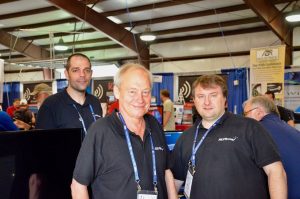 Below: SDRplay demo area on the main Ham Radio Outlet booth in 2017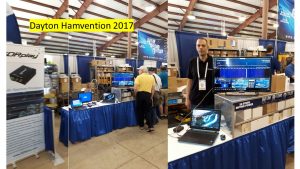 See you on Saturday!
Best 73 from Jon and the SDRplay team.