Updated Sat 26th June with links to presentation material: 
Jon and Andy from SDRplay are spending time this weekend at Ham Radio World ( a virtual replica of the annual Friedrichshafen event) which runs from June 25th to June 27th 2021.   As in previous live events, we are pleased to be the guests of Funk24 and are spending a lot of time in their booth.  We are also visiting booths of other authorised suppliers who are participating.   Join Jon first thing Sunday at the Bonito booth.  Click here to join the fun: https://en.ham.darc.de/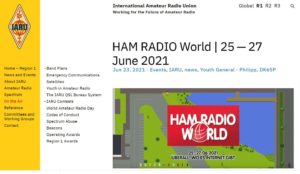 The interactive format of the event means that anyone should be able to approach either Jon or Andy and ask questions  ( Jon is called "SDRplayJ"  and Andy is called "SDRplayA"    – so feel free to approach us.
Updated Sat 26th June:  On Saturday at 14:00 CEST (12:00 UTC) Jon and Andy presented an update and answered questions,  in virtual conference room Lichtenstein –  many thanks to the many people who came along
We always appreciate meeting existing customers and learning about what you're doing with your RSP.
Here are some links to the materials we shared:
Click here to download a copy of the slides we showed
Click here to view the SDRuno video we showed: https://youtu.be/oCsDY-0QrFE
Here's a link to the Raspberry Pi image page we mentioned: https://www.sdrplay.com/raspberry-pi-images/
Here's a link to the documentation/video catalogue: https://www.sdrplay.com/apps-catalogue/