Monday July 18th 2022 at 1830 UTC (7.30pm UK BST)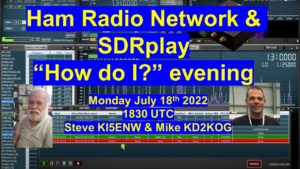 Ham Radio Network are hosting "An Evening with Mike Ladd (KD2KOG) and Steve Brightman (KI5ENW).  The theme of the evening will be "How do I…?" and be targeted to SDRPlay device owners that need help, support and guidance with their RSP device or SDRuno.
The evening will be driven by questions from users or would-be users,

This will be an informative and entertaining evening and participation should be high.