SDRplay is pleased to announce that RFbits has just launched brand new SDR receiver software called "Ortac_Rx"  – and it's been made available for SDRplay RSP owners to use from day one.
Ortac_Rx is a general purpose DSP receiver designed to have a simple front end, but having full capabilities within. It is compatible with Windows 7 to 11.
It features:
A Simple User interface (KISS)
SSB, CW, AM, FM, FM-Stereo, DMR
Audio recorder/player
IQ recorder/player
Simple Channel Banks
Pseudo Accurate dBm calibration
Accurate modulation depth display
Peak tune functions on FFT display
Small Screen Footprint
Fairly low CPU load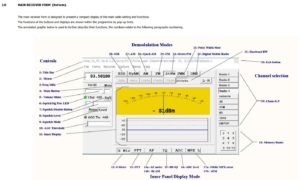 The website can be found at https://rfbits.com/one/  where there's a link to the Ortac_Rx page from which you can download the manual and the software. ( https://rfbits.com/one/index.php/ortac_rx/ )
The site also includes a link to Ortac_AIS which is an advanced Windows dual channel AIS DSP receiver and message decoder. It is capable of decoding up to 25 messages per second simultaneously on channels A and B.
Nov 9th 2022 footnote: This third party software is not provided by SDRplay and questions regarding its operation and performance should be directed to the author.   SDRplay's own SDR receiver software, provided free of charge to RSP owners,  is SDRuno: https://www.sdrplay.com/sdruno/
The title of this blog initially used the word "support" and not "compatibility"   which may have been confusing as to who is supporting the software.